The Impact of Social Distancing on Older Adults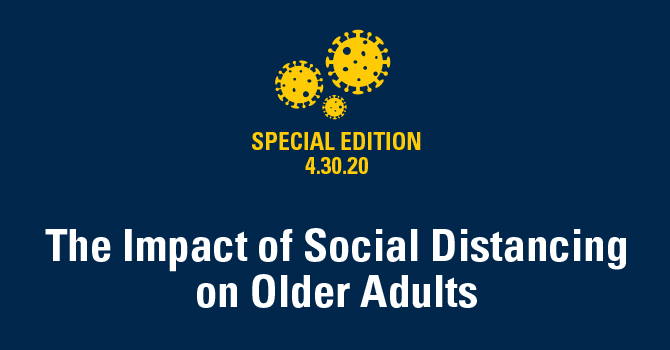 Click Here for the Latest on COVID-19 from Michigan Public Health Experts
People over the age of 65 are at higher risk for complications and death from COVID-19. But that's not the only way this pandemic is disproportionately impacting older adults. Social distancing and other pandemic control strategies can take a particular toll on older individuals, some of whom don't have access to or experience with the technologies like FaceTime and Zoom that are helping many people feel connected in this time.
Lindsay Kobayashi, assistant professor of Epidemiology at the University of Michigan School of Public Health, talks about her new study that looks at the impact of social distancing on older adults and discusses how we can help the older individuals in our families and communities cope during this time.
Listen to "The Impact of Social Distancing on Older Adults 4.30.20" on Spreaker.
Subscribe and listen to Population Healthy on Apple Podcasts, Spotify, Google Podcasts, iHeartRadio, YouTube or wherever you listen to podcasts!

Be sure to follow us at @umichsph on Twitter, Instagram, and Facebook, so you can share your perspectives on the issues we discussed, learn more from Michigan Public Health experts, and share episodes of the podcast with your friends on social media.
Kobayashi: I think about the COVID-19 pandemic, in terms of the public health effects, like an onion. The outside layer of the onion is the one that we are all really looking at right now, and that's COVID-related mortality and morbidity, and that is extremely urgent and concerning and demands immediate attention. But once you peel away that outer layer of the onion, that most visible layer of the onion, underneath it are many other layers of public health crises that are emerging. This includes the health effects of social isolation and quarantine. Other layers are things like not being able to access healthcare that you would have otherwise can be able to access because healthcare systems are overloaded. And then another layer that you can peel away, the population health effects of the deep economic recession that is happening. We know that economic recessions have very strong effects on population health. Mental health outcomes, increased rates of suicides, are things that we almost always see with economic recessions. And so as a social epidemiologist I really look at this as these kind of multiple layers of unfolding public health crises where we have direct COVID-19 related morbidity and mortality at the outermost in most visible layer, but I think as time goes on and as the pandemic unfolds, we're going to start seeing the other layers emerging.
Speaker 1: Lindsay Kobayashi is an assistant professor of epidemiology at the University of Michigan School of Public Health. Her research focuses on aging and older adults. So when the coronavirus pandemic began, she knew she needed to examine one of the inner layers of the onion. How is all of this impacting older adults?
Hello and welcome to Population Healthy, a podcast from the University of Michigan School of Public Health. This episode is part of a series of special editions of our podcast, focusing on the ongoing coronavirus pandemic. To get started, let's define what we mean by older adults.
Kobayashi: In my research group, we think about aging as a lifelong process, where risks as well as resources and benefits to health, that people encounter throughout their lifetimes accumulate to be expressed in a person's state of health in later life. And so in the United States, older adults are often referred to as the population group age 65 and over because this corresponds to the typical age of retirement as well as Medicare eligibility. And so in my research, we often extend the lower end of the range as low as a 50 in order to account for this life long aging process that we think about and also because we want to capture changes in people's lives that are ongoing in the years leading up to this time.
So in some ways, the definition of older adult is quite fluid and we also see very heterogeneous life circumstances among this group, and that's one of the most important things to remember. Older adults are a really heterogeneous group with respect to pre-existing health conditions, which we know are a risk factor for COVID-19 complications and mortality, as well as things like living circumstances, financial circumstances, social relationships and other resources that are available.
Speaker 1: We already know, older adults are at a higher risk for complications and death from COVID-19. But in what other ways is this pandemic and our efforts to control it impacting this population?
Kobayashi: A big concern for the health and wellbeing of older adults as related to COVID-19 is social isolation and disruption to both formal and informal care services and social support for those who need it. In 2019, almost one in three community dwelling older adults in the US lived alone and half of community dwelling older adults aged 85 and over lived alone. And under COVID-19 shelter-in-place orders or social distancing recommendations in places that don't have legislated orders, it's going to be hard for those folks to have any face-to-face social interaction at all.
A large body of epidemiological evidence demonstrates how social isolation, which we define as a lack of social contacts, increases risk for outcomes including poor mental health, accelerated cognitive decline, and increased risk of all-cause mortality in older adults. And this is because social relationships of various types, and not just family, but also friends, neighbors, and other types of social contacts are really important for providing social and cognitive stimulation, emotional support, and sometimes financial support, assistance with activities of daily living like house chores or shopping, as well as even more intensive caregiving for those who are in poor health. Humans are social creatures. And when all of this is lost and this is happening in a very sharp and immediate way, such as through social distancing and shelter-in-place orders as a result of COVID-19, this could have a really strong effect on older adult's mental and cognitive health.
Another issue that older adults who are engaged in the labor force are facing is loss of employment and work hours due to the deep economic recession that is being caused by the COVID-19 pandemic. Retirement savings and pension plans are taking a big hit right now and the pandemic is certainly increasing financial precarity for those people who may not have many years left in the workforce but they need to save up for retirement. So, we may see in coming years, that the economic recession set in place by the pandemic is going to constrain people's ability to retire or place them in a less than ideal financial or employment situation, and if they're in poor health and unable to work, then there isn't really much of a decision to be able to make about whether or not to retire. And this is going to have, I think, long-lasting effects on older adult living circumstances and health as we go forward.
Older adults in nursing homes or assisted living facilities are definitely a high risk population group right now for COVID-19 if the virus does become introduced to a nursing home or assisted living facility. And this is in large part due to the high level of comorbidities that these people experience as well as the tight knit living orders which may allow the virus to spread rapidly. One of the earliest outbreaks that was known in the United States was in the Life Care Center in the Seattle area and we saw how badly the virus spread throughout the older community living there as well as the health workers who are working at the facility in late January and early February.
And this is why nursing homes and assisted living facilities around the country have been closed down and are closed down to visitors in order to protect their residents. But this does place people who live there at a risk of being particularly isolated. It's extremely difficult to be cut off from one's close family members and not to have any people be able to come in and visit them.
I've seen photos on social media, from family and friends of folks who are living in nursing homes or assisted living facilities who have done things like set up a chair in the street or in the garden outside the window of their loved ones so that they can be near to them despite not being able to be face-to-face. And it's sort of bittersweet to see in a way, but I think the reality is, is that people who are living in nursing homes or assisted living facilities are becoming particularly isolated because of this, and I think it's causing a lot of isolation and stress not only for them, but also for their family members who are really worried about them.
Speaker 1: In response to social dissenting guidelines and stay-at-home orders, many people are turning to FaceTime, Zoom and other technologies to stay connected to friends and family, but not everyone has access to those technologies or the digital literacy to use them.
Kobayashi: When thinking about older adults in these cases, I think that regular old telephone calls are probably the best option. And I think that there is an important responsibility that younger people have in society to try to reach out to those who do not have an equal opportunity to stay connected and stay socially active.
I've also seen some other really great initiatives going on right now through organizations such as Letters of Love, Color a Smile, and Doing Good Together, which are organizing for volunteers to send letters and artwork to older adults who are in assisted living facilities or a nursing home who are particularly at risk of being isolated. For anyone who's listening, you can just Google these organizations and find their websites and you can arrange through them to send a letter or drawing or piece of art work to someone.
In terms of strategies that could help older adults to cope during this time, I think that finding creative ways that allow people to cope with the new level of stress, anxiety, and isolation that many of us are facing is essential. In terms of things that you can do at home, even if you don't have access to forms of social connection or engagement with others, I think anything that people enjoy doing at home such as gentle exercise, reading, writing, playing board games, mindfulness spacing, any kind of pleasure time activity that people like to do and can do in their home, I highly recommend that. Again, I strongly encourage anyone who does have an older adult in their life to check on them with a phone call or a FaceTime call if they have access to that technology, just to say hi and talk and check in on them and see if there's anything that they need with respect to getting food, getting prescription medications, anything that they need to continue with activities of daily living during this time that might be challenging. And then with respect to accessing necessary services, I think it's important to know that the Centers for Medicare and Medicaid Services or CMS have expanded access to telehealth for Medicare-eligible individuals under a new waiver that began on March 6th. So older adults who are eligible for Medicare can access services they need, such as with a doctor, a nurse practitioner, clinical psychologist or social worker from their home.
Speaker 1: To better understand how the coronavirus pandemic and control strategies like social distancing are affecting the mental health and well-being of older adults, Professor Kobayashi and her colleague Jessica Finlay, a geographer and gerontologist at the University of Michigan's Institute for Social Research, have launched the COVID-19 Coping Study.
Kobayashi: We decided to take on the study because we had previously done some research on social isolation and loneliness in older adults, and finding that these things were highly prevalent and really strongly affected mental health and well-being. The COVID-19 pandemic had been on the front of my mind, as with many, many people since the outbreak started and as a social epidemiologist, I had to find some way to contribute to public health efforts to help deal with the pandemic.
I'm not an infectious disease epidemiologist. I don't do things like infectious disease modeling. I don't do research on drug discovery or treatments, but I do do work on how the social world affects health among older adults.
So ultimately we have two sampling frames. One is our online survey that we've created and we've disseminated through various social media, professional organization channels, as well as to some assisted living and senior independent living facilities around the country. And this has really spread through word of mouth. And then our second sampling frame is going to be an online panel that as quotas set to match the general population of adults age 55 and up in the United States, according to demographic characteristics. So we will be able to compare what kind of results we get from the survey both in the first sampling frame, which we're calling the snowball sample, as it's really spread through word of mouth as well as the formal panel sample.
The second goal is to identify risk and resilience factors that influence mental health and well-being of older adults during the COVID-19 pandemic. And ultimately, we hope that the evidence that's generated through the COVID-19 Coping Study will help to inform best practices in order to promote and support the mental health and well-being of older adults during public health crises.
Speaker 1: This has been a special edition of Population Healthy, a podcast from the University of Michigan School of Public Health. During the ongoing coronavirus pandemic, we'll work to bring you analysis from our community of experts to help you understand what this public health crisis means for you. To stay up-to-date in between special edition episodes, be sure to check out our website publichealth.umich.edu, subscribe to our Population Healthy newsletter at publichealth.umich.edu/news/newsletter and follow us on Twitter, Instagram, and Facebook @umichsph.
Resources
Learn more or participate in the COVID-19 Coping Study. The survey is open through the end of May 2020.
Organizations seeking volunteers to send letters and artwork to older adults:
In This Episode
Lindsay Kobayashi
Assistant Professor of Epidemiology at the University of Michigan School of Public Health
Lindsay Kobayashi's research focuses on the social epidemiology of cognitive aging from a global perspective. The goal of her research is to inform policy solutions to improve cognitive health and health equity among low-income older populations. She is a faculty member of the Center for Social Epidemiology and Population Health (CSEPH) within the University of Michigan School of Public Health.
Tags