A National Hotspot: The Coronavirus in Detroit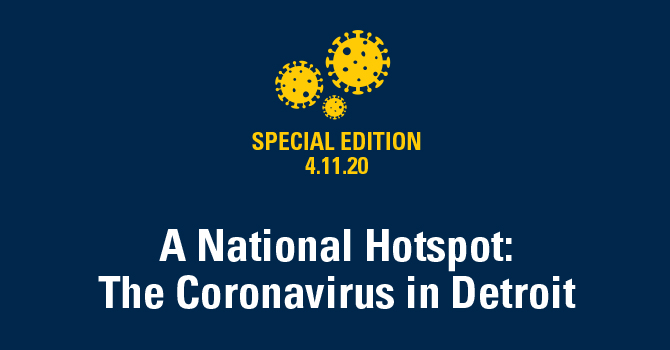 Click Here for the Latest on COVID-19 from Michigan Public Health Experts
Right now, the coronavirus pandemic and the measures we've undertaken to stop it are reshaping how millions of people live, work, learn, and manage their health. Though these measures bring difficult new challenges for each of us, for vulnerable populations like the elderly, those with chronic illness and mental health issues, and those without the means to work from home or access affordable healthcare, they can have life-threatening consequences.
Listen to "A National Hotspot: The Coronavirus in Detroit 4.11.20" on Spreaker.
Subscribe and listen to Population Healthy on Apple Podcasts, Spotify, Google Podcasts, iHeartRadio, YouTube or wherever you listen to podcasts!

Be sure to follow us at @umichsph on Twitter, Instagram, and Facebook, so you can share your perspectives on the issues we discussed, learn more from Michigan Public Health experts, and share episodes of the podcast with your friends on social media.
Speaker 1: Forty miles east of Ann Arbor and the University of Michigan is the city of Detroit - Motown, Michigan's largest city, and the cultural epicenter of the Great Lake State. By population, Michigan is the 10th largest state in the country. Yet as of this recording, we have the third most coronavirus cases and a quarter of those cases and a quarter of deaths in the state from coronavirus are in the city of Detroit alone. If you add in the county where Detroit sits, Wayne County, now you've got nearly half of the cases and half of the deaths in Michigan. It's a staggeringly disproportionate situation that has the nation's attention.
Hello and welcome to Population Healthy, a podcast from the University of Michigan School of Public Health. This episode is part of a series of special editions of our podcast, focusing on the ongoing coronavirus pandemic.
So what is it about Detroit that has made it one of the nation's coronavirus hot spots? In this episode, we'll hear from a pair of experts from the University of Michigan School of Public Health with deep ties to Detroit. We'll begin with Roshanak Mehdipanah, an Assistant Professor of Health Behavior and Health Education, and an expert in urban health and health equity.
Mehdipanah: Detroit is a large city, and so we're seeing the course of the coronavirus hitting larger cities disproportionately compared to the rest of the country. So we saw that in Europe with cities across Spain, Italy and now in New York City, Los Angeles, Detroit. There's predictions of other places like Chicago, New Orleans, and all these to be hit.
I think what's important to note, that there are other intersections that can exacerbate the situation in cities like Detroit a lot more than other cities. And some of those aspects include certain determinants of health like poverty and the house conditions and employment. And those will all play a role in both the transmission but then also the recovery of it.
We know that compared to the rest of the state, Detroit has really high air pollution and so those have led to some of the higher rates of asthma that we've seen in the city, and we know that that's an underlying condition. But then we also have determinants like poverty and unemployment that will make it difficult for families to stay at home as an socially distance themselves. And so when families are living paycheck to paycheck anywhere in the US, then they're going to have to go out and expose themselves to a risk of contracting the virus more so than other populations that can do one shop a month and stay at home for the month. Whereas some families are having to do this on a week-to-week basis.
We are still dealing with water shut-offs although the guidance against it was put out. If the biggest prevention of the disease is cleaning your hands and you don't have that within your home, then that can also create situations that would put you at a higher risk.
One last thing I'll say is that Detroit is very resilient, and I think it's important to remember that Detroit has gone through a lot and they are just as capable of pulling through this. And so although this is a situation that will have great impact, I'm confident in knowing that through the community organizations that exist and the deep roots of addressing social injustices in the city, there is definitely opportunity to recover and ensure that no population is really essentially gonna be left behind through this process. So, I'm really hopeful.
Speaker 1: Paul Fleming, is an assistant professor of Health Behavior and Health Education at the University of Michigan School of Public Health. His research focuses on the social and structural factors that are the root causes of health issues for those in Michigan and throughout the world.
Fleming: It's really important when we think about this pandemic to look beyond just the statistics and think more about what are the social and structural factors that can help us explain those statistics. So in the case of Detroit, we know that it's really important to think about things both historically and also about the policies in place in the city and in the region. Over the last several decades, Detroit has been subject to environmental injustices that leaves residents more vulnerable to coronavirus complications.
Detroiters have also been impacted by unfair housing policies that can leave many homeless or with substandard housing which can also create an increased risk. And, of course, folks also have been impacted just like other folks across the country by an economic system that provides very little safety net for the working poor. And so those are the types of factors that a virus like the coronavirus can take advantage of.
In parts of Detroit, residents have higher exposure to a lot of environmental pollutants and in Southwest Detroit, proximity to the bridge and a lot of truck traffic and other issues contributes to higher levels of pollutants. And what that can cause is higher incidence or prevalence of asthma. We know that Detroit has a much higher prevalence of asthma than the national average, and things like that can cause complications when somebody does get the coronavirus.
Those types of underlying issues related to either environmental pollutants or other factors are really contributing to an increased risk. And again that increased level of pollutants really stems from some of the public policies that are in place that have placed those types of pollutants in certain areas of Detroit rather than in other areas of Michigan. So that's part of the reason those policies that were in place decades ago, or have been established in the past are now showing an impact on this particular issue and has been showing an impact on other health issues over the last years and decades.
When a community is particularly heavily impacted like Detroit is being a current hot spot, most folks know somebody who's been affected, somebody who's maybe passed away, and they're seeing broad impacts across their community. And that's gonna have mental health impact. So folks are seeing that trauma and it'll have a legacy for the years to come.
Speaker 1: Health care professionals are now left on the front lines of a pandemic with generations of inequity fueling its spread and parts of the social network that have worked against those inequities over the years, might be a risk themselves.
Fleming: Community-based agencies and public health organizations are really critical for times like now where there's a pandemic or a crisis in the community. Oftentimes community-based organizations are more trusted than say the state government or the federal government, and so the residents within that community are gonna look to that organization for information, for where to find resources, and other things. Community-based public health has a really important role to play right now, not only now in the acute period, but also in the future follow-up that's gonna happen after this acute period is over.
In many cases, these small community-based organizations by nature are often underfunded, and so right now they're playing an outsized role with the funding they have available.
The organizations that I've worked with in Detroit they've responded quickly and with so much energy and passion to help their communities face this pandemic, and it's really just encouraging to see how much communities come together in a time like this. And there are some fantastic organizations and people that are leading this work, and really it's Detroiters themselves who are coming together to face this pandemic and respond and help each other. And it's really encouraging to see and gives me hope, and I think should give everybody hope that we will get through this pandemic. We will see the other side, and when we get to the other side, we'll be stronger for it.
An infectious disease like the coronavirus really lays bare, how all communities are connected with one another. So there's a lot of attention on the city of Detroit right now, but the city of Detroit does not exist on an island or isolated. It's connected to communities all across the country, which just kind of demonstrates how any particular group or population that may be particularly vulnerable to coronavirus, that's gonna have an impact on communities across the country. We're all connected, and our health is all connected, and that's why it's so important for us to protect everyone rather than just kind of focus on certain populations.
Speaker 1: This has been a special edition of Population Healthy, a podcast from the University of Michigan School of Public Health. During the ongoing coronavirus pandemic, we'll work to bring you analysis from our community of experts to help you understand what this public health crisis means for you. To stay up-to-date in between special edition episodes, be sure to check out our website publichealth.umich.edu, subscribe to our Population Healthy newsletter at publichealth.umich.edu/news/newsletter and follow us on Twitter, Instagram, and Facebook @umichsph
In This Episode
Roshanak Mehdipanah
Assistant Professor of Health Behavior and Health Education at the University of Michigan School of Public Health
Dr. Mehdipanah's research focuses on urban health and health equity including urban renewal, planning, housing and gentrification. She's led several projects on housing and health including health evaluations of housing policies on affordability and discrimination within the U.S.A. Dr. Mehdipanah is currently exploring the effects of the coronavirus pandemic at the intersection of housing and health. Learn more.

Paul Fleming

Assistant Professor of Health Behavior and Health Education at the University of Michigan School of Public Health

Dr. Fleming's research focuses on the social determinants of health and health behaviors, with a focus on developing and evaluating interventions in poor and marginalized communities in Michigan and abroad. In Michigan, he uses a community-based participatory approach with Latinx immigrants to examine how policies and discrimination contribute to poor health outcomes. Dr. Fleming is currently applying that expertise to the coronavirus pandemic to educate on the social and structural policies that have led to increased health disparities for vulnerable populations. Learn more.