Alumnus Joshua Petrie reflects on mentor Arnold Monto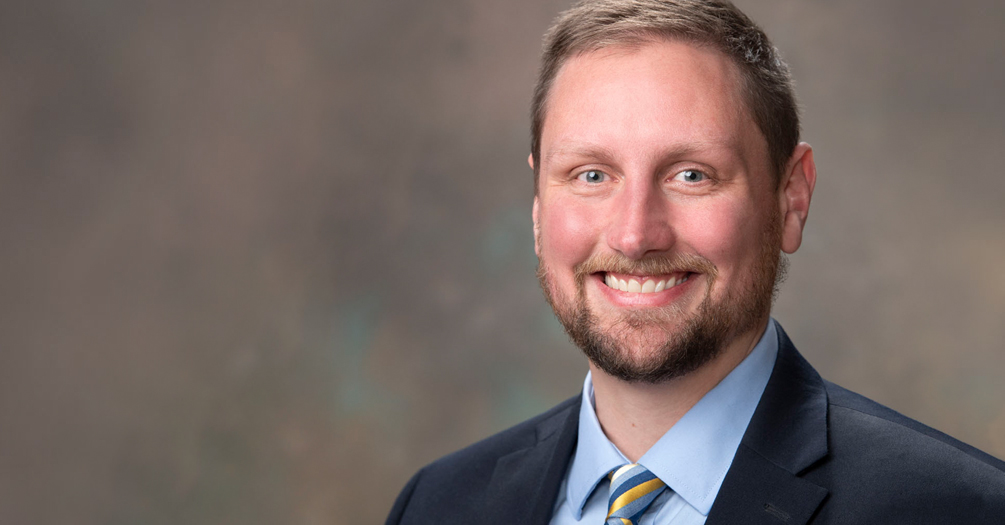 By Claudia Capos
Joshua Petrie, BS '04, MPH '08, PhD '16, is an associate research scientist at the Marshfield Clinic Research Institute in Marshfield, Wisconsin. He earned master's and doctoral degrees in Epidemiology from the University of Michigan School of Public Health and a bachelor's degree in Biology from the U-M College of Literature, Science, and the Arts.
Recently, he took a few minutes to talk about the impact his former professor and mentor, Dr. Arnold Monto, had on his own career and the public-health field.
When did you work with Monto?
I started working with Arnold as a master's student in 2006. I worked with his research group as a staff member after I graduated, from 2008-2012. Then, he was one of my primary mentors during my PhD studies from 2012-2016. After finishing my PhD, I continued working with his group as research faculty (2016-2021) until I took my current position at the Marshfield Clinic Research Institute in 2022.
How did Monto influence your academic career in school and your professional career at Marshfield?
Working with Arnold gave me the opportunity to be involved in a number of studies that addressed the most pressing questions in the field of influenza research. During this time, I developed the skills in epidemiology, writing and project leadership that I have used throughout my career. I definitely wouldn't be where I am today without Arnold's influence on my career.
What research did you and Monto collaborate on?
I have worked closely with Arnold over the years on the FLU-VACS trial, comparing live-attenuated and standard influenza vaccines; the US Flu VE Network, which is the CDC's primary method of determining how well influenza vaccines work each year; the HAIVEN study that evaluated how well influenza vaccines work in preventing hospitalization; and the HIVE study, which looks at the transmission of respiratory viruses in households.
What are Monto's contributions to the field of epidemiology and vaccinology?
It is hard to quantify Arnold's contributions to the field. In part, this is because throughout his lengthy career, there are numerous examples of his research impacting policy or changing the way researchers in the field understand influenza epidemiology and influenza-vaccine effects. However, Arnold's contributions are magnified by his impact on other researchers via sharing his expertise through advisory roles and contributions to scientific meetings.
Arnold probably has more expertise in emerging respiratory viruses than anyone on the planet."
How has Monto's research on influenza, the coronavirus and other viruses benefited public health?
I think two of the biggest impacts Arnold has had on public health are his contributions to the influenza vaccine becoming a covered benefit under Medicare, and his contributions to pandemic preparedness and response.
In the early 1990s, Arnold led studies demonstrating the effectiveness of influenza vaccines in preventing hospitalization among older adults, which ultimately led to influenza vaccination becoming a covered benefit under Medicare Part B. This has greatly improved access to these vaccines for the group most vulnerable to severe outcomes and death from influenza.
Given that his career has spanned the influenza H3N2 pandemic in 1968, SARS emergence in 2002, the influenza H1N1 pandemic in 2009, MERS emergence in 2012, and the current COVID-19 pandemic, Arnold probably has more expertise in emerging respiratory viruses than anyone on the planet.
Following the emergence of SARS in 2002 and the avian influenza H5N1 virus in 2003, there was an international effort to increase preparedness for the next pandemic. Arnold made major contributions to the development of pandemic-control strategies during this time. Data from his early Tecumseh studies describing household transmission of influenza were critical to informing models of the potential impact of these pandemic-control strategies. This work was essential to the responses to both the 2009 H1N1 and COVID-19 pandemics.
During the COVID-19 pandemic, Arnold also chaired the Vaccines and Related Biological Products Advisory Committee, which advised the Food and Drug Administration on the strength of the evidence of the safety and efficacy of novel COVID-19 vaccines. This was a critical step in the vaccine-approval process, the transparency of which improved public confidence in the vaccines.
What else can you tell us about Monto?
Especially before the COVID-19 pandemic, Arnold had a very busy travel schedule. There were numerous occasions when he would return from an international trip, come right back into the office for a day or two and then leave for another international trip. His stamina and dedication in his 80s were incredible. Personally, I would need a day off!
---