Careers Outcomes for Online Degree Students
Whether you are new to public health or already working in the health sector and would like to advance your career in public health—the online master's program delivers high-quality education that will prepare you for a variety of careers in public health. The Population and Health Sciences curriculum builds skills like leadership, communication, community partnering, and in-depth research that will set you apart in the job market.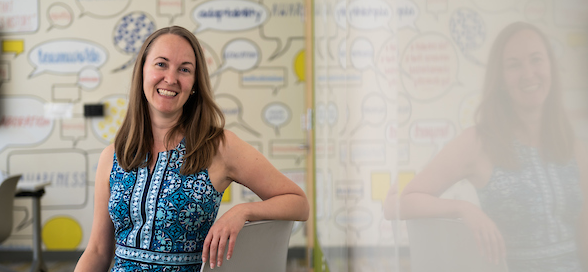 What can the online Population and Health Sciences degree do for your career?
Allows you to continue working while pursuing a graduate degree
Gives you the freedom to study wherever you are—100% online
Offers the opportunity to apply your learning to your current work
Provides a holistic understanding of public health that can be applied to almost any field
Connects you to a network of peer professionals from across the country and in a variety of fields
Offers you access to the University of Michigan's worldwide alumni community for mentorship, networking, and exclusive hiring opportunities
Allows you to tailor your study to your interests with elective series designed to give you expertise in the specific areas you're looking to advance
Helps you develop a portfolio of public health work products created for real-world organizations

Future Leaders of Public Health
The master's students in the Population and Health Sciences program complete their degree fully online. Accessing their entire program online affords them the opportunity to pursue their goals in a way that fits their life.
Many of our students are already public health professionals bolstering their credentials, while others are earning their degree to transition into the public health workforce or add a public health perspective to their current role. In the past few years, we've seen students grow their careers in a variety of ways. The following are real examples of how our students have improved their careers with the online MPH:
A public health analyst with the Centers for Disease Control and Prevention (CDC) chose our program to expand her knowledge, skills, and abilities in health communications and partnership development, with the goal of moving into a leadership role with the CDC.
A social science analyst with the National Institutes of Health aimed to bolster her contribution to reducing disparities in health care quality, access, and outcomes.
A healthcare analyst at Blue Cross Blue Shield of Michigan is pursuing the MPH in order to return to her roots in the Upper Peninsula of Michigan and set up a rural health clinic.
A middle school teacher started the MPH program, and within the first year, began working for a Wisconsin local health department while continuing her studies.
An aerospace medical technician in the Army completed her Applied Practice Experience with the Alaska Department of Health and Social Services, and she now works for them full time.
You could be next!
Career Resources for Current Students and Alumni
Michigan Public Health offers quality careers support resources to its students, whether in-residence or online. Watch the following video in which one program alumni discusses his experience accessing tailored careers services support which was able to address his unique needs as an online graduate student and a working professional.

Current students are also invited to join and engage with Michigan Public Health Connect once they are enrolled. Michigan Public Health Connect is a mentoring and networking platform that supports connections across the Michigan Public Health community. The platform provides a meeting place for members of our community to have conversations, ask questions and seek guidance, coach and inspire, and explore paths to professional aspirations.
Additionally, our current students and alumni meet to network and engage professionally in our Official University School of Public Health LinkedIn group. The group offers access to a wealth of professional knowledge and leadership, 5,000 members strong, from across the globe.