Meet Our Students
The diverse student group that makes up the Population and Health Sciences program has created a valuable and dynamic online network of peers to study with, work with, and learn from.
The current class of students includes a unique and dynamic group from across the United States. Students come from all different types of backgrounds, from recent graduates to physicians in the midst of a 30-year practice, nurses, researchers, fitness coaches, and medical scribes, to name a few, many of whom continue to work while pursuing their master's degree in Population and Health Sciences online.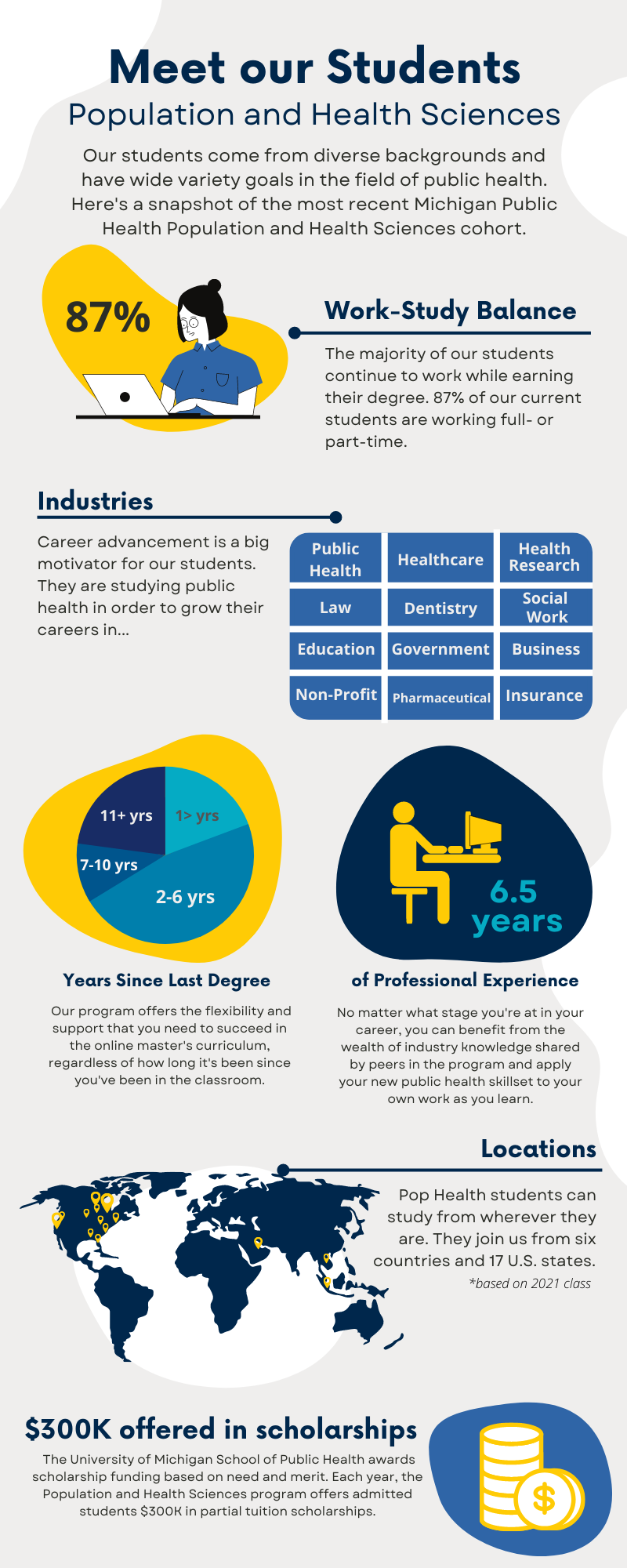 Our students come from diverse backgrounds and have wide variety goals in the field of public health. Here's a snapshot of the most recent Michigan Public Health Population and Health Sciences cohort.
Work-Study Balance: The majority of our students continue to work while earning their degree. 87% of our current students are working full- or part-time.
Industries: Career advancement is a big motivator for our students. They are studying public health in order to grow their careers in public health, healthcare, health research, law, dentistry, social work, education, government, business, non-profit orgranizations, pharmaceutical industry, insurance, and more.
Years Since Last Degree: Our program offers the flexibility and support that you need to succeed in the online master's curriculum, regardless of how long it's been since you've been in the classroom.
Professional Experience: Our students have an average of 6.5 years of professional experience. No matter what stage you're at in your career, you can benefit from the wealth of industry knowledge shared by peers in the program and apply your new public health skillset to your own work as you learn.
Locations: Pop Health students can study from wherever they are. They join us from six countries and 17 U.S. states. (Based on 2021 class)
Scholarships: The University of Michigan School of Public Health awards scholarship funding based on need and merit. Each year, the Population and Health Sciences program offers admitted students $300K in partial tuition scholarships.
Student Stories
Our students have busy schedules and the online format gives these professionals, caregivers, and achievers the flexibility to live, work, and study whenever and wherever they are. Online students have been excited to share their real stories as they make their way through the program. Read more about them below—you might find that their stories are not that different from your own.
Future Leaders of Public Health
The master's students in the Population and Health Sciences program complete their degree fully online. Accessing their entire program online affords them the opportunity to pursue their goals in a way that fits their life.
Many of our students are already public health professionals bolstering their credentials, while others are earning their degree to transition into the public health workforce or add a public health perspective to their current role. In the past few years, we've seen students grow their careers in a variety of ways, such as:
A public health analyst with the Centers for Disease Control and Prevention (CDC) chose our program to expand her knowledge, skills, and abilities in health communications and partnership development, with the goal of moving into a leadership role with the CDC.
A social science analyst with the National Institutes of Health aimed to bolster her contribution to reducing disparities in health care quality, access, and outcomes.
A healthcare analyst at Blue Cross Blue Shield of Michigan is pursuing the MPH in order to return to her roots in the Upper Peninsula of Michigan and set up a rural health clinic.
A middle school teacher started the MPH program, and within the first year, began working for a Wisconsin local health department while continuing her studies.
An aerospace medical technician in the Army completed her Applied Practice Experience with the Alaska Department of Health and Social Services, and she now works for them full time.
You could be next! Explore more on our career outcomes page.
Finding Community Online
Learning online doesn't mean learning alone. Our students often report that one of the most valuable aspects of the online MPH program is the sense of community in the online master's cohort. In addition to the world-class teaching and support from our factuly, our students gain practical understanding and support from their peers - learning from each other's personal and professional experiences and collaborating on to find solutions to real-life work. Hear what a few of our students had to say:
I really thought it was going to be one of those programs I had to just get through—get my education and then leave. I didn't think I'd make any friends. But I was wrong. It turns out I joined a flourishing and engaging online community.
Heather A., MPH '21
I've collaborated with classmates and professors, deeply benefitting from intellectual conversations in Zoom classes. Our online cohort is scattered across the US and has so many different perspectives as my classmates work in a vast array of professions in public health. I work in cancer research and it was enlightening to hear others elaborate from viewpoints that I haven't considered before.
Adam K., MPH '21
I have learned a lot about equity from my classmates and the work they do. My classmates have taught me so much and brought so much to my clinical and advocacy work and will enrich the work I'm able to do in the future.
Rob D., MPH '22