Student Experience
Our Students
The diverse student group that makes up the Population and Health Sciences program has created a valuable and dynamic online network of peers to study with, work with, and learn from.
The current class of students includes a unique and dynamic group from across the United States. Students come from all different types of backgrounds, from recent graduates to physicians in the midst of a 30-year practice, nurses, researchers, fitness coaches, and medical scribes, to name a few, many of whom continue to work while pursuing their master's degree in Population and Health Sciences online.
Our students have busy schedules and the online format gives these professionals, caregivers, and achievers the flexibility to live, work, and study whenever and wherever they are. Online students have been excited to share their real stories as they make their way through the program. Read more about them below, you might find that their stories are not that different from your own.
---
Integrating Class into Life and Work
Students can participate in classes, connect with staff and peers, and complete assignments via laptop, tablet, or mobile device. Many students find it easy to incorporate their classes into their life schedule: They can listen to lectures while cooking dinner, read while in the carpool on the way to work, or join live Zoom sessions from the break room on the evening shift.
Each course includes both synchronous and asynchronous learning opportunities. While you can watch the recorded lectures at any time of day, you will also participate in a regular, live Zoom session with the instructor and your peers. Most of these will occur weekly on a weekday at 7pm ET. You can anticipate spending 15-20 hours per week on coursework.
"I'm impressed with the diversity [of the program]. We've got people serving in the military, there's one who's overseas in Africa doing mission work now, a couple of medical students, one who just had a kid... I'm just so impressed with what these people are doing on so many different levels. It really is encouraging."

- Mark A., Physician, online MPH class of '21
Read more about the population health work our students and faculty contribute to in our thought leadership blog, The Pursuit. Check out some of those blog posts here:
---
Student Support
The Office of Student Engagement and Practice (OSEP) is dedicated to student success. The Population and Health Sciences program manager, faculty director, and OSEP team will help you succeed academically and to develop your professional skills along the way. From your initial course selection and elective exploration through resume building and networking—we're here for you!
Students benefit from frequent access to faculty through live office hours and email. Students are always able to connect with student services staff and program advisors via the many channels built into the program such as Slack team messaging, Zoom video conferencing, and more.
"We do monthly advising sessions. Program staff and I get on Zoom and anybody can show up and students can ask us about anything. Life comes into our programs, and a part of what we try to do is to help you navigate that for the best benefit and outcomes. Our job is to help you navigate the program and your life, so that you can achieve your educational goals and outcomes."
—Sharon Kardia, Associate Dean for Education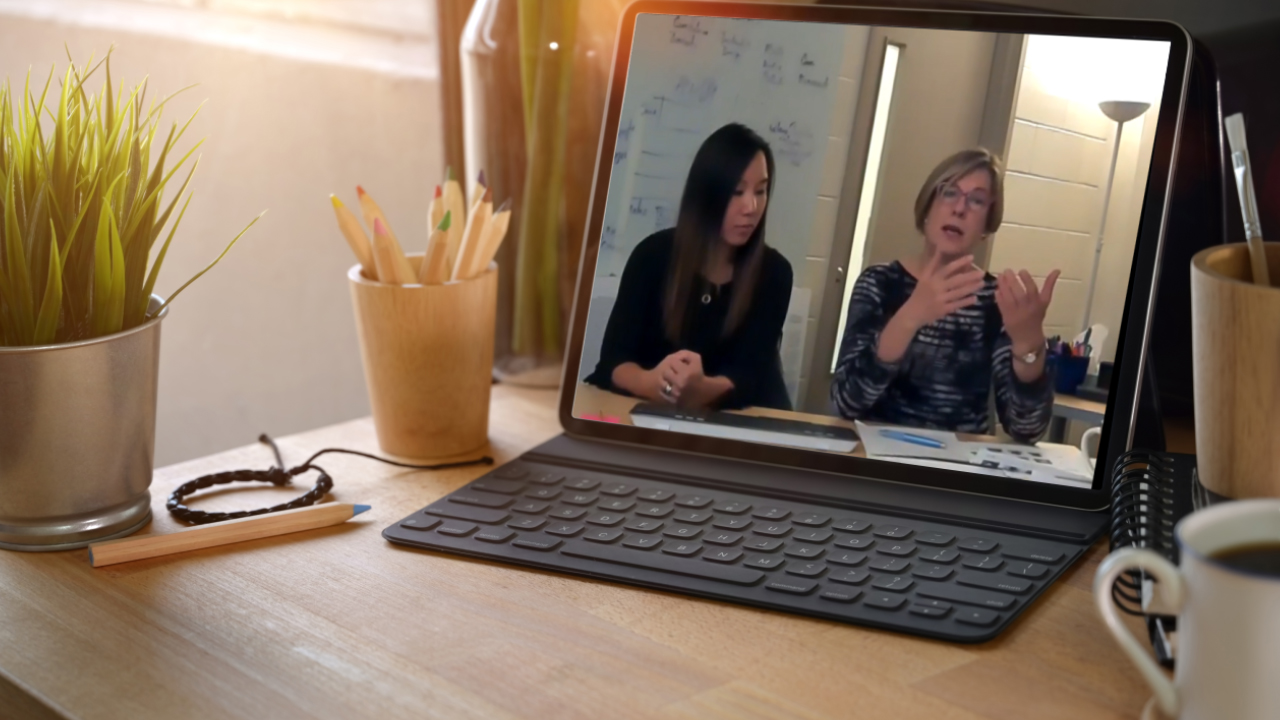 Student Services
The School of Public Health is committed to providing the robust level of support to our online students that they need in the virtual learning environment. Students participating in degree programs virtually are entitled to a variety of services to assist them throughout their educational journey. These services include, but are not limited to:
Access to career services like advising, job search tools, networking opportunities, and career events through Michigan Public Health's Career Office
Online resources and assistance for the University's Libraries services, including the Taubman Health Sciences Library
A variety of IT assistance services through both the School of Public Health and the University
Specialized assistance is available via online support services for many of the tools used in the program including Coursera, ProctorU test services, and more.
A supportive online peer community on Slack
Virtually accessible student wellness activities and events from all over the school's community
Hear from one of our online MPH alumni about how he was able to benefit from working with our career services team.
Student Organizations
Online students are encouraged to reach out to any of the many student organizations here at the School of Public Health to see how you can participate in meetings and events either virtually or in person if you are near to campus.
We're happy to now have elected representation within the school's student government organization, the Public Health Student Assembly (PHSA). The online student population is currently represented by the Online MPH Chair.
Learn more about School of Public Health Student Orgs.
Networking
Online students will also have the opportunity to collaborate and network with like-minded peers in the field from across the country, across industries, and at varying points in their careers.
All online students will have access to internal job boards and career fairs, as well as access to one-on-one engagement through the alumni mentor network and corporate partner network. Online master's students are members of the University of Michigan community and get access to a wide range of student services, including career counseling and free Michigan Online course certificate programs across learning disciplines.
Students also have access to Michigan Public Health Connect, a mentoring and networking platform that supports connections across the Michigan Public Health community. This platform has been created exclusively for alumni, students, faculty, and staff from the School of Public Health. Michigan Public Health Connect provides a meeting place for members of our community to have conversations, ask questions and seek guidance, coach and inspire, and explore paths to professional aspirations. Current students are invited to join and engage with Michigan Public Health Connect once they are enrolled. Students can use Michigan Public Health Connect to participate in a student-alumni mentoring program and connect with one of our alumni in the field on a regular basis.
MICHIGAN PUBLIC HEALTH connect LOGIN
---
Learning Tools
While some content can be accessed from a mobile device, some (e.g., proctored exams, live Zoom sessions) will require specific equipment or digital capabilities. Full participation in program activities will require students to have access accessories such as microphones (some webcams have this built in) and headphones. Additionally, it is essential that online students can maintain a stable and reliable internet connection, are able to access various browser types, and utilize sufficient storage and memory capacity on their devices used for schooling.
For a detailed list of the recommended computing specifications needed visit the University's Tech Shop website. These recommendations are intended to support the proper functioning of the platforms used in this degree program.
Many students choose to purchase a new computer when starting an online program. The U-M Tech Shop is also available to help with this process, and offers academic discounts. The Tech Shop can help explore computer system options and offer custom advice.
Tools and Software used in this program
Instructors will generally utilize the following tools in their courses, students may want to familiarize themselves with the uses and functions of these tools prior to beginning courses. Coursera | Zoom | Slack
We'll also offer some tips and instructions in the onboarding course for the program, and you'll always be able to rely on your faculty, student services staff, technology partner staff, and peers for support throughout your learning experience.
---
Helpful Links
SPH Career Services
The Michigan Public Health Careers Office can help you with next steps both professionally and academically.
Academic Calendar & Registration Deadlines