Keeping Local Public Health at the Table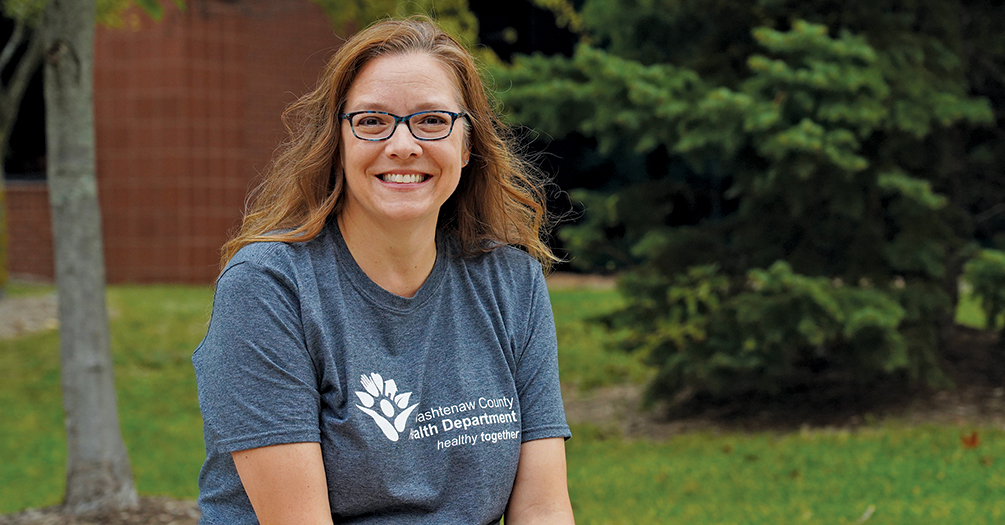 Susan Ringler-Cerniglia, MPH '04
Local public health experts and authorities have the knowledge and expertise to respond to public health crises and support disease outbreak responses led by state or national officials—from a local hepatitis outbreak to a global pandemic.
They exemplify the phrase unsung heroes—keeping us safe when we may not even know it.
While the work they do locally may be unique, there are some common challenges, according to Susan Ringler-Cerniglia, MPH '04, communications and health promotion administrator for the Washtenaw County Health Department.
Public understanding of public health is one such challenge, which can lead to lack of support and resources. "Local public health professionals sometimes have to fight to be at the proverbial table," she observes.
The pandemic has led to unprecedented difficulties for some public health professionals, including extreme negativity toward the entire field from some individuals.
Despite the challenges, Ringler-Cerniglia understands that consistent gratitude and extreme positivity can be just as infectious as the disease outbreaks she and her colleagues are managing.
"I remain in awe of my coworkers, colleagues, and community partners who just keep going to protect everyone's health. Most of us working in local public health are here because we believe the system can be improved. At heart, we're optimists," she says.
---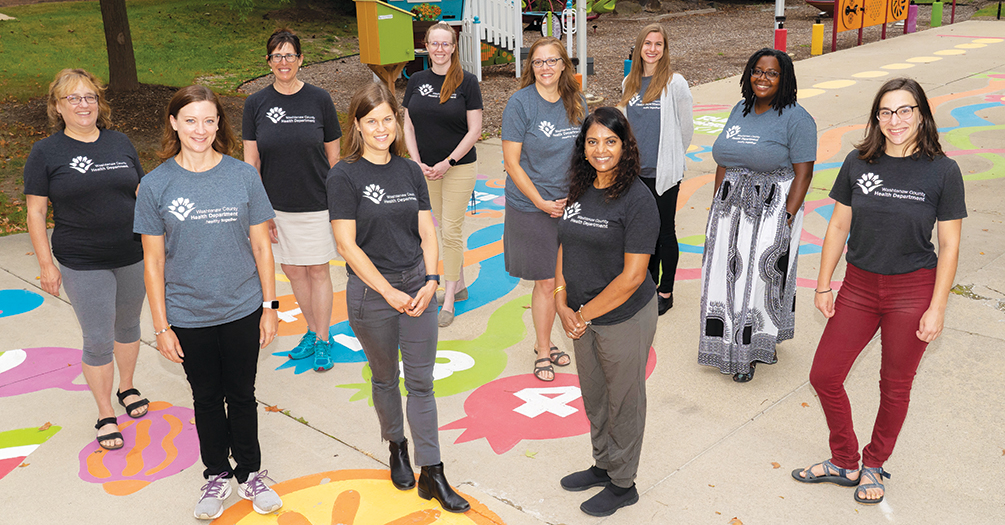 Many Michigan alumni practice public health right here in southeastern Michigan. The ten pictured above all work for the Washtenaw County Health Department and are standing in front of the department's main building in Ypsilanti.
From left to right: Ruth Kraut, MPH '03; Kristen Schweighoefer, BS '98, MPH '00; Laura Bauman, MPH '99; Lily Guzmán, MPH/MSW '05; Kelly McCarthy, BS '12, MPH '14; Susan Ringler-Cerniglia, MPH '04; Gayathri Akella, MS '97, MPH '14; Erika Chanderraj, MPH '17; Charlyn VanDeventer, MPH '05; Tedi Milgrom, BA '09, MPH '12.
Not pictured but also school graduates working at WCHD: Nicholas Dolnicek, MPH '20; Ariane Donnelly, MPH '10; Juan Luis Marquez, MPH '18; Nicola Milgrom, MPH '13; Adreanne Waller, MPH '88.
Thanks for all you do to keep us healthy!
---
Ringler-Cerniglia's role is to ensure those outside the field understand both the expertise of public health professionals and the limitations of its resources. "In spite of our authority in managing a pandemic, for example, local public health departments aren't set up to operate for extended hours," she says.
Updating some of the ways public health is structured would help. "The field is often set up in a 9-to-5, unionized scheme, which doesn't work in a pandemic nor for an organization expected to respond to public health emergencies and disasters," she says.
Local public health funding tends to be focused on mandated services. "And these are often very specific things—TB control, HIV testing, vaccination, WIC programs," Ringler-Cerniglia says. "Sometimes you get the funding but are restricted in which activities you can do with the funds."
"These are important programs. We want to see them funded," Ringler-Cerniglia says. "But when necessary work falls outside the specifics of how we're funded, we sometimes can't meet the evolving needs of our communities. We get creative and do as much as we can with the resources we have."
Public health crises are awful. They should also serve as teaching moments, opportunities to tune people into the tremendous value of every dollar spent on public health.

—Susan Ringler-Cerniglia, MPH '04
Public health usually has easier paths to significant funding "when we're reacting to an emergency," Ringler-Cerniglia observes. "But we need to be building systems all the time that help us prepare for a variety of possible exigencies—not only infectious disease outbreaks like measles or COVID but chronic diseases too and complex phenomena like the opioid epidemic."
Ringler-Cerniglia has seen how the coronavirus pandemic brought broad attention to a field that deals with the outbreaks we experience all the time, "from Michigan's hepatitis outbreak to high-profile food outbreaks."
But again, responses are developed after many have already suffered, she says. "These are public health emergencies that are entirely unfunded until they occur. Then suddenly people are hyper aware of public health and quickly have lots of expectations about what we are able to do, how we can help them, and all the data we ought to have available to us."
Communities often imagine and thus expect that we have every possible public health infrastructure system in place. "But we haven't invested in the development and maintenance of those systems. Ideally, of course, we want to build systems that prevent disease outbreaks and other significant health burdens," Ringler-Cerniglia reminds us.
"Public health crises are awful," Ringler-Cerniglia says. "They should also serve as teaching moments, opportunities to tune people into the tremendous value of every dollar spent on public health. Hopefully, the pandemic is clarifying the need for ongoing investments in everyone's health so we can all be much healthier going forward."
---