Public Health Degree Helps Aspiring Doctor Focus on Health Education and Disease Prevention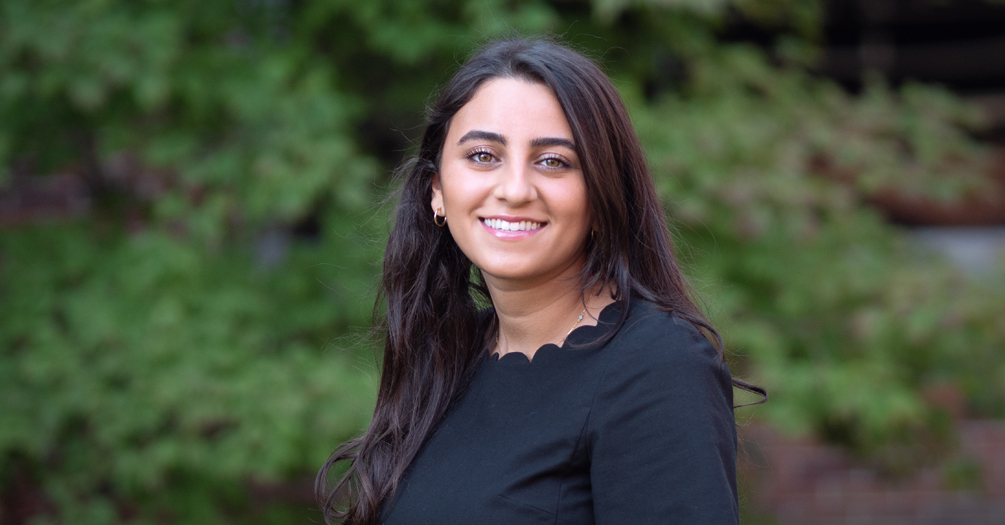 Reem Fawaz, BS '23
Bachelor of Science in Public Health Sciences
Where did you grow up and what first got you interested in public health?
I was born and raised in Dearborn, Michigan, just 20 minutes outside of Detroit. Both of my parents are Lebanese whose families moved here to seek a healthier, more prosperous life.
I first became interested in public health after taking an Introduction to Public Health course the summer after my freshman year. My professor Patricia Wren, MPH '92, was pivotal in cultivating this interest because of her insightful (even on Zoom!) lectures and her passion for public health.
I knew I had finally found a field that combined many of my passions: public policy, law, science, and health education. Public health can be as broad or as specific as you want—that's the beauty of it. You can shape it to fulfill your purpose in ways that make sense to you.
How will public health help pursue your academic and professional goals?
I've always known that I wanted to make an impact in my community. Becoming a doctor seemed most ideal for me to fulfill that goal.
Through volunteer work and other experiences outside of the classroom, however, I realized that having a public health foundation is vital to achieving my goal of building a healthier community. There are so many public health practices in place today that have saved millions of lives—such as vaccines. I want to use my public health degree to become a doctor who focuses on prevention and education, especially in under-resourced communities.
How did you learn more about the field as you decided to major in public health?
Reading profiles on the We Are Michigan Public Health page was inspiring. Students are using public health to fulfill their own aspirations, and the University of Michigan School of Public Health is instrumental in that process. The student profiles on the site emphasize the idea that public health can be a foundational gateway to pursue other professional goals. And along with the research I had done on the school's curriculum, the profiles helped me understand the program from student perspectives.
Why did you decide to create a public-facing health communication newsletter?
My Public Health 101 newsletter is a culmination of many things that sparked for me as I completed the Intro to Public Health course with Dr. Wren. The information we learned, if shared in new ways, could help prevent many of the health problems that exist today.
I created the newsletter also as a "passion project" in my second year of college, because so many opportunities to stay involved on campus were no longer available due to the pandemic.
I also consider myself to be an avid reader and an enthusiastic writer. This project allowed me to partake in an activity that included writing, reading even more about public health, and contributing to my goal of building healthier communities. Given the misinformation being spread about public health, I wanted to create an unbiased, factual platform to share information on health topics that too often are misunderstood or complex. Misinformation can be detrimental to the public's view of science and health care, especially during times of crisis. Evidence-based information from a variety of trusted sources can build up understanding of and trust in science and health care, which can lead to better health for everyone.
---