Discovering Public Health - Frontlines - U-M School of Public Health
Discovering Public Health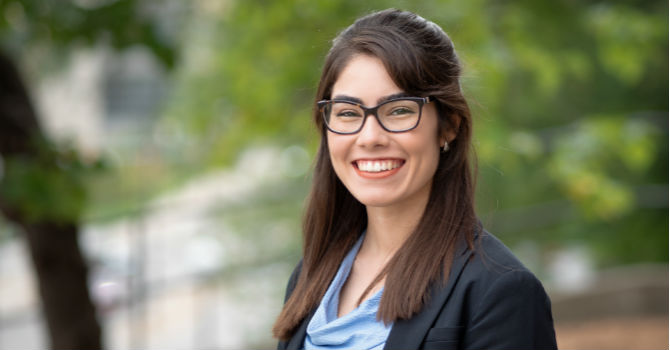 Jennifer Gonzalez, Recent Graduate, Health Behavior and Health Education
My journey at the University of Michigan started when I interned in the Future Public Health Leaders Program (FPHLP), a summer internship at the U-M School of Public Health. Before FPHLP, I had some idea of what public health was because of my background and lived experiences, but I had never formally learned about it and what it entailed. Through FPHLP, I gained an understanding of the different public health concentrations and the importance of social determinants of health.
That summer confirmed that public health was for me. As a first-generation student, I never thought I would go to graduate school, much less leave my home state for my education. I did not know much about the GRE, and I only knew a handful of students who were in graduate programs. However, FPHLP sparked a fire in me; it gave me the confidence I needed to believe I was more than capable of taking this next step. A year after finishing my internship, I was starting my first day of school at the University of Michigan School of Public Health.
I was eager to explore social sciences in a way I never had before. However, because I came from a hard sciences background, I initially questioned whether I was gaining anything from my program. I was used to learning in a way that required me to memorize concepts and then show that I knew them by putting them on paper during an exam. Graduate school was different, and I quickly realized I had to adapt to a different academic and learning environment. Although it was challenging, I learned from peers and mentors about different strategies I could use to make the most out of my program.
I truly enjoyed the courses that helped me realize where my specific interests were—I also got a glimpse of that outside the classroom setting. I had many unforgettable experiences during my time in Michigan, but my favorites were those that allowed me to collaborate with classmates, public health professionals, and community members. I participated in Innovation in Action, took a Public Health in Action course, spent two months in South Africa for my internship, and worked with Latinx students at SPH to lead La Salud.
My academic and extracurricular experiences helped me gain a better understanding of factors that influence access to care, such as history and information. I realized how much history matters regarding racial and ethnic health disparities across the world. I also gained an understanding about the role data analysis and data visualization play when it comes to influencing health policies and the allocation of resources. Lastly, I was able to identify the type of work I enjoy doing and what I want to do moving forward.
Looking back, I think about both the excitement and fear that came with relocating to Michigan. I was eager to experience something new, but the possibility of feeling lonely in a place so far from home frightened me. I made the conscious decision to push myself out of my comfort zone in order to find community in Ann Arbor. Luckily, I came across life-long friends, my partner, and mentors who were always willing to listen and give a piece of advice.
I can't help but wonder where I would be if a friend hadn't told me about FPHLP and encouraged me to apply. Because of him, I gained a deeper understanding of public health and what I wanted to do with my life. I am extremely grateful for the guidance I received while I was in my graduate program, whether it was from my community back at home or in Michigan. There is no doubt that without my support system, I would not be where I am today. My hope now is to use my training to collect, analyze, and visualize data in order to reduce health disparities and increase access to care. To everyone who helped propel my public health journey forward, thank you and GO BLUE!
Support students like Jennifer.