Connecting the Unknown - Frontlines - U-M School of Public Health
Connecting the Unknown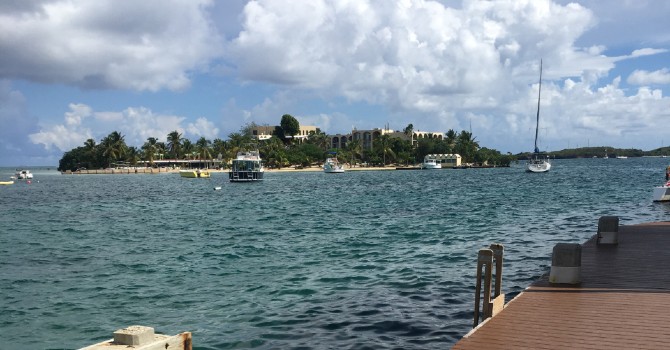 Asia Island, HBHE Student
Note: There was a temporary pause in the publishing of our blog posts as our team returned in early March to the rapidly changing nature of the Coronavirus in Michigan. We now wish to share the thoughts of students on their experiences just before the COVID-19 outbreak.
This experience was one of a kind. I did not expect to have the experience that I did in the US Virgin Island. Throughout the experience I learned much about what true community work looks like. Not expecting to interact with locals as much as I did, the fear that I had going in was eased away quickly. Working with the local department of health and the Center for Disease Control and Prevention (CDC), we were able to learn a lot from people in various aspects of the field.
Some public health skills that I learned while in the US Virgin Islands includes communication, teamwork, and flexibility. All of these skills intertwined while doing the CASPER. Communication was key when working in the community, assigning roles within the team, and with the leadership staff. In order to support one another and to make sure we were on track the primary method was communication. Teamwork also played a huge factor. It's a team effort to close the clusters! When one group is struggling it was nice to have others that could help. Lastly flexibility was important. With the threat of a pandemic, many leadership staff within the department of health and CDC were preoccupied and much CASPER expectations fell on the Michigan team. Focusing on emergency preparedness, I learned that anything can happen and we must be flexible to address needs. I also learned that emergency response is complicated! How they operated was completely different than expected. Being in public health, it is a well known fact that departments are understaffed and it was clear that at times like this all hands on deck are required.
For me, the most important thing I learned was how to work in an environment that is completely different from what I am used to. USVI is culturally very different from the states. From driving etiquette to being invited into people's homes, many norms are not the same. It allowed me to learn how best to approach public health work in different environments. It does require one to be personable, vulnerable, and inquisitive.
This project is directly related to public health. The survey was directly related to how the organizations we partnered with can help the community. Many survey participants were happy to see that someone was out and asking direct questions from them. Many even expressed concerns that are often not recognized unless brought to one's attention. Emergency response, especially today, has a spotlight on it. The CASSPER, although post a disaster, is a representation of what the public health field may focus on following COVID-19.