When "I hope to do that" turns into "I'm doing it" - Frontlines - U-M School of Public Health
When "I hope to do that" turns into "I'm doing it"
Souad Ali, HBHE Student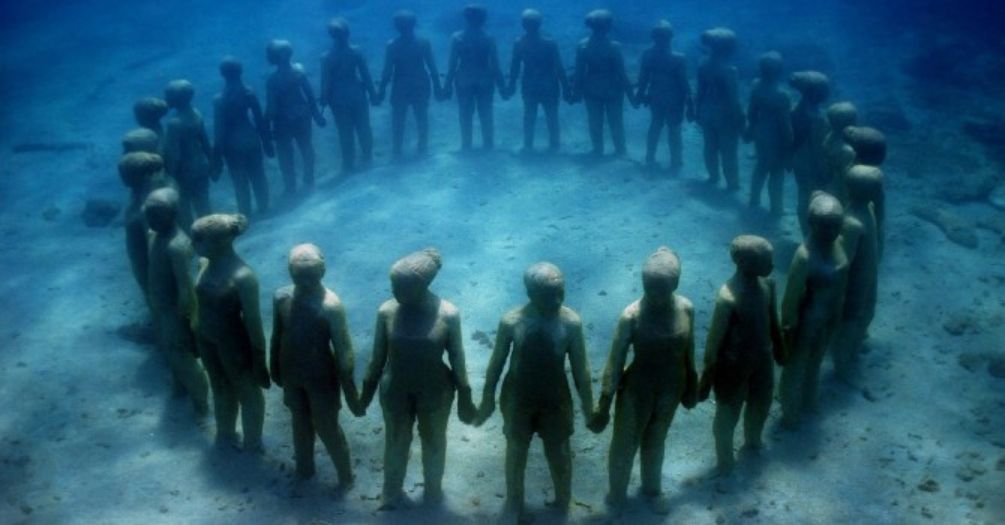 Photo Description: Underwater Sculpture by Jason deCaires Taylor
Not to be cliché, but I can vividly remember myself looking at pictures in textbooks of people that travel to different places around the world to help. It was always healthcare professionals that were assisting though; doctors, nurses, and dentists. This turned into my desire to become a physician, thinking that it would be the only path to that goal of mine. When I realized that I didn't want to be a doctor, I thought I had to change those aspirations of global work too. Little did I know Public Health was an option.
I've done a decent amount of global work in the past, and have worked with high and low and middle-income countries. But this experience feels different because it's in such a short period of time. I don't have the opportunity to really build connections, and my biggest fear is that there isn't much space for mistakes. This is both terrifying and exciting because I am really hoping to build those skills. I think reading about entering and exiting a community is completely different from actually doing it. Even if I don't build on those skills, it concerns me that even if I don't cause harm per say, that I might leave without having done anything or have wasted everyone's time.
I am incredibly looking forward to sitting with the students and talking about the issues we are researching. The fact that the data we collect is what will be used to implement a health prevention/promotion program is incredibly exciting, and I really hope we are able to check back in and see the effects it had on the community.
Aside from work, the staff from the ministry in Grenada seemed so enthusiastic about having us there and stressing that they wanted us to explore the island and experience their culture literally made us shimmy. They asked us what we most hoped to do and my team's consensus was diving; so we are looking forward to hopefully trying it out in the crystal blue waters.
My personal goal is to be able to adapt quickly to any changes that arise during our trip. Whether that be scheduling, or with the interviews we are conducting, or the weather or whatever it may be.
Can't wait to come back and say "I did it!".