Kentucky CASPER Reflection: Addressing Discomfort and Appreciating Diverse Realities in Rural Public Health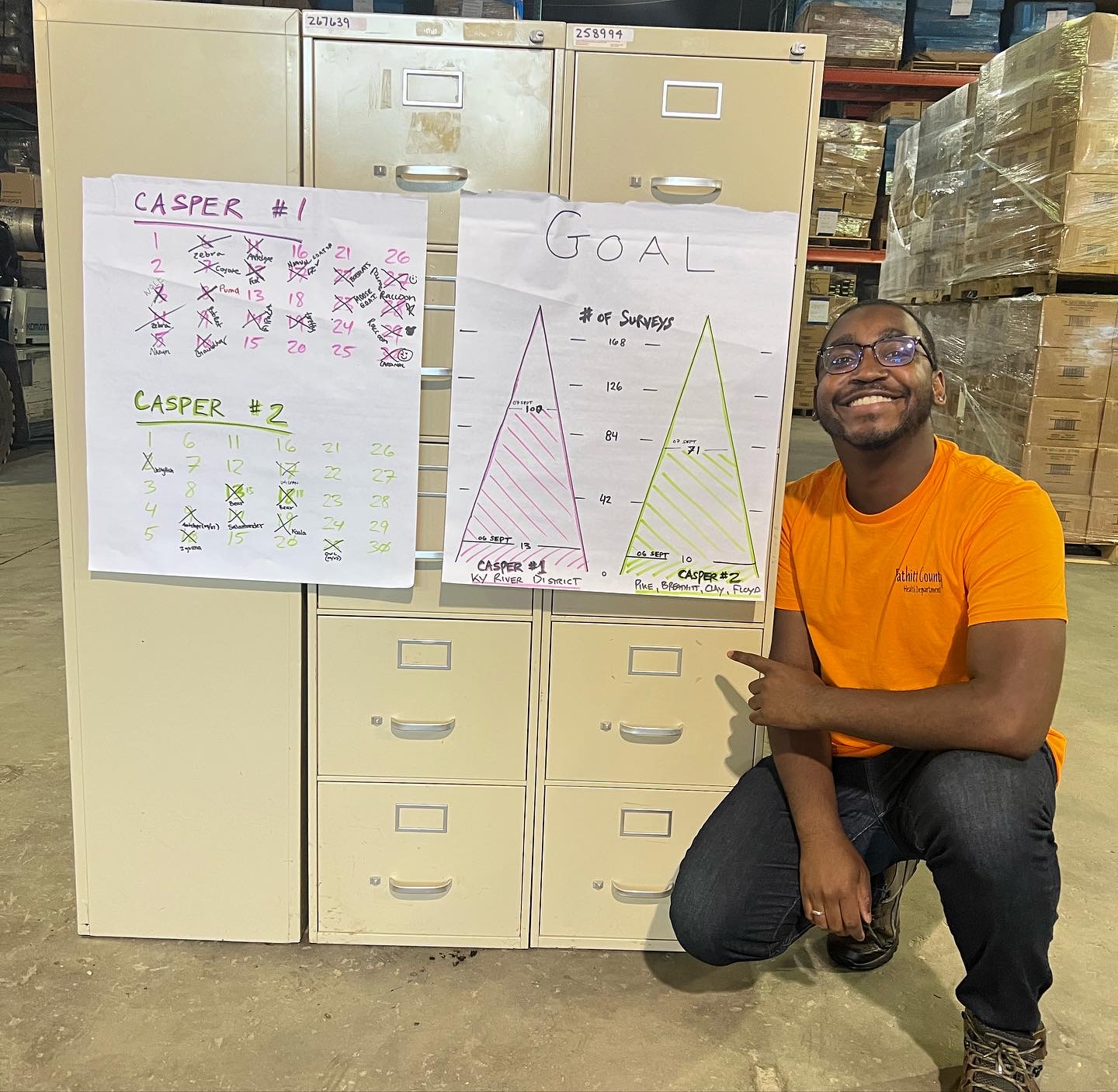 Brandon Bond
Dual Degree MPH/MSW Candidate
I am incredibly grateful to have had the opportunity to collaborate with the Kentucky Department of Health and the Centers for Disease Control and Prevention in administering two Community Assessments for Public Health Emergency Response (CASPER), which gathered household-based information on the needs of the community. In July 2022, Eastern Kentucky endured devastating flooding, which has been described as a "once-in-a-thousand-year flood". Our focus involved going into some of the hardest-hit areas including the Kentucky River District and the counties of Breathitt, Clay, Floyd, Letcher, and Pike.
This was an unprecedented event as the project involved conducting two CASPERs simultaneously and fostering collaborations between the local, state, and federal government, academic institutions, health departments, and local Kentucky residents. Our joint effort resulted in the successful completion of both CASPERs ahead of our expected deadline. Together we gathered a total of 193 household interviews from the Kentucky River District and 195 household interviews from the additional counties of Floyd, Breathitt, Pike, and Clay.
This project would have been impossible if it were not for the vital presence and efforts of the local community leaders on our team. It was incredible to see how they were able to connect with each of the households we engaged with. They demonstrated the importance of knowing and caring for those in one's community and how the bonds of a community remain just as strong in times of hardship. Fortunately for the non-local volunteers, the local community members generously extended their warmth to us.
In complete transparency, as a Black man, I was surprised to be met with so much warmth and kindness. From the limited exposure I had to rural culture and environments, I admittedly came into the project with my own reservations and biases. My "knowledge" and perception of rural communities were limited to the negative stereotypes and monolithic stories I heard and saw through media and other people with their own limited exposure. Despite my desire to support the people impacted by this tragedy, I came into the project guarded and prepared for the worst-case scenario. However, with each person and each household, I interacted with I found myself laughing with the residents, hearing stories about their families and values, and gaining insight into their lives at one of the most vulnerable periods in their life. Each encounter reminded me that people just want to be seen, heard, and loved.
With each interaction, I lowered my guard, but as that happened I also felt in an increased sense of shame for making assumptions and reducing a community to the stereotypes associated with them. These are the same practices used the reduce the humanity of several of the identities I hold. As someone that directly experiences this harmful practice on a daily occasion and as a professional in the field of public health and social work, I still perpetuated this practice. This experience truly humbled me and allowed me to see that like others, I must work just as hard to reduce my biases so I can genuinely cherish the experiences and perspectives of others. Overall, this experience showed me that bias will always be present in the world, but it does not have to be permanent in an individual's mind. Also, the only true way to reduce bias is by offering genuine exposure opportunities that force us to challenge the socialization components of our belief system.
While the project can be considered successful and a great experiential learning opportunity, it is of greater importance that as public health professionals we not only see the data that was collected, but we remember that these data are a representation of the personal and vulnerable experiences that were shared with us. These experiences were life-altering for many of the residents and we need to ensure that the data collection phase is not our last interaction with them. I hope our field continues to make progress in pursuing practice centered around promoting wellness, humanity, humility, and trauma-informed practice.
I want to thank everyone that helped make the project happen and most importantly the residents for being vulnerable and willing to share their experiences!
Some key takeaways from this trip include:
There is no replacement for strong relationships and shared histories.
Rural health is public health and the unique factors that come with it need to be integrated into our education.
Public health needs to invest in trauma-informed practices.
Recognizing the assets/strengths of a community can be just as strong as highlighting what is lacking.
The values, practices, and regulations of additional factors need to be known and respected when doing interprofessional work.
Community-centered surveys should include local language/terms to be most effective.
It should not take mass devastation to address the community's needs that were present prior to the event.
Emergency assistance needs to actually ASSIST people as opposed to forcing people to go through the appeal process.
People of any set of identities have biases that they should continuously challenge.
Tags