Variety Is the Spice of Life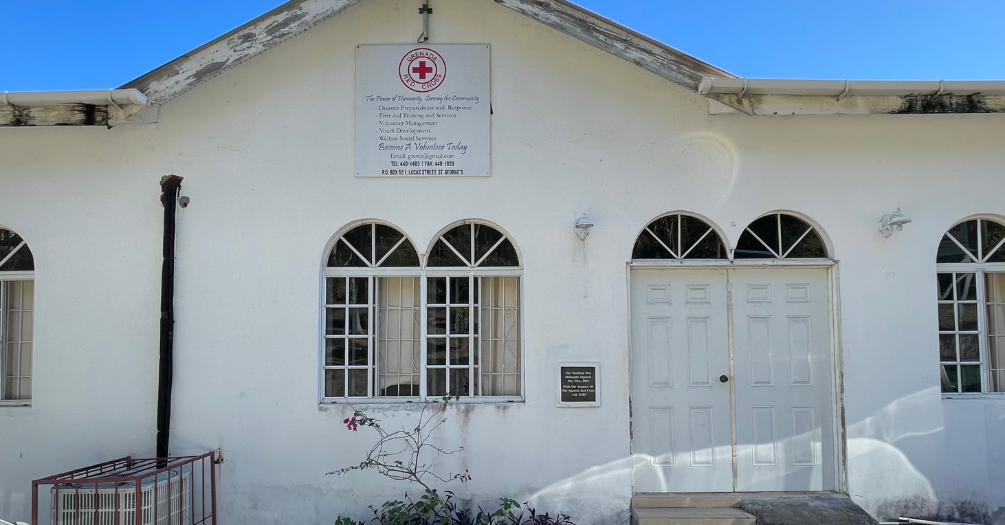 Helen Xu
2nd Year, MHSA in HMP/MPH in HBHE Candidate
It's hard to believe that we've just finished our fifth day in the beautiful country of Grenada! I've learned so much since touching down, including fun facts about spices, Grenadian demographics and common issues facing the population, and slang like "liming1" and "copacetic2 ." Our first two days were dedicated to experiencing the great varieties of the island. I spent our first day snorkeling through the underwater sculpture park where the statues serve dual purposes – they have meanings tied to Grenadian culture but are also a part of conservation efforts to protect reefs and help maintain the ecosystem's health. We took a tour around the island on our second day to see waterfalls, sample chocolate, enjoy Grenadian cuisine, and discover more about the history and culture of the island nation.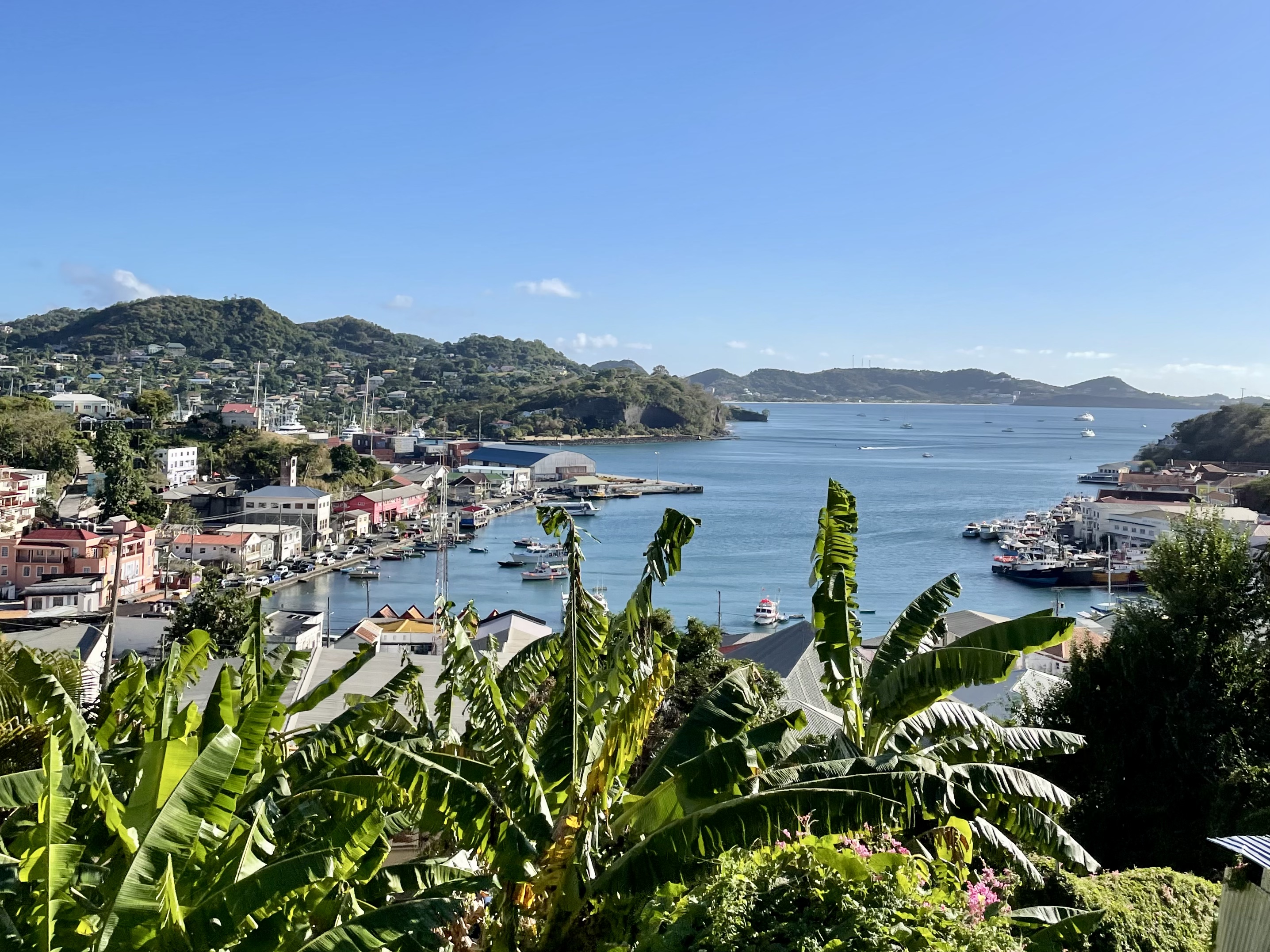 View of St. George's from GRCS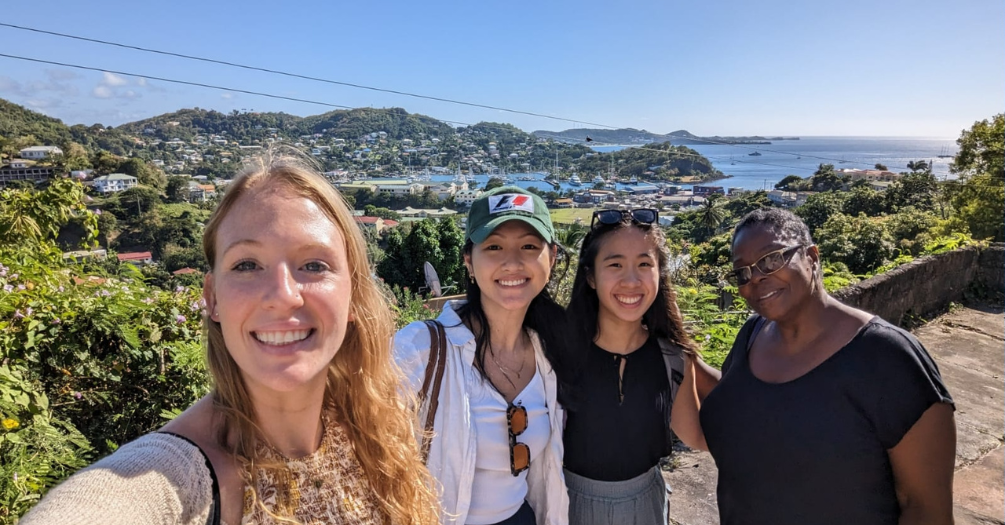 Touring GRCS headquarters with Stephanie, a longtime volunteer.
On Monday, my team – Audra Gill and Cathy Nguyen – and I hit the ground running with our partners: the Grenada Red Cross Society (GRCS). We met with the president, Samantha Dickson, to finalize our goals for the week and familiarize ourselves with their ongoing operations. Following the meeting, we toured headquarters with Stephanie and Sarge, two dedicated volunteers, and spoke about their time with GRCS. Tuesday was the beginning of our interviews starting with rural populations across the parishes of St. Andrew and St. Patrick. We walked around markets and a variety of gathering areas to find out about local communities – how they mobilize and what kind of resources and support they require and/or have available. There was a slight barrier in communication with accents across regions, and fortunately we had a GRCS volunteer, LuAnn to help guide us. Being an outsider can be an uneasy role in community development because you want to learn as much as you can without overstepping and we. as short-term volunteers, don't necessarily have the have the power or capital to assure community members that their needs can be met immediately.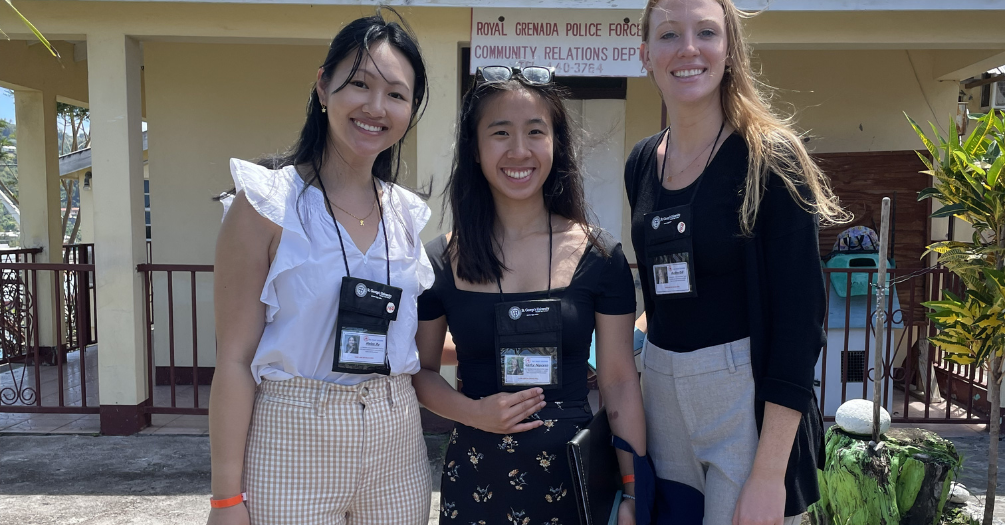 Day 2 of interviews: pictured in front of the Community Relations Department of the Royal Grenada Police Force.
Our second day of interviews was with organizations to better understand what role the GRCS plays in each of their institutions. Our first meeting was with a primary school, and it was heartwarming to hear why students joined the club: many wanted the ability to help family members and friends if an emergency were to happen. Given that youth make up most of the population, it is promising to see strong volunteering efforts in younger Grenadians. I'm grateful for the variety of people we were able to speak with and it's interesting to see how the range of opinions and ideas differ between individuals.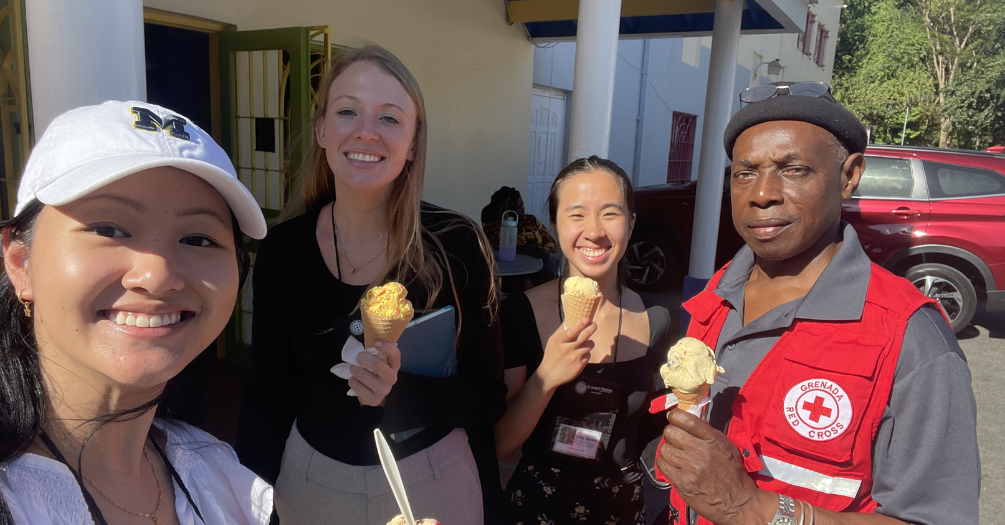 Ice cream to end our last day of interviews with Sarge, a longtime GRCS volunteer who graciously drove us to and from interviews.
Our final days will be spent organizing the information we've gathered from our interviews to prepare for our final presentation. The presentation will include our recommendations to GRCS on how they can increase visibility within communities and encourage more people to volunteer and best serve island communities. I'm so thankful to GRCS for welcoming us with open arms and providing so much support as we ventured into communities and organizations. We couldn't have done it without their kindness and encouragement.
1. Liming – chilling, hanging out, relaxing
2. Copacetic – excellent, great, wonderful