'The point is human health'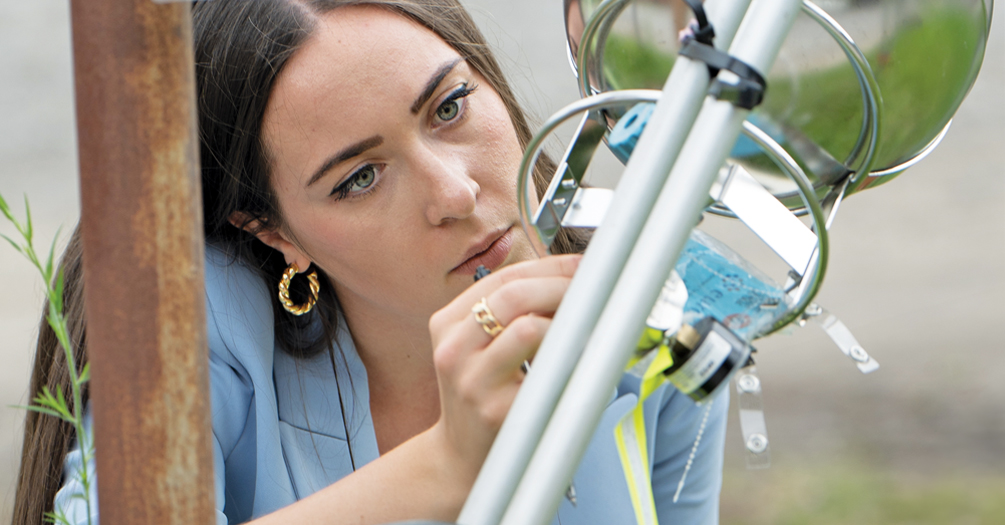 Doctoral student feels compelled to help others
By Matt Markey
When Jennifer Smith considers the role researchers should play as environmental disasters devastate communities across the map, she is guided by her concern for the individuals connected to the countless personal stories, and an awareness of the immeasurable pain involved in places such as Flint, Michigan, and East Palestine, Ohio.
The relative sanctuary of just another day in the laboratory is not appropriate.
Smith, a toxicology PhD student in the Department of Environmental Health Sciences at the University of Michigan School of Public Health, feels strongly that when people are affected by environmental injustice, active involvement is imperative.
"I believe that those capable of helping others incapable of advocating for themselves have a moral obligation to do so," she said.
Whether that be in person, putting other projects on the shelf to serve in a supplemental capacity to those professionals on the ground, or speaking out, Smith believes vigorous participation in the toughest situations should be part of the lineage of every undergraduate student, graduate student and graduate of public health programs. Those who have suffered due to environmental disasters carry even more of an obligation.
"If you have the capability to help, you should," she said. "If you have the passion and ache to help, you should. And if you have both, like I think many people in this field both here at Michigan Public Health and elsewhere have, you are capable of making a massive impact that not many people can or will."
Rust Belt childhood serves as foundation
Smith's deep-seated melding of compassion and zeal has its foundation in her youth, growing up in the Youngstown area, a Rust Belt icon in northeast Ohio where industrial pollution has been the unwanted next-door neighbor for more than two centuries. What she witnessed as a young girl has much to do with why Smith chose to pursue a career in public health with a specialty in toxicology.
"As kids, we joked about those rusty jungle gyms that were actually the old factories—and the Mahoning River that flows right through town was so polluted," she said.
A huge reason why I am motivated to do what I do now is because of Youngstown. It is my sincere hope that by raising awareness of these problems and researching solutions, I can be a part of the people aiming to restore health to this region."
She hopes to develop a more thorough understanding of how the presence of environmental toxicants, such as heavy metals and industrial synthetic chemicals, can affect gene expression through a process called epigenetics. Adverse epigenetic changes that occur as a result of exposure to these materials in the air, water and soil or consumer products can lead to destructive health crises.
"A huge reason why I am motivated to do what I do now is because of Youngstown," Smith said. "It is my sincere hope that by raising awareness of these problems and researching solutions, I can be a part of the people aiming to restore health to this region.
"When I saw how the plan for dealing with this abandoned factory material was basically to let it disintegrate into the water and soil and how sick my city was, it wasn't hard for me—even as a kid—to draw that connection between the polluted environment and the diseases I saw around me."
The indelible imprint left by her childhood has made Smith a warrior for environmental justice and equity, whether that be while working on the front lines of a crisis or in an ancillary role.
Jumping in to assist the critical work being done in response to real-world scenarios must be the immediate reaction.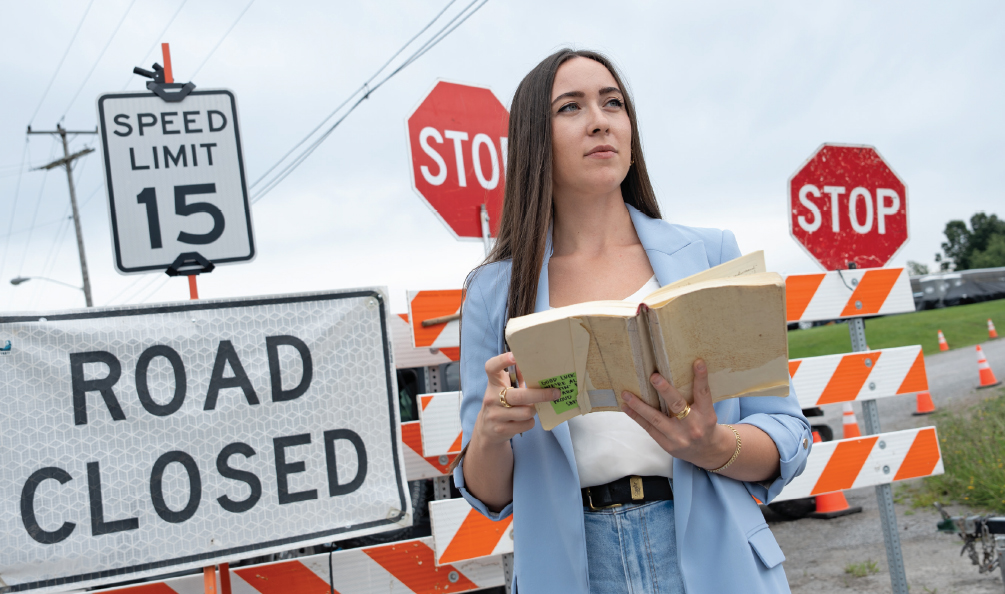 Pollution impacts human DNA expression
Smith has turned her long-term attention to those problems and issues that will arise tomorrow, next month or years from now based on the destructive impact polluted environments have on our DNA expression.
Since epigenetics looks at the way the environment can change the way the human body interprets its DNA sequence, Smith's familiarity with Youngstown and its legacy of ecological trauma has provided a powerful motivation to study this topic.
Her concern is rooted in a strong connection to the community and the Youngstown school system, which, according to state standards, has been dramatically underperforming for decades. Smith said that while the lack of overall achievement by the students in communities such as Youngstown has been linked to a wide range of complex social, political and economic issues, she believes the health problems that likely are another major component are not being discussed.
"Urban areas, especially those in the Rust Belt, are known to have higher levels of pollution, namely lead, a neurotoxicant associated with multiple neurodevelopmental disorders," Smith said. "We know that these toxins can affect gene expression in the brain through epigenetics. I do believe we should at least be acknowledging the possibility of environmental contaminants contributing to adverse learning outcomes in these types of areas."
Smith said increasing state funding, adding more teachers and offering after-school programs will not adequately address the learning gap in an urban school system if there are issues present due to adverse neurodevelopment as a result of exposure to lead or other chemicals.
"You are still fighting an extremely uphill battle," she said. "We do not even know if this is the case, but the problem is that I don't think anyone knows. That is why we should ask these types of questions and explore their outcomes. We need to investigate whether or not these brains are working properly, and, if not, why?"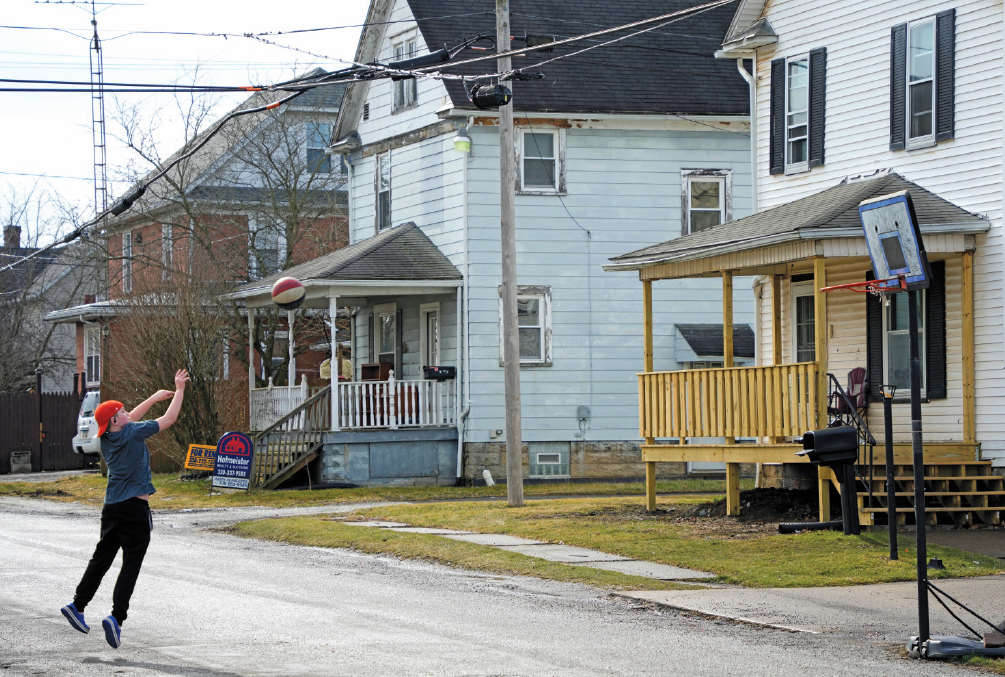 Public health research in real time
Smith said the lab she works in at Michigan Public Health was deeply involved in several complex projects and studies at the time a freight train with 20 cars of hazardous materials derailed in the village of East Palestine, about 30 minutes south of Youngstown, early this year, threatening the entire region with a potentially catastrophic environmental disaster.
Lab members quickly diverted attention to the people living in that area along the Ohio-Pennsylvania border and the harm that could come to those families living and working near the train cars that were leaking vinyl chloride, ethylene glycol, ethylhexyl acrylate, butyl acrylate and isobutylene.
"When the derailment happened, people in our lab stepped up to do research on the impacts of the chemicals released at the derailment on first responders," Smith said. "Additionally, faculty and staff personally met with me to discuss impacts to air quality and recommendations for personal-use water filters that I could deliver to my friends and family when the derailment happened. There is just such a generous attitude of support and concern.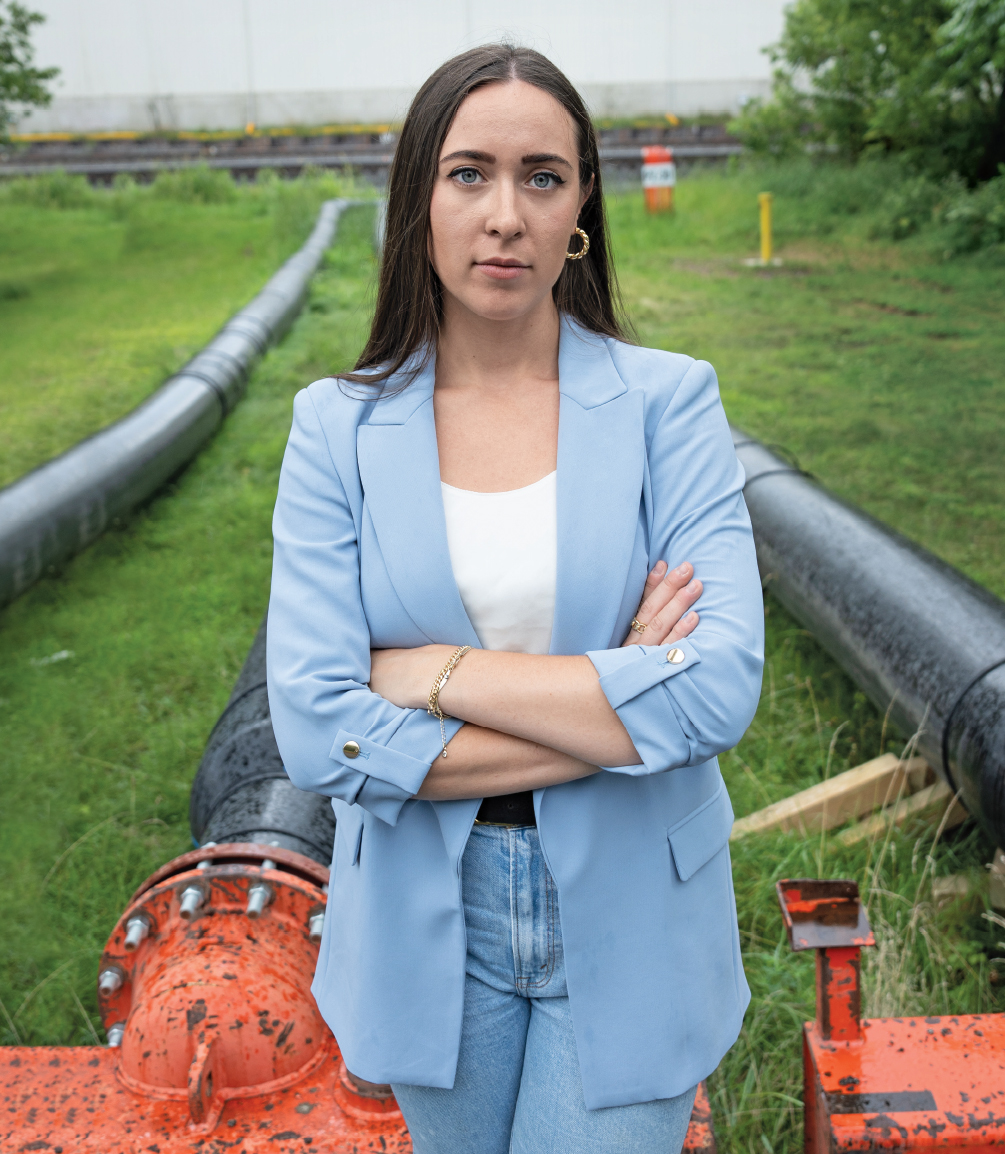 "This is not an uncommon attitude for most faculty and staff at Michigan Public Health. I think most would agree that the point is about human health. And if we are somehow capable of helping these people by doing what we know how to do—which is research—I believe we are obligated to do so."
Smith, who grew up near East Palestine, now attends classes on the Ann Arbor campus—just an hour south of Flint, where lead leaching from old supply lines contaminated the drinking water of 100,000 residents. She said responding to such emergencies is not just based on altruism and the practical application of one's skill set; it represents the core values of public health.
"We are so strong and responsive because these people affected are our neighbors, friends and family," she said. "I personally want to know the things we research so I can tell my family about it, and I am not alone in that."
This is not an uncommon attitude for most faculty and staff at Michigan Public Health. I think most would agree that the point is about human health. And if we are somehow capable of helping these people by doing what we know how to do—which is research—I believe we are obligated to do so."
"Jen channeled the knowledge she gained about the toxicology of the contaminants released in East Palestine into her Doctoral Qualifying Exam topic, evaluating the various pathways by which vinyl chloride form DNA adducts and increase risk for tumorigenesis," said Dana Dolinoy, NSF International Chair of Environmental Health Sciences and professor of Environmental Health Sciences and Nutritional Sciences at Michigan Public Health. "Jen's description of the impacts and translational potential of her proposed research in the written and oral examination were impressive—and she passed with flying colors!"
Smith said much of the work done at the school's Dolinoy-Goodrich-Svoboda-Perera Lab—named for principal investigators Dolinoy, Jackie Goodrich, Laurie Svoboda and Bambarendage "Pini" Perera (or DoGoods-Pi Lab)—can directly or indirectly apply academic excellence in addressing personal suffering that many in the post-industrial Midwest have experienced as a result of environmental injustice.
"I think that sets us apart," Smith said. "Flint is another great example of this. We don't study lead exposure just because we are so curious, which we are, but a huge reason why we study it is because of Flint."
Smith is currently involved in several overlapping research projects, including looking into how prenatal lead exposure can alter the epigenetic profile of the placenta and developing brain in mouse models.
"It is important to know what happens when pregnant mothers are exposed to this and how it happens," she said.
Smith is also undertaking a new project where she hopes to look at the effects of mercury on dopaminergic signaling in cell models.
"I want to focus on the neuro-psychiatric aspect of heavy metal poisoning and learn whether they are more susceptible to physical and psychological issues," she said.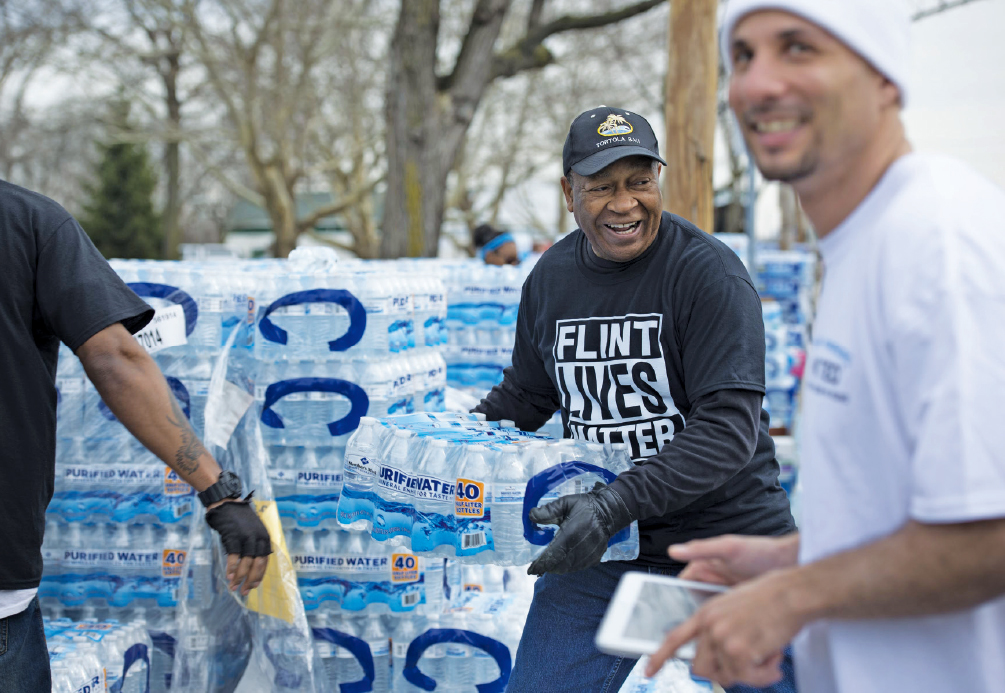 Protecting the well-being of others long-term
Smith is interested in exploring potential therapies to treat diseases relating to heavy metal exposure in young people and determine ways to possibly reverse these diseases through epigenetic editing technology and heavy metal detoxification.
Smith said the Flint water crisis and the toxic derailment in East Palestine can serve as vivid reminders to all those involved in public health of the critical role they can play in the immediate response to such tragedies and in protecting the long-term well-being of the people who have been directly impacted.
"While recruiting Jen to our doctoral program, I learned she was from Youngstown, Ohio," Dolinoy said. "During the late 1970s, Jen's hometown suffered after the closure of steel manufacturer Youngstown Sheet and Tube, which, over the next decade, put thousands of people out of work and resulted in abandoned toxic material.
"She channeled her passion for promoting safe environments first with an undergraduate degree in Neuroscience from Ohio State and now a doctorate in Toxicology from Michigan Public Health. If you ask her who she roots for in the big game in November, she'll smile and say she'd rather be busy in the lab or a nearby community."
"If you, with the right combination of schooling, passion, personal interest and resources, have the capability to respond to or raise awareness about these disasters and you do not, the very hard truth is that then, almost certainly, no one will," Smith said.
"In my experience, showing up for the toughest situations has been part of the pedigree of Michigan Public Health."
---