From Practitioners to Patients: Two Scientists Share Their COVID-19 Experience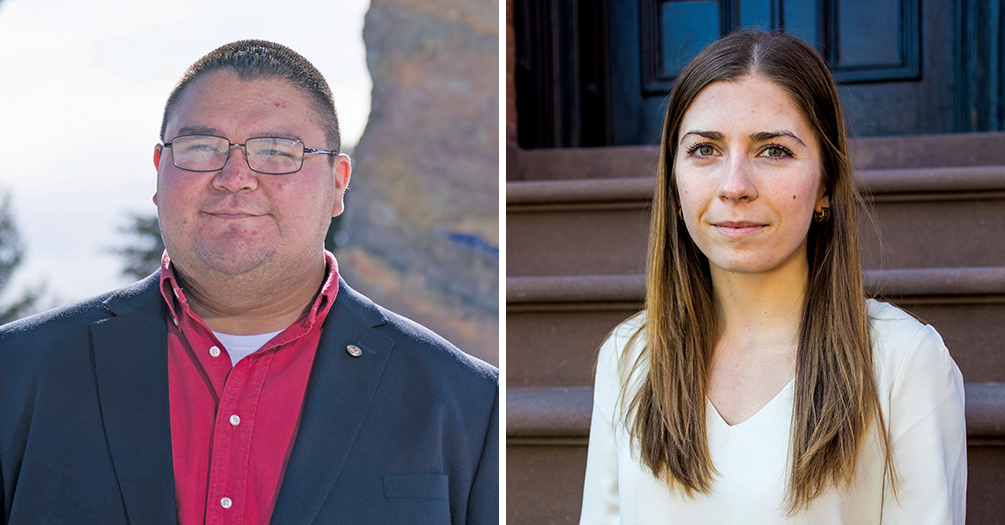 By Lori L. Ferguson
Scientists take comfort in numbers.
Numbers offer a means of making sense of the world and enable researchers to maintain a degree of objectivity toward the issue at hand. But when faced with statistics like 1 in 7—the number of New Yorkers believed to have contracted COVID-19—as biostatistician Katherine Hoffman, MS '18, was last spring, or an oxygen saturation level of 80%, as epidemiologist Joel Begay, MPH '18, experienced last fall, perspectives change. Each agreed to share what they learned when abstract research became personal.
Service Inspired by Personal Experience
Like any good scientist, Joel Begay is all about the data. He cites the exact day he came down with COVID—Tuesday, November 10, 2020—and clarifies that the test he received two days later was done with a nasal swab. He notes with certainty—thanks to the journal he kept to chart the course of his disease—that on day seven, he was suffering from cold sweats, shortness of breath, back pain, headaches, and oxygen saturation levels of 80 to 82%. "Those levels are low," he admits. "I probably should have gone to the hospital—it got to the point where I was afraid to fall asleep because I would wake up gasping for air."
The question Begay can't answer, however, is how he got the virus. "My girlfriend and I didn't travel, had our groceries delivered, washed our hands and practiced respiratory hygiene. I couldn't identify the likely point of infection." And for a scientist with a master's degree in hospital and molecular epidemiology, that's frustrating.
My experience has made me more passionate about giving back to the Native community through public health service.
–Joel Begay, MPH '18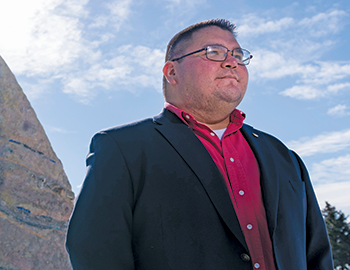 Begay is a data manager and analyst at the University of Colorado's Lifecourse Epidemiology of Adiposity and Diabetes (LEAD) Center in the Colorado School of Public Health. He spends his days studying the long-term effects of environmental influences on child health outcomes. A proud member of the Navajo Nation, Begay is particularly interested in identifying ways to prevent obesity and type 2 diabetes in American Indian youth through diet and exercise.
His recent bout with COVID has intensified his commitment to this work. "When I contracted COVID, I couldn't help but wonder, 'Does being Native American predispose me to this virus?' Cancer, diabetes, and cardiovascular disease are all more common in Native communities, so perhaps I was more susceptible to infection," he muses.
Regardless, he is grateful for the medical resources at his disposal through his university affiliation. "I know I was lucky to get a test within 24 hours of falling ill and have results in hand in another 12 hours." Being Native, Begay explains, his community was in the back of his mind the entire time. "On the reservation, resources like testing and cleaning products are limited and intergenerational households are common, so opportunities for infection are high and many people don't recover the way I did." In fact, he notes with a break in his voice, his maternal grandfather, Woodrow Dixon, and paternal grandmother, Lucy Begay, both succumbed to COVID within three days of one another in early January. "This was all preventable," he insists. "If my family had better access to resources and higher quality health care, the outcomes might have been different."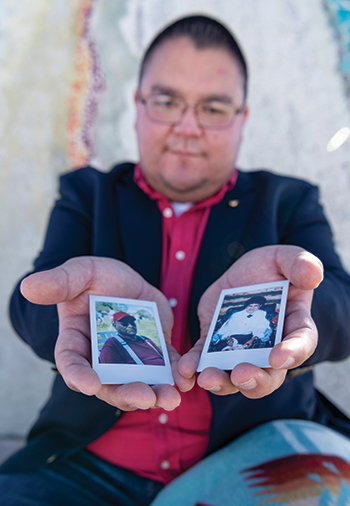 Begay is determined to use his loss as a catalyst for change. "My experience has made me more passionate about giving back to the Native community through public health service," he observes.
Lately, Begay has found himself in a mentoring role to other Native American youth who evince an interest in pursuing public health training. He's delighted to give back. "Building a Native public health workforce is a way to address disparities in the system," he insists. "It's how we'll build capacity and strengthen infrastructure while fostering trust between Native communities and research institutions. By pursuing research in a culturally sensitive way, I see myself bridging that gap."
Begay says he will carry the experience with him for the rest of his life. "COVID has reminded me that family is precious, and not every day is guaranteed," he observes. "I have a Michigan maize and blue button that reads 'Beat COVID,' and at Thanksgiving, I viewed it with pride because I had beaten the virus."
But the loss of two grandparents has altered that perspective. "Now," he says, "I keep the button on my desk as a reminder of the importance of public health and my role in public health research and practice in pursuing a healthier nation for all."
Running the Numbers in Real Time
In early March of 2020, Katherine Hoffman became extremely sick. "I had a high fever and my whole body ached," she recalls. COVID infections were increasing rapidly in New York City, and as a biostatistician in the Weill Cornell Medicine Division of Biostatistics and Epidemiology, Hoffman suspected she might have contracted the virus. With testing limited, however, she couldn't confirm her suspicions and fortunately was able to recover on her own.
Back at work a couple of weeks later, she watched the hospital's pulmonologists with growing apprehension. "I knew they had a sense of how scary this virus was—for New York and the world—but like everyone else, I was watching things escalate without fully understanding how bad they could get." Hoffman would soon find out.
The research was much more fast-paced than I'm accustomed to and scary, but throughout those long months, I just kept telling myself, 'Focus on the numbers.'
–Katherine Hoffman, MS '18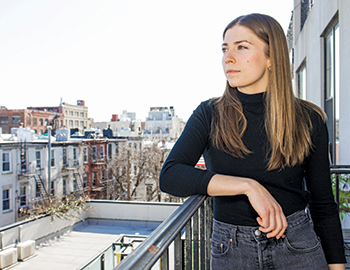 In mid-March, she was pulled from her regular research on acute and chronic pulmonary diseases like Acute Respiratory Distress Syndrome (ARDS) and chronic obstructive pulmonary disease (COPD) and tasked to run numbers to aid physicians in 'risk prediction' meetings. "I knew the ICU databases really well, so it made sense to tap me to work on the hospital's COVID tracking repository." For the next several months, instead of studying the biomarkers that track COPD progress, Hoffman found herself calculating such grim statistics as which COVID patients would crash, who could be transferred from the ICU, and which patients were most likely to survive should a ventilator shortage occur.
Working remotely from her small apartment, Hoffman logged long hours running the numbers. "From mid-March through May, I worked with other biostatisticians and informaticians to link databases and summarize information on patients to give physicians a timely snapshot of what was going on," she says. "There were a ton of very fast operation response tasks to be done."
Hoffman admits those weeks were nerve-wracking. "I didn't know for certain whether I'd had COVID in early March, so all of April I was very afraid I would get it and then what would I do? I live alone, and I didn't know who would care for me." For strength, Hoffman leaned heavily on phone calls from family and her training. "I remember thinking, 'This is an important task with an urgent deadline,'" she says. "The research was much more fast-paced than I'm accustomed to and scary, but throughout those long months, I just kept telling myself, 'Focus on the numbers.'"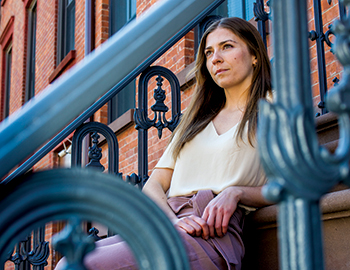 These days, Hoffman has resumed much of her normal work. Though still called upon for some COVID-related research, she is once more exploring the pulmonary diseases that occupied her time prior to March 2020. And for that she is grateful.
But she acknowledges memories of the past year will likely color her future. "The constant tension between work and emotion I experienced last spring was exhausting. The disease was escalating rapidly, and everything was unknown. My normal research has nothing to do with hospital operations, yet suddenly I was crunching numbers needed for urgent decisions. In many ways, I felt helpless, but I did what I could."
Both Hoffman and Begay responded to the crisis by embracing the tenets of their training, respecting the data and maintaining their commitment to their respective communities. Though still recovering from loss and fear and uncertain about many things, both remain hopeful that, in the long run, their work with public health data will contribute to a restored sense of community safety and well-being.
Photos of Joel Begay are by Kathleen Lavine.
Photos of Katherine Hoffman are by Vonecia Carswell.
About the Author
Lori L. Ferguson is a freelance writer based on Florida's Gulf Coast. She enjoys writing profiles and features for independent schools, colleges, and universities around the country.
---