From the Dean: A Brighter Future with Public Health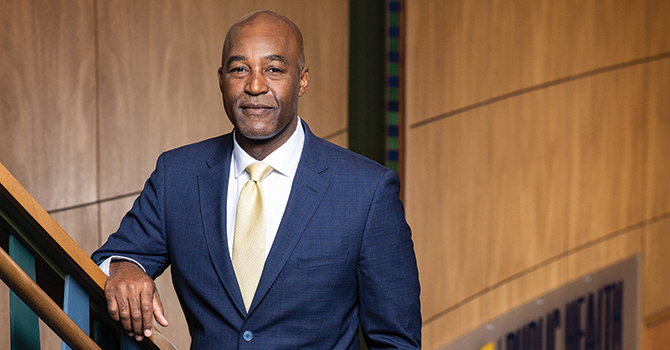 Dean F. DuBois Bowman
School of Public Health
Over the past four months, the University of Michigan School of Public Health has been part of a massive campuswide, statewide, national, and international response to the coronavirus pandemic. Our plans, our activities, our priorities have changed immeasurably during the first half of 2020.
You will read more about the pandemic and our school's response throughout this issue of Findings. We are, however, too focused on the work ahead to provide simply a retrospective on the first half of the year. In this issue, we have captured the critical, inspiring, and ongoing work happening at Michigan Public Health around the coronavirus response. There has been a devastating loss of life across the world and financial hardships for many, especially the most vulnerable in our population. And as we finalize publication, our nation is erupting once again to demand racial justice and the dismantling of systemic racism. Our work to pull out the vile roots of racism and its broad impacts on health, equity, and overall well-being began long before this spring. This moment serves to sharpen our focus and deepen our commitment to sustain the school's contributions to combat racism in all its forms.
We must continually work to prevent the public health challenges we can predict and to prepare for those we cannot. We're calling this issue Public Health 2020, and it is about the vision and power to choose for the future.
–Dean F. DuBois Bowman
We must continually work to prevent the public health challenges we can predict and to prepare for those we cannot. We're calling this issue Public Health 2020, and it is about the vision and power to choose for the future.
This year was supposed to center on our right to choose. With elections dominating the news cycles, the impending election in November loomed large. Now months from that election, it feels like we have lost our ability to choose. "Normal" life was irretrievably changed, almost overnight, due to the coronavirus pandemic. The year has served as a stark reminder that due to structural racism, the ability to choose better health, education, housing, economic stability, and safety remains elusive for many.
At the University of Michigan, the disruption from the pandemic also led to the cancellation of all in-person graduation ceremonies, thus removing the choice of the school's 550 graduates and their families to participate in the customary culminating event. The invited speaker Dr. Aparna Bole—Medical Director of Community Integration at UH Rainbow Babies & Children's Hospital in Cleveland and Associate Professor of Pediatrics at Case Western Reserve University School of Medicine—planned to address our graduates in recognition of the 50th anniversary of the first Earth Day in 1970. Instead of speaking at a podium, Dr. Bole penned a letter to graduates, and I want to include an excerpt here: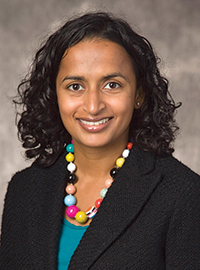 I had planned to celebrate with you the 50th anniversary of Earth Day by reflecting on the sense of urgency and hope we must have in approaching climate change as a public health imperative. Instead, we're observing Earth Month and celebrating your graduation while sheltering in place during a devastating global pandemic. I am disappointed not to be seeing you in person but also moved to have this opportunity to address you during a public health crisis. You, as public health graduates, have the knowledge and conviction to navigate this moment with unique grace.
There's also a special poignancy in observing Earth Day in light of what we're learning from the pandemic. The act of physical distancing, requiring us to make personal sacrifices for the sake of protecting neighbors, communities, and health care systems, has reminded us that public health interventions are essentially acts of love.
Through our efforts, we're proving that we have what it takes to come together in love to take the bold, urgent action needed to protect our environment for the next 50 years and beyond. We should not conclude, however, that economic and environmental well-being are mutually exclusive—rather, economic and social systems based on extraction, exploitation, consumption, and disposal are inherently vulnerable. We can do much better than going back to the way things were before.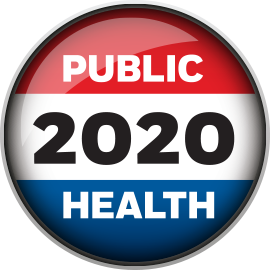 Dr. Bole's remarks signal that the biggest choice of all is to move beyond the mistakes of our past. And we can all play a role exercising that choice. On the horizon is the 2020 election. In this issue, we're introducing you to a new candidate: Public Health. Imagining public health as a candidate was an intriguing exercise. As we began to dig in, it became painfully clear that everyone in our nation and across the world is in need of an injection of our public health platform to effect real and sustainable change.
Our choices over the past four months have given us a head start. These public health interventions as Dr. Bole describes them—the choice to safeguard fellow citizens, protect your family, and respond to these challenges with grit and positivity—have all been acts of love.
We need you and so many others to change the world together. If we make our choices with a public health lens, how much closer might we get to achieving a healthier, more equitable world for all? Campaigns are about inspiring. Public health is about doing. What a marvelous world we can create with a healthy dose of both.
Dean F. DuBois Bowman
School of Public Health