Pre-Trip USVI Reflection - Frontlines - U-M School of Public Health
Pre-Trip USVI Reflection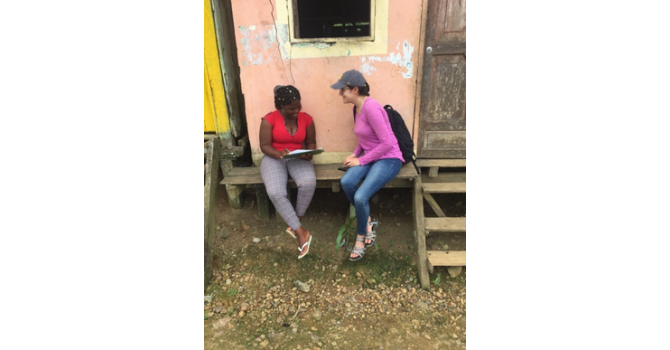 Abi Collingwood, Epidemiology Student
During my time at SPH, I have partnered with a variety of communities on health projects and have talked with community members either formally or informally about the government's role in their health. One concept is consistently associated with the government's response: frustration. In community health assessments in Genesee County and Washtenaw County through PHAST, residents bring up that the government is not addressing their health needs or not providing adequate health services for the area. When I was in Ecuador for my summer internship conducting sociometric interviews for a dengue study, the residents remarked that members of the government are always in their community doing surveys, yet nothing comes of it. In my position as an intern at the state health department conducting foodborne illness follow-up, people want answers from the government that we are unable to give. For many of the communities I have partnered with, government is synonymous with inaction and unresponsiveness, and it doesn't address the needs of the community. And yet, I still want to work for the government to promote the health of populations.
In the future, I want to work at the CDC on outbreak response, and so I am really excited for this opportunity to work alongside the CDC and the Virgin Islands Department of Health on their CASPER in the US Virgin Islands. I am hoping to gain experience using surveys to understand health needs, collaborating with different stakeholders, and being flexible in the field. Most of all, though, I am ready to learn from the residents of the islands. I want to learn what community needs are after a disaster and how to ensure that those needs are being addressed in relief efforts. I want to learn what is working and not working from the residents. In the future, as a public health professional, I want to ensure that the work I am doing is addressing the needs of the people. I am grateful for this opportunity to learn at the interface of federal response and the people, and I hope it informs my future work.
I am excited about a lot of things on this trip, such as getting away from snowy Ann Arbor for a week, meeting and working alongside new people and old friends, and seeing a part of the United States I've always meant to visit. However, the thing I am looking forward to the most is the opportunity to learn how the different levels of government can best serve a community after a crisis. I hope that this trip can inform my future work as a public health professional.