Copacetic Collaboration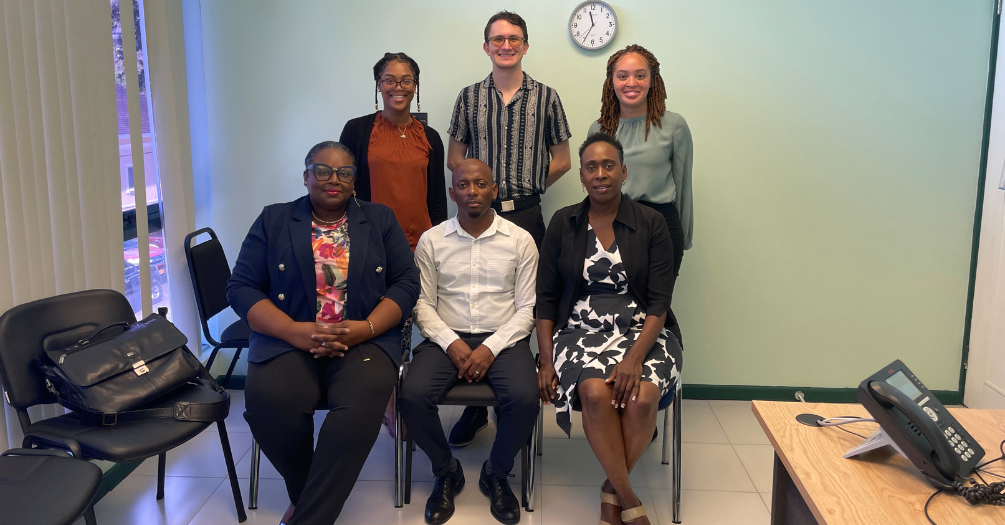 Tamar Harrison
2nd Year, MPH Candidate
"I am only one person. I can do good tings, but together we can accomplish all tings." – Elder Care Specialist
In a spontaneous rush, five other PHAST students and I hopped in a taxi to eat at a local restaurant because we all wanted to see more of Grenada and to immerse ourselves into a space that existed outside of the resort/St. George's University bubble. While beautiful and accommodating to our western ways of living, we wanted to eat like the locals for dinner. In the taxi, our driver informed us of many tings: Grenadian eating patterns, general history (i.e., 1979 the revolution), current political initiatives, and most importantly, Grenadian slang. Of the terms and phrases we learned, "copacetic" stood out to me. According to Google dictionary, it means 'in excellent order' and began to pick up popularity in North America in the late 1970s (a chronological coincidence with the Grenadian revolution? Maybe). I had never heard of the word before coming to Grenada however, upon understanding how the word is used in everyday conversations I knew that it would be added to my vernacular. Similar to the Grenadian attitude I observed, I too tend to be positive, forward-looking, and optimistic. For many in the African diaspora, we share a common belief that our past and current circumstances do not define our future nor destiny. We operate on God's will.
Nonetheless, as I visited homes for the aging across the country, interviewed caregivers and residents, and conducted data briefings with our Ministry partners using the Culturally Responsive and Equitable Evaluation (CREE) approach, I continued to reflect on the word "copacetic" because that is why we were brought to Grenada: to assist the ministry accomplish its goal of delivering copacetic care to its aging population. Our observations, conversations with stakeholders, and data analysis kept leading us to the same conclusion: copacetic care can only be accomplished through copacetic collaboration. From individual residents and facility staff to public and private facilities to every Grenadian ministry, interorganizational collaboration and communications have the potential to help nations like Grenada (and the U.S.) to better organize and coordinate holistic health promotion activities as well as initiate and manage relationships with internal and external partners by encouraging innovative problem solving, reducing the duplication of efforts, improve service effectiveness, support peer-learning opportunities, and increase the availability and possibility of resource and information sharing. Additionally, a comprehensive approach to interorganizational collaboration may mitigate the emphasis on vertical hierarchy present in Grenada's social and political structures. During our visits, we noticed some caregivers and patients may have been hesitant to approach a superior or supervisor in the organization with an idea or policy change because of their job title or positionality in the home/facility. The seemingly vertical hierarchy in Grenada may have led to decision makers becoming "out of reach" for the people they serve. When intra- and interorganizational collaboration is implemented, it can create a platform where everyone has an opportunity to share their thoughts and feel that their opinions and contributions are valued.
It must be noted that interorganizational collaboration and communications can take many shapes and forms and involve significant investments beyond financial needs. All participating parties must understand each other's goals, objectives, needs, and capabilities while also defining mutually established, measurable results. It is also important to note that establishing communicative, accessible, and flexible partnerships can be hard because its success is dependent on building trust, faith, accountability, and responsibility between partners. As an emerging public health practitioner ready to plan and design policy and programming to counter our complex (some consider wicked) problems in the United States, I take the words of the Grenadian key informant (quoted above) and apply it to my practice. My interdisciplinary team was able to interview at least 20 people over the course of 4 days because we approached our work relying on the strengths of each other and our partners, providing space for open and transparent discussions, building trust and rapport (eating doubles and roti on the beach), and most importantly, strive toward helping the ministry achieve copacetic care through copacetic collaboration with those directly and indirectly involved in aging and elder care in Grenada.