Sydney Egan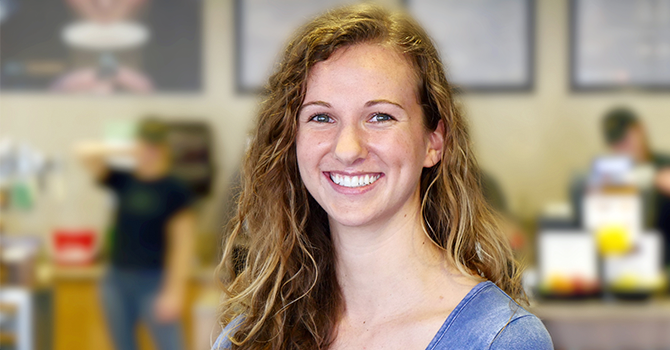 Sydney Egan
MPH '17, Nutritional Sciences
I got my bachelor's degree at Princeton in art history. I graduated in 2011 and moved to Manhattan to work for an art consulting company. After three years there, I started becoming disillusioned with the art world, the professional side of it. It wasn't inspiring the way art had been to me before.
At the same time, I was living with three friends in a two-bedroom apartment in New York. Everyone was trying to eat better after college. Since we were in such close quarters, we were preparing meals at the same time, seeing what each other was eating. I realized not everyone was as aware about nutrition as I was. One of my friends didn't know brown rice was healthier than white. I sort of became the go-to person for their questions like: "How can I make this healthier?"
My roommates kind of gave me the idea to go into nutrition. They said you're good at this, maybe you can do this.
I happened upon public health when I was looking into nutrition programs. I liked the idea of integrating nutrition at the individual level with a population perspective. That narrowed my search for programs down a lot, and U of M was on my radar because one of my best friends came to law school here. I'd never even been to Michigan.
Admitted Students Day is what really sold me on U of M. The whole program is really centered around supporting students, giving them what they need to be the best professionals out in the field.
I've had a couple jobs within the School of Public Health. One at the Prevention Research Center and one in the SPH Marketing and Communications Department. In both, I've been able to use my art background, coupled with my public health knowledge. I think a big part of public health is about communicating clearly, and having experience with design and communication has really helped me with that.
I don't have much free time. But when I do, I draw and paint. I also run, but not in the cold.
My favorite thing about SPH is the people. Both the students, who come from all different walks of life, and the faculty. It's different being in a master's program. Everyone is really focused on their goal. You don't have to worry about being nerdy, or talking about what you're passionate about. And I've been so impressed by how much the nutrition faculty are willing to help. They go out of their way to make sure I have everything I need to be successful.
I'm inspired by people who have really meaningful careers and are doing great things but also have their own lives that they are really committed to. I think people who put their whole selves into their work are so impressive, but I've learned that not really who I am. So, I respect people who have found that balance, who are very passionate about their work but that's not the only thing that defines them.