Nobody Is Born a Parent: Building Up Fathers, Families, and Communities through Community-Based Participatory Research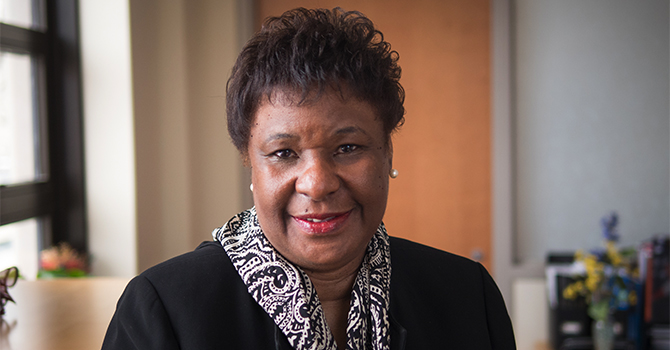 Cleopatra Caldwell
Professor and Chair of Health Behavior and Health Education; Director, Center for Research on Ethnicity, Culture and Health; Co-Associate Director, Program for Research on Black Americans
Early on in her academic career, while pursuing a master's degree in human development, Cleopatra Howard Caldwell noticed something odd. The textbook for her course on the American Family placed the chapter on the African American family in the back of the book. And the chapter was titled "Deviant Families."
"It struck me," says Caldwell, "because this characterization did not reflect most of the African American families I knew. My professor explained that there was not much research on African American families and that what we did have was from a negative perspective, from a deficit model—where you focus only on the problems you perceive in these families and communities."
Caldwell's professor went on to encourage her to change the field itself. "She told me that if I was really interested in understanding families of color, I ought to start doing research in this area. So I started looking at children and youth in family systems not from the perspective of deficits but instead asking questions about the strengths of African American families."
A social psychologist by training, Caldwell has now spent most of her professional career in public health, where she studies adolescents in the context of family relationships. "When I started my academic career, I wanted to be in an academic unit that would appreciate investigations into communities and policy," Caldwell recounts. "Community-based participatory research (CBPR) was coming into its own in both social work and public health."
CBPR proved to be an ideal method for Caldwell's central interest—understanding the health of the child within the family and the family within the community. Caldwell came to the University of Michigan in 1991 as a research investigator in the African American Mental Health Research Center, working with James S. Jackson at the Institute for Social Research. In 1996 she became assistant professor of Health Behavior and Health Education at Michigan Public Health, where she has been a leader in employing CBPR methodologies.
Strengthen Fathers, Strengthen Families
Caldwell is sometimes asked what parenting has to do with public health. "Everything," she says. "Individual, family, and community health are all about relationships and social support. Good family relationships have been linked to better school performance, better mental health, and reductions in youth-risk behavior. All of these areas are vital to the public's health."
Soon after coming to the School of Public Health, Caldwell was introduced to leaders in the Flint community, people who were already framing some of her research interests from community residents' perspectives. Together with community partners like the Flint Odyssey House Health Awareness Center and the Genesee County Health Department, she began looking at cultural values in African American families that were protections—not simply problems—for children. "Clearly some communities have lots of problems," Caldwell says, "But we were interested in knowing what solutions we could find in communities. How do we build on the positives to improve health? I work with a CBPR intervention model because it helps us focus on community strengths while identifying the difference makers in a community."
Caldwell's research has shown again and again that supporting nonresident African American fathers and improving their parental involvement with their sons can have a tremendous impact for the entire community. Caldwell knew that many nonresident African American fathers were providing valuable support to their families. She wanted to figure out exactly how.
It took Caldwell multiple research projects to get to her specific insights about the Fathers and Sons Program. "It actually started with an intergenerational study I was doing at ISR on teenage parenting," Caldwell remembers. "We were working with households of three generations of women—teen mom, her mother, and the teen's grandmother. We'd call their home to schedule an interview and the father of the teen mom would sometimes answer the phone and ask why we didn't want to interview him. Sometimes a teen mom would come for an interview and bring the baby's father who would tell us he was interested in being involved with the research."
Caldwell and her team realized they were ignoring the entire male side of families and did not know enough about their involvement to understand family systems. "Meanwhile, we were hearing again and again from fathers that they wanted to be involved."
Caldwell was hopeful. "I knew we had plenty of ways to involve fathers more in these studies," she says. She knew Flint already had a number of youth-risk prevention interventions using educational and diversionary activities. Their approach needed to be different. Collaborating with colleague Marc Zimmerman from Michigan Public Health because of his survey research with nonresident African American fathers, they proposed the idea of intervention research with this population.
The Fathers and Sons Project
Through funding from the CDC to establish the Prevention Research Center (PRC), Caldwell and team launched the Fathers and Sons Project in 2000. "Our approach to preventing youth risk behaviors was to strengthen the nonresident African American father-son relationship, which would strengthen the entire family and communities," Caldwell says. Eighteen years later, the project is still running.
Caldwell and her community partners had to develop the intervention program curriculum themselves, because "none of the existing parenting programs included the needs of nonresident African American fathers—especially fathers of preadolescent boys. Prior parenting intervention research was mostly about mothers and children," says Caldwell.
Caldwell works closely with her community partners to conduct her research. They collaborate on all phases of the research including refining ideas, conducting focus groups with the families, and identifying strategies for recruitment, implementation, and evaluation. They were able to build a curriculum for the Fathers and Sons Program tailored to the Flint community. The program is implemented in small-group settings where nonresident African American fathers support their sons and interact with other families. With funding from multiple sources, they have tested the program with different groups of father-son families with promising results.
Everyone Benefits
Caldwell has been pleased with the clarity of evidence in how the program benefits both fathers and sons. "Our original goal was to prevent youth-risk behaviors," Caldwell says. "But by bringing the fathers and the sons together to bond so intensively, we've found documentable benefits for the fathers as well." The program now has an intergenerational focus with funding from the National Institutes of Child Health and Human Development at the National Institutes of Health to replicate the original CDC study in Chicago, with an added focus on outcomes for fathers.
"Generally speaking," says Caldwell, "African American men are less likely to ask for services, whether mental or physical health services. This group has the lowest life expectancy in the US." But for fathers participating in the Fathers and Sons Program, the data show that those with drinking problems were more likely to ask for help than fathers not in the intervention, and that fathers in the intervention were also more likely to experience reduced depressive symptoms.
Caldwell says several factors may be associated with these benefits. First, the curriculum was developed with substantial input from the community—including the fathers and sons themselves. This included identifying what it would take to improve parenting behaviors for nonresident African American fathers. Second, when nonresident fathers are "supported in their parenting identity and develop closer relationships with their sons, they tend to re-prioritize their lives," she says.
Finally, the intervention "creates a safe environment where nonresident African American fathers can come together and think through the challenges they face as parents." In one activity, the sons write down four questions they have about sexual development, and the fathers have to answer these questions. The fathers work together to prepare their answers before talking with their sons. "This can be very uncomfortable for fathers," Caldwell says, "but if it's on their son's mind, they need to be prepared to talk about it with him."
The men share their parenting wisdom with one another and often form support groups that continue after their engagement with the Fathers and Sons program. "It's so important for sons to have their own father as a role model, but nobody is born a parent," Caldwell says. "We have learned over the years that nonresident African American fathers can benefit from a parenting program designed specifically for them to improve family health."
Learn more about research at Michigan Public Health.