Motivated to Be the Change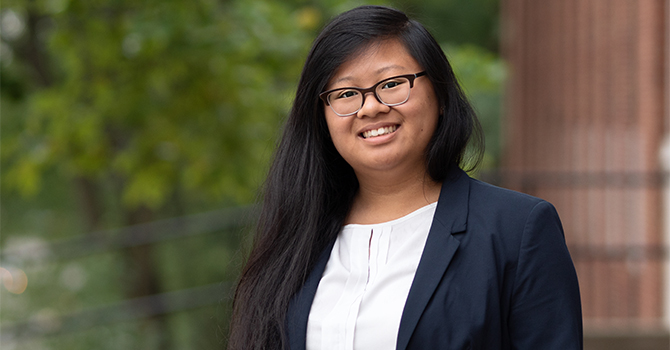 Cindy Le
Master's Student in Health Behavior and Health Education, Marvin and Harriet Selin Scholar
My interest in public health is rooted in my experiences growing up in Camden, New Jersey—known as one of the most dangerous cities in America. Members of my community lost their lives to gun violence. Just three days after my high school graduation, a classmate was killed in an ambush.
Not only did my friends and I have to experience turmoil in the community, we also faced structural challenges in school. The poverty and violence in Camden painted a picture of students with bleak futures. We had to fight to take AP courses, we had revolving door of teachers, and the curriculum felt incomplete. It was a challenge each and every single day for me, my family, my friends, and my community to navigate the disparities in our city.
Yet, I still saw strength in my community. I witnessed resiliency every morning when we would wake up and carry on with our lives. A sense of community coalesced time and time again, like when a neighbor would host a cookout or when the people would organize a vigil after the loss of a loved one. I saw an invincible city. I refused to become desensitized to the pain and forget the strengths of my community. While I wasn't aware of public health yet, I knew that I wanted to equip myself with the skills to give back and work with my community to create positive change.
I began pursuing that interest at Rutgers University where I graduated with a Public Policy degree. My studies there gave me an understanding of how to make change at the institutional level. It was in my undergraduate courses that I was able to connect the issues in my community to concepts taught in the classroom. My coursework demonstrated that the roots of health disparities are not biological, but encompasses socioeconomic and political factors. I added a certificate in health disparities to my degree in order to understand how to improve mental health services for communities of color because I see mental health as one of the areas that health disparities negatively affect the most.
Through a field experience with the Banyan, a NGO based in Chennai, India, that serves women with mental illnesses experiencing homelessness, I crafted a paper analyzing how the caste system in India and racism in the US function similarly as systems of social stratification that hinder access to mental health care and recovery.
The students I've met share the same passions for health equity. The faculty and staff genuinely care about what's best for me and believe in my potential.
These experiences helped deepen my understanding of how race affects our livelihood and introduced me to the public health field. But I realized that I needed to gain more specific skills to work effectively within communities—gain a deeper understanding of social and behavioral factors that impact health, and understand how health programs are created. That realization brought me to the University of Michigan School of Public Health to study health behavior and health education.
I specifically chose Michigan, not only because of the school's sterling reputation, but because it was the perfect fit for me academically and personally. I knew that I'd have the opportunity to pursue my interests as a member of a collaborative and welcoming community in a resourceful and passion-driven environment. Coming up on the end of my first year here, these things have all held true. The students I've met share the same passions for health equity. The faculty and staff genuinely care about what's best for me and believe in my potential. This has meant the world to me as a first generation student and woman of color coming from a background of low socioeconomic status.
The Michigan Public Health community has given me the opportunity to pursue my interests outside of the classroom as well. As a member of the Diversity, Equity, and Inclusion (DEI) committee, I get to contribute positively to the school community by bringing the intersectionality of my identities and my experiences in community organizing to the table. I feel empowered to acknowledge the past and work toward a better future with my classmates for the public health leaders who will come after me.
I am truly honored to be recognized as the student recipient of the Eugene Feingold Excellence in Diversity Award for my work on the committee. Working toward diversity, equity, and inclusion can be a long and tiring battle and it's not perfect nor easy, but it's worth it. This award is recognition that I am making an effort and I am seen. I accept it not only for myself but also for my fellow Health Behavior and Health Education DEI Student Action committee members, who meet weekly at the break of dawn and work tirelessly toward creating change.
I haven't strayed too far from my original interests during my public health journey. I am focused on addressing the impact of violence and racial discrimination on the mental health of communities of color in urban neighborhoods. I pursue independent study research at the school's Prevention Research Center, and I look forward to continuing to do so for my internship between my first and second year. After graduation, I plan to pursue a PhD in public health in order to become a professor who teaches and mentors the future generation of public health leaders while pursuing research with communities to dismantle the structures that allow health inequities to exist.