Health Behavior and Health Education alumnae work well together at Eisenberg Family Depression Center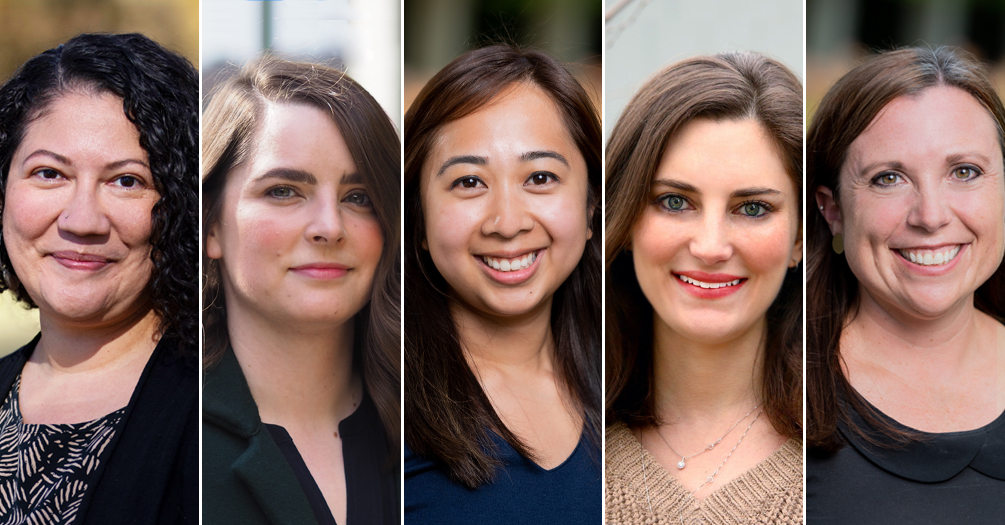 Graduates of the Health Behavior and Health Education Master of Public Health Program at the University of Michigan School of Public Health have a versatility to their skill set that makes them strong candidates for a variety of career paths.
Five alumnae from the program work together at the Eisenberg Family Depression Center (EFDC) at Michigan Medicine—all in different capacities.
Meredith Mase, who graduated in April 2023 with a dual master's degree in Health Behavior and Health Education and Health Management and Policy, talked to them to learn more about how they use their training in their jobs at EDFC.
Lizelle Salazar, MPH '16; Stephanie Salazar, MPH '08; Danielle Taubman; MPH '13; Valerie Kahn, MPH '09; and Karen Dugas, MPH '05 work for the Eisenberg Family Depression Center as managers, project managers and directors. Stephanie Salazar, Taubman and Kahn also received their bachelor degrees from the University of Michigan.
The mission of the EDFC is to improve lives and empower communities through bold innovations and interdisciplinary collaborations across research and outreach that advance the way depressive illnesses are understood, treated and prevented.
How and when did you begin your career at the Depression Center?
"I always had an interest in health but knew that I didn't want to be a clinician, and I hadn't known about public health as a field at the time. Following graduation, I started working at University Health Services full-time," said Stephanie Salazar, a manager for Outreach and Education Programs. "When I had been there for about two years, the director at the time, Bob Winfield, suggested that I might connect with public health and had me learn more about it. The fire was lit, and I started applying to graduate programs.
"The Health Behavior and Health Education Program at Michigan Public Health was the perfect fit, and I loved everything I learned there."
How does having a background in Health Behavior and Health Education help in your specific role?
Kahn acts as the center's chief strategic and operating officer as she guides the creation and delivery of EFDC's programs, using her knowledge of theories of behavior change that she learned at Michigan Public Health.
"I think we all got into public health to improve people's lives, and it's so interesting how we are all working toward the same shared goal from different angles," she said." Some members of the team directly support research and researchers, while others are working directly in health education program planning, delivery and evaluation."
When asked what skills Stephanie Salazar uses from the MPH program, she said, "CBPR (Community Based Participatory Research) concepts have been really useful in my work. The community is the best expert on themselves. We often have schools coming to us asking what to do about the student mental health crisis, but it has to be a true partnership. Even schools in the same county have their unique communities that come with different strengths and opportunities. Our Peer-to-Peer Depression Awareness Program relies heavily on the strength of peer influence."
Stephanie Salazar works closely with Project Manager Lizelle Salazar on a day-to-day basis. Taubman is a project manager, Kahn is the managing director and Dugas is a research innovation core manager. Together, they work on projects that cover a wide range.
"The peer-to-peer program educates middle and high school students about mental health and supports them as they build a mental health awareness campaign for their school," Stephanie Salazar said.
From Taubman working on strategic planning, program evaluation and organizing training to Kahn leading the EFDC team in all of the work that they do, the alumnae at the EDFC exemplify the breadth of work and different roles that are available to Health Behavior and Health alumni.
What advice do you have for current or prospective students?
As a student in Health Behavior and Health Education, Lizelle Salazar said she was surrounded by people with a similar passion and that a few people in her cohort still remain close friends. Taubman said that the health communication skills she gained include plain language, health literacy and also being able to use the principles of health behavior theory and frameworks to think through projects and programs in her role.
Is there anything else you would like to add?
Amidst the stride in normalization the mental health field has taken in recent years, Stephanie Salazar said there is still work that needs to be done.
"Public health professionals are going to change the world," she said. "Let's continue to normalize mental health struggles and help-seeking. If you or someone else you know are struggling, please reach out for help. You can call or text 988 in a crisis 24/7."
Taubman encourages current and prospective students to embrace the expansive nature of public health and not to close themselves off to an opportunity just because they do not have direct experience in that area.
"The university has so many unique and enriching opportunities to offer, so go out and explore," she said.
---