Kristen Brown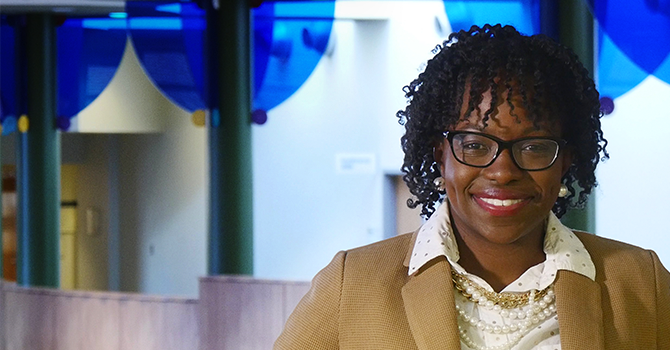 Kristen Brown
PhD '17, Epidemiology
I double majored in biology and psychology in college. I thought I had to choose—I could either be a biologist or a social scientist. But I realized epidemiology would allow me integrate the two areas, which is what drew me to public health.
Every day I see headlines that say, Black people are more likely to die from this or that. I want to do something about it. I want to help address these gross inequities in our society.
I'm studying the relationship between psychosocial stress and gene expression, and how that affects racial disparities in health. Stress, discrimination, socioeconomic status—these things can impact how your immune system genes are expressed and thereby overall health.
The research I'm doing hasn't really been done before. That makes it challenging, but also fun. There's not a trail to follow—I get to create the trail.
I have the biggest cheering section ever in my family and friends. I'm motivated to make them proud of me, but I also want to do something I care about and has societal impact.
Precision medicine is very exciting—this idea that we can tailor treatments to an individual person. But I think we need to do it correctly. Any time new technology comes out, it increases the risk of widening racial disparities in health. I want to ensure that the new technologies are going to be available to everyone.
I feel privileged to have a seat at the table, to be able to be in this position where I can acquire a skill set that allows me to do something about the problems people face.
I'm very competitive. I grew up playing basketball and play intramural basketball now. I also love game nights. No one can beat me at Taboo or spades.
I don't want to be 80 years old and feel like I wasted my life and didn't fulfill my purpose. I want the world to be a better place because Kristen Brown once lived here.