Learning to Cook, Learning to Belong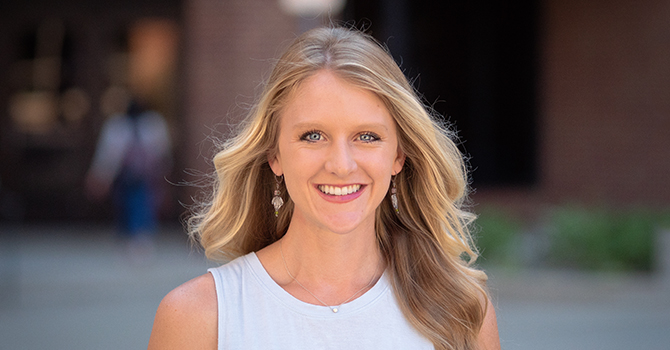 Brianna Dumas
Master's Student in Health Behavior and Health Education, Mabel E. Rugen Scholarship
I rarely had fresh fruits and veggies growing up, and I didn't learn how to cook until I was an adult. I grew up in Woodstock, Georgia—a suburb of Atlanta—and I'm the first person in my family to attend college.
I graduated from Georgia Southern University with a degree in human nutrition and food science. At the time, I was set on becoming a dietitian. Then I read Tomatoland, the award-winning, eye-opening book about the Florida fruit industry that brought me and many others face-to- face with the social side of food and nutrition.
We buy and consume food every day, but we rarely think about how it got to us or its effect on our body's nutritional needs. We are incredibly disconnected from food because of the daily stresses placed on our economy, environment, and our own well-being. Having been raised in poverty by a single mom, having experienced food insecurity and unhealthy food environments, things came full circle for me with this insight.
The First Lady's message was simple: good nutrition sets students up to be healthy and active lifelong learners.
I began looking for ways to connect my studies with sustainable and equitable food systems. After interning in Augusta, Georgia, I began work as a wellness dietitian for Burke County Public Schools—educating teachers and students on the value of healthy food choices. In that role, I helped build a farm-to-school program to incorporate more local foods into school meals. The program received a state-wide Best Practices Award from the Georgia School Nutrition Association, and I was later awarded "Distinguished Service to a Grassroots Effort" for the state of Georgia. The awards were great, but my measure of success had already been met: good food for our community, grown by our community, supporting our community.
In 2016, the Burke County farm-to-school program was 1 of 5 school nutrition programs selected as part of Michelle Obama's American Garden Tour. She had planted the first vegetable garden on the White House lawn since World War II and was touring the country to highlight the direct impact nutrition has on education. Her message was simple: good nutrition sets students up to be healthy and active lifelong learners.
The First Lady's visit that spring was significant in helping me realize the importance of public health communication for communities large and small. Mrs. Obama had completely repackaged age-old science into an effective public health campaign- transforming the local, state and Federal policy surrounding child nutrition. And her message resonated with me on another level, because she was also a first-gen student in college. I kept thinking, if Michelle Obama is excited about this, then I'm in for the long haul!
I chose Michigan for the endless opportunities a university this size offers.
With my growing sociological interest in food systems, I decided my next step was to pursue an MPH. I chose health behavior and health education because I see communicating science as a central way to change systems, behaviors, and health outcomes.
I chose Michigan for the endless opportunities a university this size offers—on and off campus, at Michigan Public Health and in other schools and colleges. For example, I am working on a Certificate in Sustainable Food Systems, an interdisciplinary addendum to my MPH that positions me well for a career in emerging sustainability disciplines.
I was nervous about Michigan at first. I don't enjoy lab work. I consider myself a scientist but am also a people person. I was concerned that my interests are not in research and felt intimidated by the research I knew I would have to do to complete an MPH. I was going through all the usual self-doubt that accompanies being a first-gen college student, wondering if I really belonged at a university as prestigious as Michigan.
Some amazing faculty here have worked with me and walked with me in overcoming my hesitations about research. Amy Schulz introduced me to community-based participatory research, a method that means you're not in a lab all the time, if at all. Brian Zikmund-Fisher's Designing Sticky Communications course reaffirmed my belief that effective communication of science is a public health intervention. And Minal Patel started off our fall department-wide course with a video about imposter syndrome, which really spoke to first-gen students and helped everyone feel more comfortable beginning our first semester together as a cohort.
The first-gen experience never leaves you. I still sometimes wonder if I'm a fraud in this wonderful but highly competitive and stratified academic world. The school organized a first-gen student social group this past year, and this community helps remind me of my unique strengths, such as certain forms of resilience.
To step out of poverty as a first-gen student and to know that I'm helping people every day is huge for me.
My route to changing the food system involves theory, public policy, and human nutrition and behavior. Health behavior and health education allows me to thrive as a people person in a field that involves a lot of raw data.
This summer I was in Berkeley, California, interning with the Center for Good Food Purchasing, a nonprofit that promotes sustainable and equitable food purchases for all kinds of public institutions—from schools to cities. And I continue to be involved with the Charlie Cart Project, a mobile kitchen-classroom mashup that uses food and cooking to also teach math, language, science, and social studies. This fall, I am continuing to work with the university's Student Engagement and Sustainable Dining programs—stepping into a new role as the Planet Blue Student Leader program manager. All three initiatives are centered in that intersection of nutrition and communication that is so important to me personally and academically.
To step out of poverty as a first-gen student and to know that I'm helping people every day is huge for me. I also will support our incoming first-gens students. So many of us don't know what to expect, and we can help each other navigate. We all belong here, and we can all use a reminder of that fact.
Tags