Those Who Can, Teach Public Health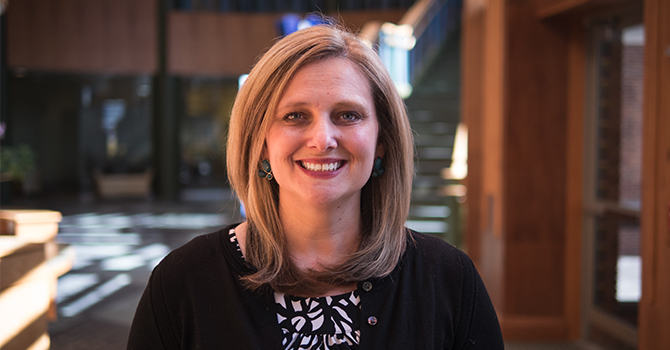 Emily Youatt
Clinical Assistant Professor, Health Behavior and Health Education; Managing Director, Office of Undergraduate Education
Above all, I wanted to teach. I wanted to work in a university setting with enthusiastic students, new ideas, and people with open minds. As far back as high school, I wanted to go into higher education administration so that I could work on issues relevant to undergraduate education, and I wanted to pursue my PhD so I would have the chance to teach undergraduate students. I wanted to be an educator and to support educational initiatives with administrative expertise. The field of public health opened up to me many opportunities to excel in higher education—as a researcher, and as a teacher and an administrator.
From a young age, I was also interested in health and well being. My father was living with diabetes, so the whole family was well aware of what it took to manage chronic disease. But even in childhood, I remember thinking that medicine would not be a good fit for me. Perhaps it was the high-stress, patients-first lifestyle of a physician. Maybe it was the fact that the biological sciences are not my preferred area of study. But I knew I was hopeful that I could find a way to pursue my interest in health promotion with my desire to work in undergraduate education.
As an undergraduate I majored in women and gender studies. I had a work-study position in health communication around HIV prevention with school outreach. That position informed my interests and direction when I studied abroad in Geneva, Switzerland, where I did an internship with the International Red Cross/Red Crescent Society in Geneva. I worked for their division that did infectious disease tracking in African countries.
After my time abroad, I got a position as a research assistant in Boston, and that's when I really began to understand the field of public health. My specific interests began to focus on the area of social-behavioral health, and I eventually came to Michigan for my MPH in health behavior and health education. My return to Michigan was motivated by both professional and personal reasons: My dad died from diabetes-related complications shortly before I returned to pursue my MPH. While his death at 59 years of age was a blow, reflecting on the course of his illness through the lens of social determinants of health, the ecological model, and other health behavior frameworks grounded my studies. After completing my MPH, I was fortunate enough to stay at Michigan Public Health for my PhD.
My research focused on two areas, both having to do with the intersection of public health and social justice. In the area of women's health, I worked with clinicians who provide abortions to understand and mitigate how they are stigmatized within the medical community. And I looked at several aspects of sexual minority health—LGBT smoking behavior and how "coming out" to providers influences health care for sexual minority women.
As much as I enjoyed this research, the greatest value of my doctoral program was teaching and helping to develop Public Health 200, an elective course for undergraduates open to any U-M school and in any major. As a lead graduate student instructor, I had a tremendous chance to formulate my own thoughts about teaching and learning and what was important material for introducing students to the field of public health.
This role propelled me into my current role and gave me the ability to do it well. I have a hybrid appointment as a clinical assistant professor while working to build and grow the undergraduate program as the managing director of the Office of Undergraduate Education.
The planning process around these undergraduate majors in public health—and welcoming our first cohort of bachelor's students to the school in September 2017—has been tremendously rewarding. In my role I have the opportunity to introduce students to the field of public health, to give them a language and introduce them to an academic discipline that many of us working in public health didn't know existed as an area of study until much later in life.
The surge in studying public health that we see today is about public health's own values. Students want to give back to their communities, to contribute. They see promoting health and improving the lives of entire populations as a rewarding goal, and then they discover that it can be a career path. After taking a class in public health, they learn that being a clinician is only one route to helping improve health, and that by entering the field of public health they can contribute to improved health on a wider scale.
Students entering the field of public health are often in significant transition. They are moving from one academic discipline and career path to another. With the uncertainty that this can bring, our students need excellent teachers and mentors, and we have that here at Michigan Public Health.
But the field's breadth also makes it intriguing to students and very accessible. An academic interest in political science or sociology could lead you into Health Behavior and Health Education or into Health Management and Policy. Math students can apply their talents to Biostatistics. Engineers can apply their skills immediately in Environmental Health Sciences and in Epidemiology and in Health Management and Policy. Students entering the rapidly expanding field of Nutritional Sciences come from backgrounds not only in biological sciences but also from psychology, communication studies, and across the social sciences.
This interdisciplinary spirit is part of what excites me about public health. And I think our undergraduate students will help connect people from different corners—and from different departments in Michigan Public Health—and will push us to use all of our knowledge and talent in more focused, collegial ways.
I love seeing how our work here at Michigan Public Health is moving the whole field forward, and I'm delighted to be supporting and leading some of that work as an administrator and teacher.