From Peace Corps to Public Health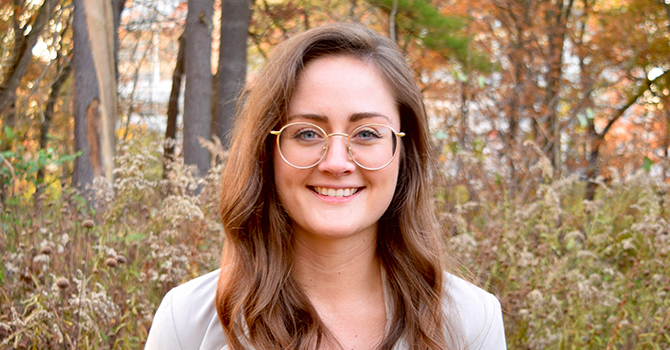 Betsy Ford
Master's Student in Nutritional Sciences, H. William and Elizabeth A. Klare Memorial Scholar
Betsy Ford, Nutritional Sciences master's student and Paul D. Coverdell Fellow, shares her experience working in the Peace Corps and how it led her to the University of Michigan School of Public Health.
What helped lead you to your interest in public health?
After earning my undergraduate degree in Biology at the University of North Carolina Wilmington, I thought I wanted to work in the medical field. I spent some time as a Certified Nursing Assistant, but I soon realized that my future was elsewhere. I applied for graduate school and for the Peace Corps around the same time. Fortunately, I was accepted to both. But ultimately, I wanted to gain some life experience before heading back to school, so I joined the Peace Corps.
What was your experience in the Peace Corps like?
I spent two years in Guatemala with the Peace Corps. In my role, I helped educate teachers on various health topics and established health-related workshops based out of local schools. I ended up facilitating a lot of parent groups and workshops—mostly made up of moms—about nutrition, water sanitation, and general health topics.
The nutrition workshops in particular became a highlight for me. We created healthy recipes and talked about changes the participants could make that would benefit their families —keeping in mind the local cuisine and food access. Seeing how passionate people were about their food got me even more interested in food as a basis for health and how it can be a preventative measure. That's when I knew that I wanted to focus on dietetics, eventually leading me to the University of Michigan School of Public Health.
Why did you choose Michigan Public Health?
Once I found my path, I started researching nutrition and dietetics programs at public health schools across the country and applied to several. What really stood out to me about Michigan Public Health was an experience I had at Admitted Students Day. I had the opportunity to sit and have lunch with some of the professors, and just the short amount of time I spent with them made me realize that the professors were really engaged and interested in their students.
The interdisciplinary aspect was also a driving factor. In addition to nutrition, I have interests in Health Behavior and Health Education and Sustainable Food Systems, and the school really allows for students to get a better understanding of different disciplines under the umbrella of public health.
The Department of Nutritional Sciences is also one of the only nutrition programs around the country to offer the Paul D. Coverdell Fellows program, a program that offers tuition assistance to returned Peace Corps volunteers who are pursuing a graduate degree. I was introduced to the fellowship when my advisor, whose daughter had just joined the Peace Corps, mentioned that the program was available at the school. The fellowship has me allowed to continue an education while applying my experiences in the Peace Corps to work in my field.
What's next for you?
As a second year master's of public health student, I'm looking forward to graduating, and then completing my dietetics internship. Once I take the registered dietitian exam, I can begin working as a registered dietitian. In the future, I hope to work in dietetics in a senior living community or community-based health center.
---