Always Learning and Growing: Future Physician Motivated by Health Education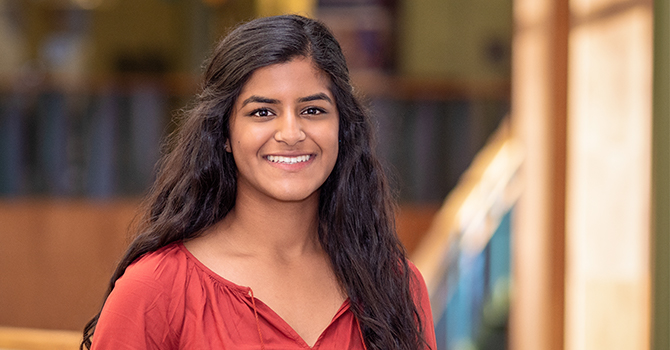 Joeita Macfield
Bachelor's Student in Public Health
I was surprised to learn in my intro to public health class that half of all premature deaths in the US are related to health behaviors, but only four percent of our country's health expenditures target those behaviors. With my public health education, I plan to focus on changing health behaviors through implementing healthy lifestyles in order to prevent disease on a larger scale. My goal is to be a physician one day, and to be the most effective, I need to understand the many variables that affect a person's overall health, like access to healthcare, nutrition and socioeconomic status.
My studies in public health have enhanced some key experiences I've had recently; it's as if I'm able to connect the dots between what I'm learning and the real-world. My parents and I traveled to Kenya with International Medical Relief, during the same semester I was taking a nutrition class. Most of the children we saw in Kisumu had big, full-looking stomachs, which is actually a sign of kwashiorkor--a type of malnourishment. We also met a young girl who complained of headaches, night blindness, and had a small blur in one of her eyes -- all signs of Vitamin A deficiency. And we met tiny eight-month-old twins who had been premature. Their mom was unable to breastfeed, and since the formula was too expensive, the babies were given cow's milk and mashed vegetables. I had learned about the effects of nutrient deficiencies in my nutrition class, and, unfortunately, I saw those physical effects in-person as we held clinics throughout the village we were working in.
It cemented my belief that prevention of diseases begins with education.
Last summer, I worked as a Public Health Intern at the Kent County Health Department under the Environmental Health division in Grand Rapids, Michigan. My primary project was to prepare and teach lessons to elementary and middle school students about topics like germ transmission and water quality. It was then that I realized how important it was to educate community members about external factors that can affect their health. It cemented my belief that prevention of diseases begins with education.
The importance of health education has stuck with me, and I've been able to work on other initiatives promoting prevention through education. Right now, I'm working on the Project Healthy Schools Global team to focus on prevention through education. The Global team is an offshoot of Project Healthy Schools in the United States which aims to curb the rise in childhood obesity. With the organization's support and mentorship, we are working with researchers and schools in Bangladesh to implement a similar curriculum focused on increasing physical activity and promoting a healthy diet. In the future, we're hopeful that our work could include the creation of lessons on smoking and risky behaviors for the same populations.
And I don't want to stop there. Just this year, my friends and I started a new student organization on campus called "Dil Se," which translates to "From the Heart" in Hindi and Urdu. Our mission is to provide a collaborative space for those facing mental health concerns and those who just want to become more educated on mental health issues. We look at these topics from the lens of the South Asian community, but want to keep this space open to people from all identities to reduce the stigma of these types of issues in all communities.
I've been fortunate to have impactful learning experiences both on and off campus. It's these experiences that motivate me to continue doing more - pushing through my own school and life stressors - to work toward improving public health in the communities that matter to me. After graduating, I'd like to attend an MD/MPH program in order to pursue and combine my interests. I hope to become a dynamic physician who is able to bridge the gap between academic medicine and its real-world implications in the communities we are serving.
---