Never Lose Sight of the People behind the Data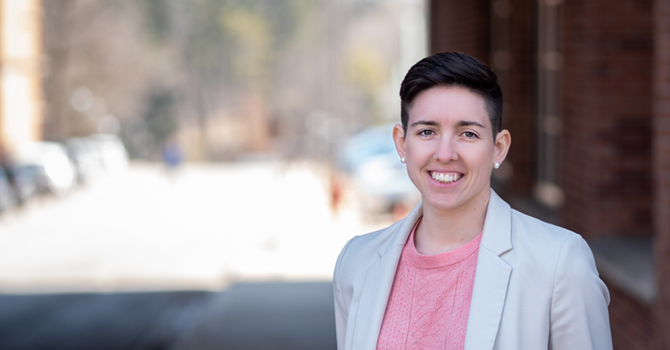 Rachel Jantz, MPH '14
Public Health Epidemiologist-Opioids, Kent County Health Department
For a long time, I wanted to be a doctor. I was in the undergraduate pre-med program at Hope College and had some opportunities to shadow physicians. After each shift, I would wonder how many people had come in with flu-like symptoms, how many had come in with back pain, just how many people had come in that day. I was deeply interested in why certain conditions were prevalent in the community and was paying more attention to those numbers than to actual patient-physician interactions.
When I attended an epidemiology presentation by a guest speaker from the University of Michigan School of Public Health, it all clicked. Epidemiology was exactly what I was looking for—a discipline that deals with health at a population level, including quantitative analyses of that health.
I grew up in Sparta, a rural town in western Michigan. With the region's fruit production, I had a lot of school friends whose families were migrant workers from Florida, Texas, Mexico, and other places. I didn't fully understand as a kid why some of my friends would leave after the fall season and come back the next fall. But those interactions formulated my way of thinking about populations and movement and sociodemographic factors that I couldn't articulate as a child.
Stories behind Every Number
My summer internship as a master's student at Michigan was in Bolivia with John Piette in the Health Behavior and Health Education department. Our US researchers—five public health students and five medical students—helped develop a mobile health assessment tool as part of a cross-sectional diabetes and hypertension survey in La Paz.
Groups of us would sit in hospital waiting rooms interviewing individuals about their chronic conditions. Those with both diabetes and hypertension would be enrolled in a telemedicine program and would get text messages reminding them to check their blood sugar and blood pressure.
The more you engage people, the more deeply you understand their lives and better understand the data you are collecting.
Those conversations with patients provided all kinds of data about their experiences that we couldn't capture in a survey. The more you engage people, the more deeply you understand their lives and better understand the data you are collecting. These insights continue to guide my approach to public health, because I never want to lose sight of the people behind the data. I will always know that there are human stories behind the numbers I see, regardless of the specific health problem I am working on.
People Need Policy
During my time at Michigan, I also traveled to Texas and Grenada with the Public Health Action Support Team (PHAST), a unit in the School of Public Health that trains and deploys students to regions of need around the world to offer capacity support during crisis surges. The PHAST experiences ended up being a big part of why I am so passionate about public health practice.
In Texas, I worked on a project surveying perceptions of a local smoking ban in restaurants and bars that had just gone into effect in Brownsville, Texas. The county Board of Commissioners wanted community feedback about the ordinance and data about the effect it might be having.
In public health practice, you have to account for every possible insight.
In Grenada, I was on a team developing recommendations for a national alcohol policy. At the time, Grenada did not yet have policies about how far a liquor store should be from a school or hours of sale or things like that. The working team was two epidemiology students and one student in health management and policy. We talked up front about the differences in our approaches and how we would need to communicate openly in order to succeed.
The three of us definitely had some moments of frustration, but we stayed focused on the important, tangible product we were creating for the government of Grenada. We were all at the tail end of our master's degrees and through the PHAST program had this opportunity to work across disciplines to model experiences we would have after graduation. For me, that is working as an epidemiologist dealing with all kinds of opioid-related policy. In public health practice, you have to account for every possible insight, in the field of public health and well beyond. You can have all the data you want, but if you're not able to interpret that data for insights and outcomes that will lead to good policy, you haven't yet succeeded.
The Interpersonal Side of Epidemiology
In my new position at the Kent County Health Department, I focus exclusively on opioids, much of it around data surveillance work. What data do we have available in our community that we can access now—medical examiner reports, emergency department data. How often does EMS administer naloxone in the community? How often do law enforcement officers? How many times is somebody admitted to the ED because of their non-fatal overdose?
These are the questions we need to answer. But how do we go about getting that information? You have to be creative and persistent in creating those relationships across the region with the people and institutions that steward our community's data.
You have to be creative and persistent in creating relationships with the people and institutions that steward our community's data.
It's not always an easy or expedient process. But once I've had a conversation about why we're interested in the data and why you should also be interested in it and in sharing it with us—this begins to create a culture of data sharing. I am grateful, in fact, that people are wary of sharing data, for ethical and privacy-related reasons. That just means I have to think carefully about each request to ensure everyone is doing things the right way.
Relationship building and persuasive communication are not skills I thought I'd need as an epidemiologist. This type of practice work—reaching out in order to get data about the opioid epidemic—is remarkably creative. It is not something I thought I'd be doing, but I love it!
Superseding the Data
I am now part of conversations that supersede data. "Here are the numbers—Now what are we doing about them?"
Epidemiologists don't always get to see their research used so directly in tangible interventions. It's remarkably complicated, and I'm learning all I can. I attend monthly opioid task force meetings armed with my data and ready to discuss how everything works together and what questions we need to ask of everyone at the table.
Given our many challenges, we have to be more innovative about collecting, sharing, and using data to improve outcomes. This includes policy changes around the data itself, using the data to inform and correct our own biases, and—most importantly—staying focused on the people behind the data.