Helping Communities Make Effective Change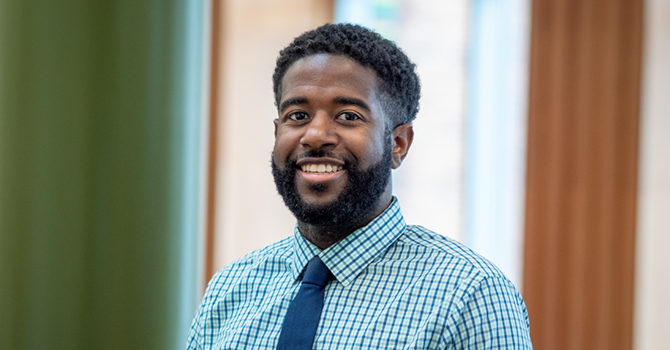 Marcus McKay Jr.
Master's Student in Epidemiology
What led to your interest in public health?
From an early age, I was exposed to doctors, hospitals, and medical procedures due to my younger sister's diagnosis at birth with sickle cell disease. When my sister was six years-old and I was nine, I became her bone marrow donor for a stem cell transplant to cure her of the disease. Because of this profound experience, and so many others at an early age, I learned the value of helping others through volunteering, mentorship and leadership.
As I continued to develop and cultivate my interests and earned a bachelor's degree in Biology at Georgia State University, I thought a lot about what I wanted to do going forward in my career. Following numerous discussions with mentors, my attentiveness to courses that touched on the subject of public health, and exposure to public health work through internships with research opportunities, I became confident that pursuing a career in epidemiology was the right path.
I want to make effective changes in the health of communities who need it most.
How do you hope to impact public health?
I'm most interested in implementing and evaluating systematic intervention strategies and want to engage with communities in hopes of making effective change in populations of need. In particular, projects related to the transmission of sexually transmitted diseases within a population, infectious vector-borne diseases that arise in a population, and cardiovascular diseases such as hypertension, diabetes, and heart failure are at the top of my list.
I also enjoy opportunities to engage directly with communities as a way to impact public health. Back in 2016, I found a lot of meaning partnering with Refuge for Refugees (R4R), a community organization that helped to clean up neighborhood parks and grassy areas in areas with predominantly refugee populations. Their parks and green spaces were riddled with broken glass, tires, and discarded couches and during the 3 week cleanup effort, I was able to provide a clean space for children to play and meet community members to learn more about their lives. I'm fortunate that the University of Michigan School of Public Health has helped me continue this type of community engagement as I pursue a Master of Public Health degree.
What do you like to do outside of school?
Outside of public health, I am very interested in sports—playing them, analyzing them, you name it. Growing up playing baseball, learning the value of collaboration and working in a team environment for a common goal is a life skill that I have taken with me off the field.In addition, I also love to cook. This interest stems from both my love of science along with my passion for enjoying quality cuisines. Over the years, my mother and grandmother taught both my younger sister and I a diverse array of cooking techniques and combinations that I still refer to when I'm in the kitchen. I appreciate the creativity and skill it takes to properly prepare and present food. Often times I refer to cooking as a science where I can eat my results.
What's next?
After Michigan Public Health, I would love to work in applied epidemiology with the government or in healthcare. I see myself assisting with the implementation of systematic change for populations who are experiencing a public health disparity. Whether I am in a hospital or at a nonprofit, I want to make effective changes in the health of communities who need it most. After a few years of public health practice, I plan to obtain a PhD to further develop my skills as a public health professional.
More about Marcus
Marcus serves as an admissions ambassador, where he helps to engage with prospective students and share his experiences as a student at Michigan Public Health. Want to know what life as a public health student is like? Check out Michigan Public Health's "Day in the Life" student takeovers on Instagram.

Prospective students interested in pursuing a public health degree can sign up to chat with admissions ambassadors like Marcus to learn more about a public health education, life as a student at Michigan Public Health, and more.
---