Full-circle journey: Alumna leads Strategic Initiatives at Michigan Public Health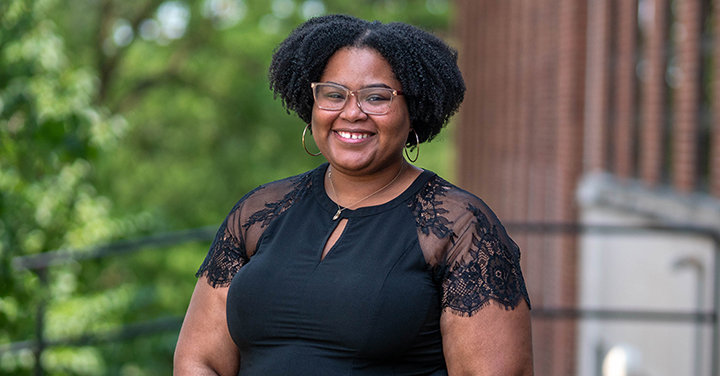 Sade Richardson, MPH, MSW '18
Director of Strategic Initiatives, Office of Public Health Practice, University of Michigan School of Public Health
For Sadé Richardson, working for the University of Michigan School of Public Health feels like a full-circle moment and a dream come true.
Richardson, who is the director of Strategic Initiatives in the Office of Public Health Practice, is now leading some of the influential programs she engaged with as an undergraduate student from the University of Rochester and later as a Master of Public Health student in the Department of Health Behavior and Health Education at Michigan Public Health.
In her role, she helps prepare the next generation of the public health workforce by coordinating experiential learning opportunities for students, managing both the Public Health Action Support Team (PHAST) and the Future Public Health Leaders Program (FPHLP).
Richardson's dedication to public health practice is one of the defining reasons she was recently named to the de Beaumont Foundation's 40 Under 40 in Public Health Class of 2023. Honorees are recognized for their creative and innovative methods of public health leadership.
"I remember when I saw the email announcing I had made the list. I was in shock," she said. "That's when it dawned on me that I really am doing the things that I dreamt of when I found public health. We often have this thing where we just put our head down and work, and don't take the time to sit in the moment and realize and appreciate what you've done and where you are. So, for me, earning a spot on the de Beaumont Foundation 40 Under 40 in Public Health list is that moment of recognizing all of the hard work that has paid off."
We connected with her to learn more about her interests and journey to a career in public health.
How did you become interested in public health?
I think like a lot of people, I kind of stumbled into it. At one point I thought, "I wanted to work in the United Nations." And at another point I thought, "I want to do medicine."
My initial introduction to public health was somewhat random. I was working at the Information Technology Center at the University of Rochester during undergrad and was talking about the different things I was interested in and what I enjoyed. My coworker suggested I look into public health. I immediately thought, "What is that?"
So I searched the University of Rochester's website for their undergraduate public health degree—which is what I ended up pursuing, along with digital media studies—and realized how interesting and all-encompassing public health is.
The summer between my freshman and sophomore year of undergrad, I went back to my home country of Trinidad and did an internship with the Augustus Long Hospital at their wellness complex, where I did a handful of things, including:
Conducting biometric testing;
Developing a campaign proposal on how to read nutrition information on food labels;
Analyzing audiometric data to highlight the relationship between noise exposure and hearing loss among Petrotrin employees of a selected group of departments.
That experience confirmed my interest in pursuing public health as a career.
"It has been really interesting and rewarding working with students and seeing them have those same "aha" moments I had as a student through the programs and opportunities from the Office of Public Health Practice.
After that internship, I immediately started to look for other public health opportunities that were out there, and I stumbled upon the University of Michigan Future Public Health Leaders Program (FPHLP). I applied, was accepted, and was part of the second-ever cohort of the program in 2013. I traveled to Michigan for the summer, went through the program where I worked at the YOUR Center in Flint, Michigan, creating marketing materials for sexually transmitted infection awareness and education. I really enjoyed the whole FPHLP experience, and, as soon as I returned to the University of Rochester, I declared my major as public health.
These early experiences started my passion for the field and gave me a look into what a career in public health could look like.
FPHLP was your first experience with the University of Michigan, but you ultimately came back in pursuit of a master's degree. What was that like?
You could say that I had a great experience that summer with FPHLP because after receiving my undergraduate degree, I decided to come to the University of Michigan for graduate school! The University of Michigan was at the top of my list of schools when applying. I knew I wanted to pursue a Master of Public Health degree, but Michigan also allowed me the opportunity to pursue a dual-degree program to also get a Master of Social Work. I was inspired to go this dual-degree route because one of my mentors from FPHLP, Jennifer Floyd, also has a dual degree in public health and social work.
In talking with her about her experience, adding social work to the mix felt like an ideal match for public health. I always say, public health gave me the tools to do what I'm doing, but social work taught me how to speak to people. And, fundamentally, that's what we're doing; we have to be able to reach people, understand what they're saying and be able to listen to them.
Now, I'm working toward my Doctor of Social Work at the University of Louisville, which I hope to complete in May 2024.
In my time as a Michigan Public Health student, I worked at Wolverine Wellness, where I was able to create a Self-Love for Activists toolkit for my Health Behavior and Health Education capstone project, employing evidence-based practices to bolster resilience and belonging. This toolkit is still being used in wellness coaching, the Wellness Course and throughout the University of Michigan Student Life.
A big part of my experience at the University of Michigan was what I now manage here at the Office of Public Health Practice, the Public Health Action Support Team (PHAST) and the Public Health in Action courses. I'd spent a lot of time attending the different practice events, the emergency preparedness exercises, volunteer opportunities and such.
What did you do after graduation?
After graduation, I joined Altarum in its center for behavioral health as an analyst, working specifically on opioids. I was making podcasts, traveling around the country conducting trainings, working on dashboards and creating learning modules for continuing education for health professionals.
Eventually, in 2020, I saw a job posting at Michigan Public Health to work with PHAST and support the Public Health in Action courses, which I did myself as a student. It was a no-brainer to apply and I eventually was offered the position. At that moment, it felt like my work had come full-circle. I'd be working under one of my mentors, Dana Thomas, who was the Director of Public Health Practice at the time, at one of the places that helped spur my passion for public health, helping to prepare a new generation of public health professionals.
So you came back (again) to Michigan Public Health, but this time as staff. What has your experience been like?
It has been really interesting and rewarding working with students and seeing them have those same "aha" moments I had as a student through the programs and opportunities from the Office of Public Health Practice. Since joining the team, I've been able to take students to Grenada, Texas, Mississippi and Kentucky with PHAST to conduct community assessments for public health emergency response (CASPER); and work with the Washtenaw County Health Department on our emergency preparedness exercises and revamp its programming.
We also started a leadership development series for students with Dani Koel, the Student Life Program manager in the Office for Student Engagement and Practice. We've hosted workshops, bringing people together around topics like emotional intelligence, advocacy and women in leadership. We are now in our third year of this series.
I also conceptualized our Practice Hub Lunch and Learn Series. Our students learn practical things to add to their public health toolkit, but in a smaller setting with a handful of students. It's really meant to be a hands-on experience and, as mentioned in the name, we provide lunch, which, of course, students love.
As of April 2023, my role shifted slightly, where I took over FPHLP, which was another full-circle moment because that's where I got my start with public health and the University of Michigan. This was my first summer as the director of the program and experiencing all of the behind-the-scenes pieces that go into making the program run. It was a very surreal thing to realize I was in their spot not too long ago and now I'm here helping them move forward in their public health journey.
---