Welcome Class of 2021: Photo Gallery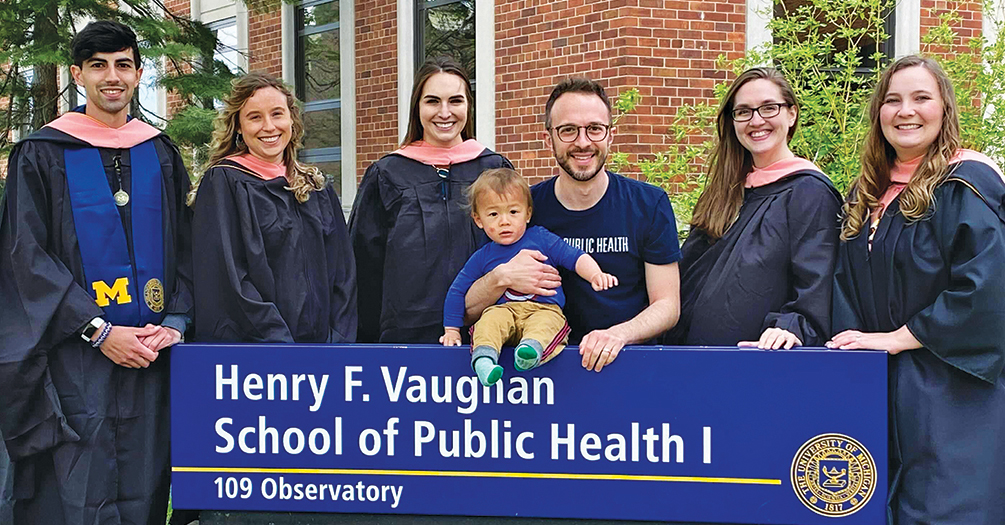 Above. Members of Michigan Public Health's first online MPH cohort (l-r): Adam Kollipara, Elizabeth Brueggeman, Melanie Berent, Christopher Rudski (and son), Kathy Heselschwerdt, and Maelyn Bremer.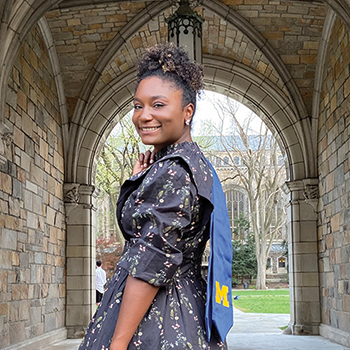 "I've learned the importance of having a strong support system as we move through these unprecedented times together. It's been warming to see how the Michigan Public Health community has come together even stronger despite our physical distance."
—Kathleen M. Lindsey, MPH '21
---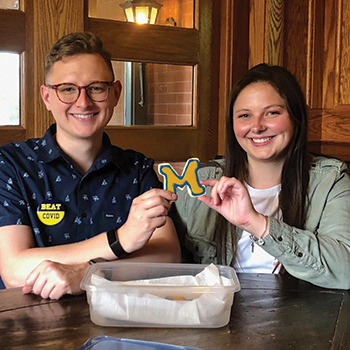 "My training gave me valuable insights into how quickly public health emergencies can unfold. Given the language experts were using on media outlets to convey complex epidemiological concepts to lay audiences, I also came to realize how valuable I can and will be as an epidemiologist."
—Joshua Tucker, MPH '21
---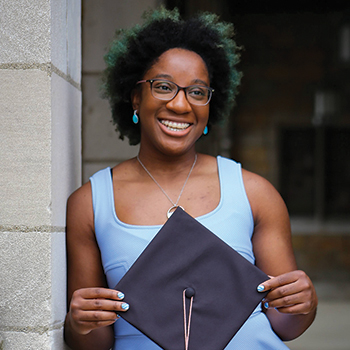 "Studying remotely highlighted for me how important it is to be adaptable to changing environments. Everyone was navigating the new normal, and we all adapted to make the most of the situation. This exemplifies public health—how more flexible research and interventions can better meet the changing needs of our communities. Professors and GSIs across the school modeled this, adapting to student needs and listening carefully to our concerns."
—Daisy Okpa, MPH '21
---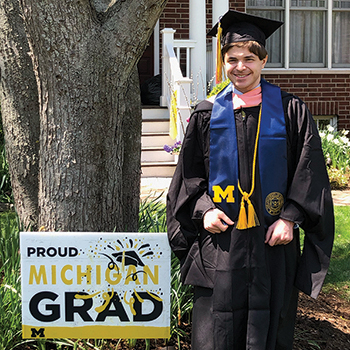 "Our own actions to stay healthy and safe are also critical for the health and safety of the general public. Social distancing, mask wearing, and getting vaccinated are crucial not just for our own health but for protecting the people around us."
—Mitchell Schrank, MPH '21
---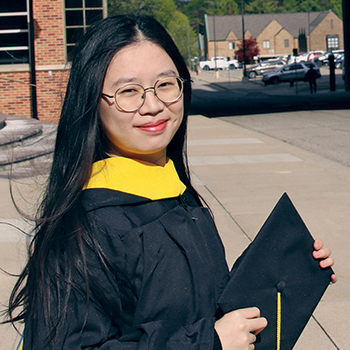 "Remote learning presented many challenges. It also gave me more time to think about and process this wild year. Keeping things in perspective and in balance are skills that will serve me as an environmental health professional."
—Xin Li, MS '21
---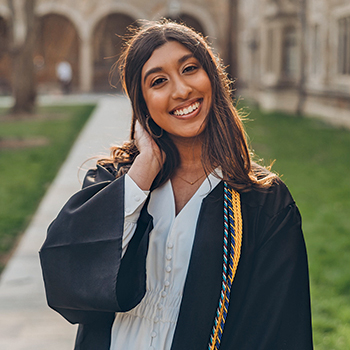 "My time at SPH taught me to think of adversity as an opportunity for growth. I now realize we're all more resilient than we think, and I am focusing on how strong we are. The ability to share strength and resilience with others is part of what makes a great public health leader."
—Sania Farooq, BS '21
---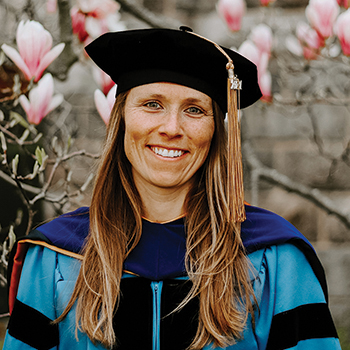 "During my time at Michigan Public Health, I learned that, though I study health on the community level, small personal actions can also impact the health and well-being of the public in a big way."
—Christine Rygiel, PhD '21
Photo by Shayla Grace Photography
---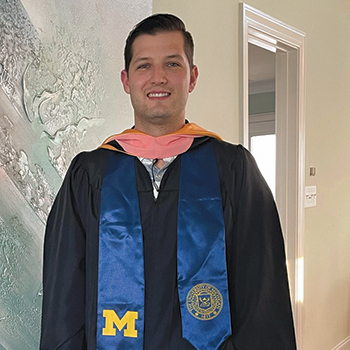 "My professional experiences helped me visualize what I was learning in virtual classrooms. But as an online student based in Atlanta, Michigan helped me stretch my interests beyond my infectious disease work to policy and other areas of public health. As a dedicated life-long learner, I'm grateful to have developed this more holistic view of the field."
—Nathan Clayton, MPH '21
---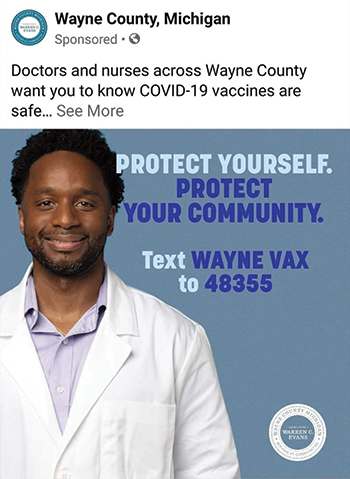 "It was difficult to miss out on that in-person grad school experience. But the whole cohort came together as a team and made it work. We pivoted based on the circumstances, collaborated creatively, and fed off each other's positivity—giving everyone the confidence that we would make it through this."
—Nicolas Fletcher, MHSA '21
Fletcher is a medical doctor and participated in Wayne County's recent vaccination campaign.
---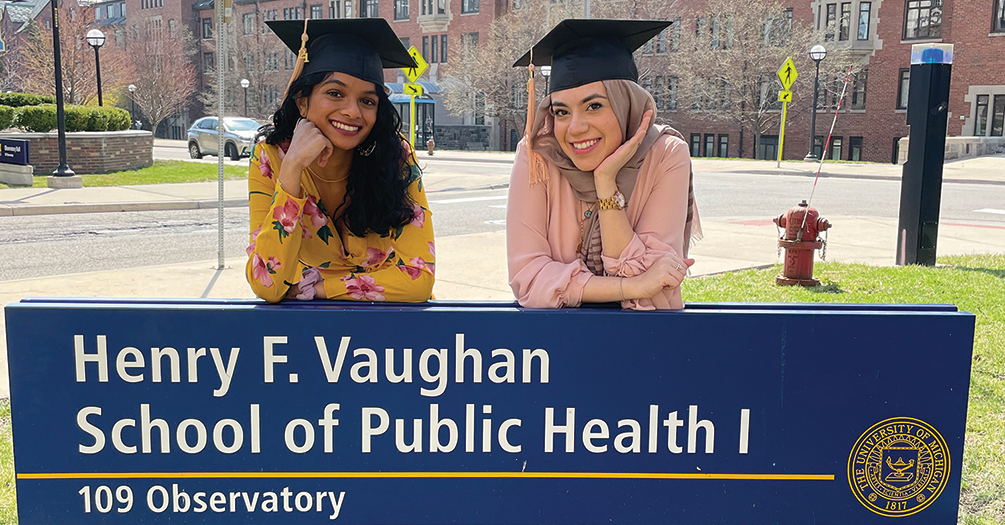 "At Michigan Public Health, you are surrounded by people deeply invested in creating positive change. No one is willing to accept or normalize the deaths of hundreds of thousands due to a pandemic. Instead, people are listening, collaborating, and acting with empathy and skill, knowing that our work can move us more quickly toward healthy resolutions to a devastating crisis."
—Swathi Komarivelli, BS '21
"My public health studies gave me tools to know what to put on the proverbial drawing board, when to go back to it, when to rework some of it, and most importantly, to have faith in what the whole team is putting on that drawing board. Collaborative thinking and adjusting for the unexpected make this field so resilient and valuable."
—Louma Kaakarli, BA '21
---