Fighting Homelessness in Ann Arbor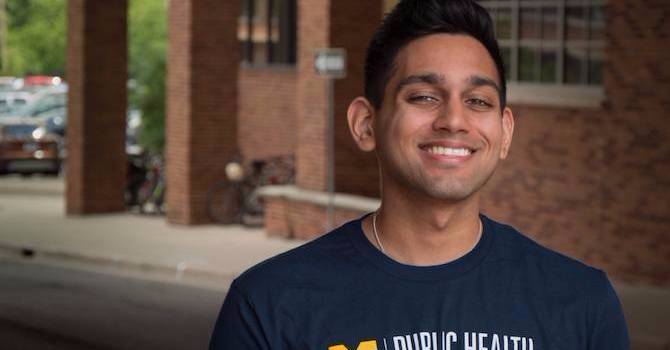 Hussain Ali
BS Public Health Sciences Candidate, '19
Fighting Homelessness in Ann Arbor
Having grown up in Commerce, MI, Hussain Ali had been going to summer camps at the University of Michigan since he was in third grade. When it was time to choose a college, Michigan felt like a natural choice.
Choosing a major was more difficult.
Ali started college as a nursing student and then decided he wanted to pursue a career in dentistry. But after spending his first two years at Michigan working with the homeless population in Ann Arbor and taking an Introduction to Public Health class his sophomore year, the junior decided to join the nearly 100 students who have begun majoring in public health as part of the School of Public Health's first undergraduate cohort.
"I thought, if I want to go into a health field—regardless of whether I want to go into medicine, dentistry or nursing—majoring in public health would be a good option," Ali says. "Public health intersects with preventive health, technology, and medicine—all of which are important as a medical professional."
Upon arriving at the University of Michigan, Ali says one of the first things he noticed was the homeless population in Ann Arbor. "I had volunteered in shelters in Detroit throughout high school, but I didn't think that problem would exist here in Ann Arbor, with all the resources here," he says. "So I looked into it."
That research eventually led him to start Michigan Is My Home (MIMH), the only student-run organization at the university focused on helping and providing aid to individuals and families experiencing homelessness.
After winning a $5,000 grant from the University of Michigan's optiMize program last semester, he was able to dedicate the summer to building the student group into a nonprofit organization.
"The problem of homelessness is much broader than you might think," he says. "I think public health will help me with that—to help me better understand infrastructure, policy, social and structural determinants of health and health policy."
Ali and his MIMH team create care packages called MPowers that are customized to the needs to specific populations. They hope to make a direct impact on the daily needs of individuals experiencing homelessness by providing clothing, hats, gloves, toothbrushes, hygiene supplies, snacks, and more.
"We also include a piece of chocolate," Ali says. "It goes a long way to brighten up their day."
The group also partners with Alpha House, a shelter for families in Ann Arbor who are transitioning into permanent housing. MIMH provides bins of household necessities such as pots, pans, sheets, and towels.
"We also strive to destigmatize homelessness," Ali says. "We provide facts, statistics, and data on our social media channels and website. Our members regularly form personal relationships with the people we work with, and we want others to understand that they deserve to feel at home here too."