Abram Wagner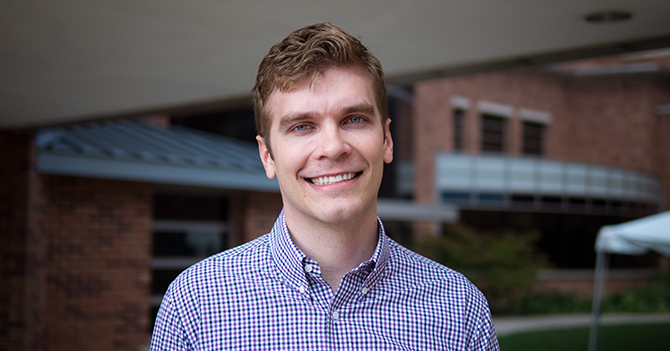 Abram Wagner, PhD '15
Growing up, Abram Wagner loved watching Kung Fu movies.
So, when he started college, it seemed like a natural choice to major in Chinese.
But at some point he thought, "What can I do with with a Chinese major?"
"I tried being a chemistry major for a couple semesters, but then I failed physics," he says. "I tried pre-med, but I met a lot of doctors who didn't seem to enjoy their lives. I finally landed on biology of global health, which was a new major at my university. I thought the global orientation was a good match for my interest in China."
An epidemiology course he took as part of his degree led him to pursue a career in public health. Raised by parents he calls "very education-oriented"--he and his three siblings all have advanced degrees--Wagner applied and was accepted to the Epidemiology master's program at the University of Michigan School of Public Health.
"I didn't think I'd use Chinese after that. It was sort of just something I did for fun," he says. "But, when I got admitted to Michigan, I got a call from Matt [Boulton], who had a project going on in China that he wanted me to help with. It all sort of took off from there."
Boulton had an NIH-funded study looking at measles epidemiology in China. Vaccination coverage was high and measles incidence had been decreasing for many years, but from 2010 to 2015, there were periodic, major outbreaks of measles, and Boulton and Wagner wanted to understand why.
"The burden of disease was shifting to young infants--too young to be vaccinated--and older adults, who were probably missed by the vaccination program decades ago when they were kids," Wagner says.
Today, as a post-doctoral research fellow within the Epidemiology Department at Michigan Public Health, Wagner's work focuses on immunization coverage and how people make the decision to get vaccines--specifically overseas in countries like China.
He has also been involved in developing an undergraduate class in global public health, which is open to undergraduate students across all majors at the University.
To date, Wagner, who is fluent in Chinese, has been to China nine times, traveling to big cities like Beijing and Shanghai and smaller--by Chinese standards--cities like Tianjin and Chengdu, which still have upwards of 15 million people.
"There are substantial disparities in health and economic development between the countryside and cities. But when I think of China, I think of huge cities, since that's where most of my research has focused," he says.
But that's not the only thing that stands out for him. "There's lots of innovation in architecture, and you can't expect a lot of personal space," he adds. "People are leapfrogging into new technologies. Email isn't used much there anymore, and no one gets regular mail."
What's Next: Heading Back to China on a Fulbright Award
As one of about 800 U.S. citizens who will teach, conduct research, and/or provide expertise abroad this year through the Fulbright U.S. Scholar Program, Wagner will again travel to China this fall to study the Hepatitis E vaccine in collaboration with colleagues at Fudan University in Shanghai.
China only recently licensed this vaccine, which prevents the water- and food-borne disease that is common in South Asia. For most people, Hepatitis E is not a major health concern. However, it is particularly dangerous for pregnant women--15 to 25 percent of those who contract the disease die from it.
Wagner will be conducting in-depth qualitative interviews with doctors and high-risk people in Shanghai to better understand the country's immunization systems. He says he hopes the Fulbright will help him solidify this research base in China.
"Compared to many other countries, China has a much more robust public infrastructure for immunizations," Wagner says. "Since this is a new vaccine there, I'm particularly interested in finding out what tactics they are using to encourage high-risk groups to get the vaccine and how they are providing the access people need to follow through."