Deploying Power with Integrity and Love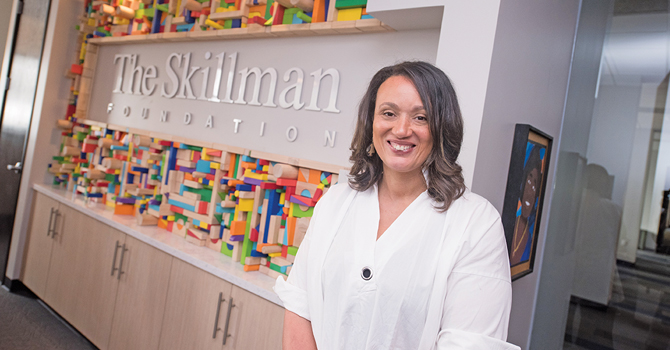 Tonya Allen
BA '94, MPH and MSW '96, President and CEO of the Skillman Foundation
Tonya Allen, BA '94, MPH and MSW '96, has dedicated her career to improving lives in her hometown of Detroit. Currently, she is the president and CEO of the Skillman Foundation, which supports the well-being of Detroit's children through grant-making and civic leadership.
In 2006, Allen spearheaded the foundation's Good Neighborhoods Initiative, a decade-long, $120-million investment engaging six Detroit neighborhoods selected for their large numbers of children. In these neighborhoods, the Skillman Foundation funded community-based projects related to education, safety, community leadership, and youth development. Over the course of the initiative, graduation rates in the neighborhoods rose by 16 percentage points, summer job opportunities expanded, and crime and youth victimization rates plummeted. As president of the Skillman Foundation, Allen also co-chaired the Coalition for the Future of Detroit Schoolchildren, which resulted in significant State investment in the Detroit Public Schools and restored local control to Detroit residents.
For her visionary and high-impact work, Allen received a U-M Bicentennial Alumni Award. The awards, established exclusively for the 200th year of the university, highlight the breadth and excellence of recent alumni. "At a relatively young age, Tonya Allen is a game-changer," says Steve Grafton, president and CEO of the Alumni Association of the University of Michigan. "Tonya's passion for improving the lives of others, particularly those with great need, has produced incredible results."
We asked Allen about her work and her education at the School of Public Health.
Why did you decide to get a degree in public health?
Public health offered a way of thinking about policies and practices that can strengthen the well-being of people on a large scale. I wanted to improve the lives of Detroiters, particularly children. At the Skillman Foundation, we work to improve children's well-being by supporting projects that target the social determinants of health: education, employment, safety.
As a public health student, did you develop any skills that you use in your current work?
At the School of Public Health, I learned how to mobilize communities to change health outcomes. Those lessons about assembling broad coalitions of stakeholders and focusing on moving health indicators continue to be extraordinarily important in my work. Michigan Public Health also emphasized the benefits of collecting and analyzing data to ensure that you're designing strategies that lead to desired outcomes. My current work focuses on using data to achieve desired outcomes and doing so with discipline.
On a personal level, my husband and I had our first child while I was a graduate student. I learned that I have to be purposeful about curating my professional growth, as well as my personal and family life.
What motivates you to keep your roots in Detroit?
I'm in love with Detroit. I love its people. I love its resiliency. I love its swagger. It's a place that has flaws, but I really see its assets. The city was a strong contributor in helping me become the person I am, and I feel very compelled to contribute to it—to make sure it becomes the city we all aspire for it to be.
Looking back 40 years, cities like San Francisco, Boston, and Seattle were all at a fiscal brink. A lot of people didn't believe in them, but they rebounded. I believe that possibility exists for Detroit. However, those cities have not brought all of their residents along in their recovery. My vision for Detroit is about building an opportunity agenda for children so that if we make the investments today, in two decades our children will be fully engaged. They will be able to contribute to Detroit's economy and benefit from its prosperity.
On the Skillman website, you describe yourself as "a quasi-introvert masquerading as an extrovert." Is it important for leaders to cultivate introversion?
I am extroverted in some ways. That's expected of leaders, but I also think it's important for leaders to take time, to be in quietness, to reflect on and observe themselves and the world.
In the press, you've offered this advice to potential leaders: "My best advice is to understand power—don't be afraid to covet or deploy power and always use it with integrity and love." Can you elaborate on that?
When I was first starting my career, I remember somebody talking to me about power, and I said, I don't want power. I felt like power corrupts. That framing had me in a position of fear. Eventually, I started to reimagine what power is and what it can mean. To me, power is mobilized people and mobilized money. You build power to create change, and I am unapologetic about trying to accumulate power to enable the work that I believe is important for our city and for our country.
I'm not looking for power to be self-serving. I'm looking for power to be able to serve others, and that has to be done with integrity and with love. I use the word "love" intentionally. It is not a soft word. Love is probably the most powerful word, the most powerful definition, of how you will behave and act that you can have. And I want to use power with integrity, meaning I'm going to use power for exactly what I say, and nothing else.
You recently completed a fellowship with a conservative public policy think tank. What was your goal?
I did the fellowship to build a bridge. I view myself as being in the middle, slightly to the left on the political spectrum. This was my attempt to better understand people who care about the same issues I care about, but have a different strategy, or a different set of values, that drive the way they would solve the same problems. I wanted to understand, how are they thinking about these issues? Where is there common ground for us to work together? In order to work on behalf of the constituencies I care about, I have to understand others who might be contributors to the solution, and who might oppose my effort and why.
To move beyond your political and personal echo chambers is not easy. Everybody talks about change, and then they say: You go first. I elected to go first with this fellowship.
This article first appeared in the fall 2017 issue of Findings, the magazine of the University of Michigan School of Public Health.
Support student scholarships at Michigan Public Health.