Middleville to Ann Arbor, Mosquitoes to Medicine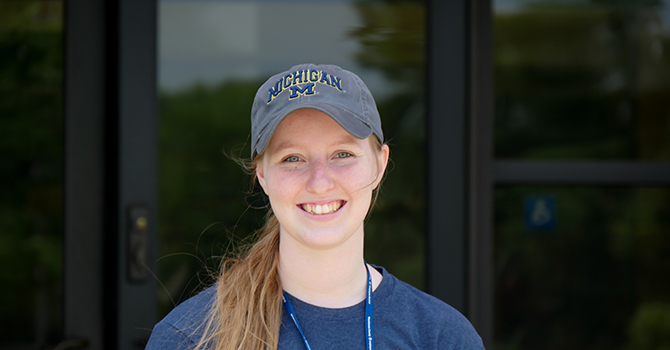 Shannon Hamilton
MPH Candidate, Environmental Health Sciences
Born and raised in rural western Michigan, Shannon Hamilton has always loved the outdoors.
That's part of what drew her to pursue a master's degree in environmental health sciences from the University of Michigan School of Public Health. "I'm very interested in how environmental exposures during our lifetime influence our health," she said.
And when it was time to look for an internship, she was naturally drawn to opportunities that had field work. "I really wanted to be outside and in nature, to get back to my roots," she said.
That, paired with her interest in reproductive health, made one opportunity a perfect fit. She spent this past summer doing mosquito surveillance with Washtenaw County Public Health, looking into whether certain species of mosquitoes that can carry and transmit the Zika virus had made their way to Washtenaw County. Fortunately, based on her analysis, they hadn't.
From Middleville to Ann Arbor
Hamilton grew up in Middleville, which is roughly halfway between Grand Rapids and Battle Creek and has a population of about 3,300. When Hamilton first arrived at U-M in 2012 to pursue a bachelor's degree in neuroscience, Ann Arbor felt huge and overwhelming.
"At first, I felt like a small fish in a very, very big pond," she said. "But I've grown to love it. I've found community here—in undergrad, through joining the Women's Glee Club, and now, in being a part of the tight-knit Environmental Health Sciences department."
As an undergraduate student, Hamilton participated in the university's Undergraduate Research Opportunity Program, which gave her the opportunity to work with post-doctoral researcher Kelly Hogan in environmental health sciences professor Rita Loch-Caruso's lab at the School of Public Health. The lab focuses on female reproductive toxicology and the mechanisms of toxicity related to adverse pregnancy outcomes, like premature birth.
"That experience, and working with Kelly specifically, really opened my eyes to what I could do with my interests," Hamilton said.
"The University of Michigan has definitely impacted me. It has given me the opportunity to stay close to home while still exposing me to a wide range of people and cultures. And it has made me think more broadly about world issues, state issues. Now, I feel more capable of applying what I've learned here to impact those problems."
Looking to the Future
Now in the second and final year of her master's degree, Hamilton is applying to medical school and hopes to become a physician specializing in reproductive health or primary care.
"I definitely want to stay in Michigan to practice—maybe even head back to Middleville, where I grew up," she said.
Hamilton says her decision to get a Master of Public Health degree before applying to medical school has made her feel more prepared for this next challenge.
"Having public health knowledge is so important for physicians," she said. "Every physician should incorporate that population-level, preventive approach into their practice, and understand the public health and community aspect of health care. I think it's going to be really beneficial to how I approach my practice."
Interested in environmental health sciences? Learn more about our program.