Michigan Alum and Epidemiology Professor Studies Health Disparities in Stroke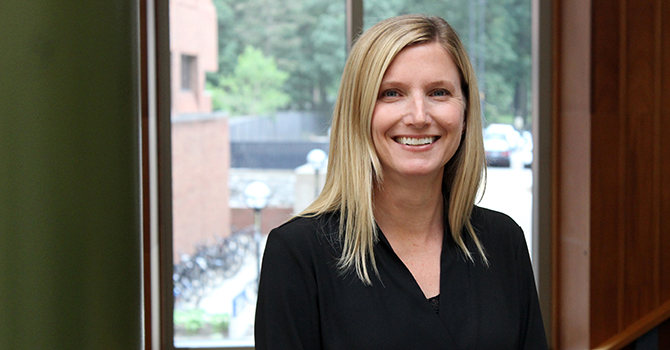 Lynda Lisabeth
Senior Associate Dean for Administration and Professor of Epidemiology
For Lynda Lisabeth, coming to the University of Michigan as an undergraduate statistics major was a transformative experience.
That experience helped inform her decisions to choose Michigan for her master's degree and PhD and then later to join the epidemiology faculty at Michigan Public Health.
"I've always felt very grounded here because it has been instrumental to shaping how I view everything," Lisabeth says. "It's not because we all think the same. It's exactly the opposite. We all have very different viewpoints. That's what I really like. When you think about it from a research perspective, that's so exciting. I work with stroke neurologists, and I work with biostatisticians, and I'm working with someone from Health Behavior and Health Education. That's when you really start to have interesting ideas—when you bring all these different opinions and thoughts together. That's what I've always loved about the university, and that's what keeps me here and keeps me engaged."
I loved biostatistics. That program was one of the hardest things I've done in my life. I really felt like I accomplished something.
From Biostatistics to Epidemiology
After graduating with a bachelor's degree in statistics, Lisabeth applied to the biostatistics master's program at Michigan Public Health.
"I loved biostatistics," she says. "That program was one of the most challenging things I've done in my life. I really felt like I accomplished something."
After earning her MPH, Lisabeth entered the workforce for a few years, doing statistical and data analysis roles for health-focused organizations in Michigan. But she quickly realized that she wanted to be involved in other dimensions of research.
"In particular, I was interested in study design and thinking about research questions that should be addressed," she says. "That's what led me to come back to Michigan Public Health to pursue my doctoral training in epidemiology."
Her biostatistics foundation set her up for success in epidemiology.
"It was a really great path for me," she says. "I came into epidemiology with this very strong quantitative background that allowed me to absorb the epidemiologic methods and how we use statistical tools to answer research questions."
Studying Stroke in Mexican Americans
After getting her PhD, Lisabeth applied for a position with the Department of Neurology within the University of Michigan Medical School to work on the BASIC (Brain Attack Surveillance in Corpus Christi) project, which looks at health disparities in stroke among the Mexican American population in Texas.
"Stroke has always been so interesting to me," says Lisabeth, who has a joint appointment in the Department of Neurology. "It's a disease of aging with large health disparities. It's also a really complicated disease to study, so I've been able to utilize my methods training, which is what I'm most interested in. I like to think about how we might answer the question the right way. How do we use statistics and methodologic approaches to get to the right answer for the question?"
Lisabeth is still working on the BASIC project today.
She and her colleagues have been collecting data on every stroke that happens in Nueces County in Texas. When the study first launched, the primary goal was to understand the differences in stroke rates between Mexican Americans and others in that area. Over time the study has evolved, and the research team is now focused more on stroke recovery.
"Stroke mortality has decreased substantially in the US—people say it's one of the biggest public health achievements of our time," Lisabeth says. "But that also means that more people are living with their stroke, and living with disability caused by stroke. And as the baby boomers age, we expect that number to increase dramatically. What does that mean for us? And what does it mean for vulnerable populations, such as Mexican Americans, who have strokes at a younger average age, often before they reach retirement age? What does recovery look like for them? What does it look like for their families, whose primary income-earner may not be able to go back to work? There are so many questions that we still need to explore."
All our departments are so strong. The school has an incredible leadership team, and we are always growing and building on our strengths.
Taking on an Expanded Role with Optimism and Excitement
Beginning July 1, 2018, Lisabeth will begin a three-year term as senior associate dean for administration at Michigan Public Health. This position works closely with the dean and the school's leadership team to oversee general administration for the school.
"I was drawn to this position because I feel very strongly that this is an amazing school, and not just from my lens of epidemiology," she says. "All our departments are so strong. The school has an incredible leadership team, and we are always growing and building on our strengths. For example, last year we launched an undergraduate program, and next year, we are launching an online MPH program. I'm really excited to be part of that."
Lisabeth was interim chair of the Department of Epidemiology for about a year and a half in 2014 and 2015.
"I agreed to take the interim chair position because I wanted to support the department but also because I wanted to learn new things and push myself," she says. "I think it's always important to keep learning. In that role I learned a lot about budgetary issues, finances, faculty affairs. I also came away with a strong understanding of student affairs and curriculum issues."
Lisabeth says the experience as interim chair left her with a great deal of optimism about both her department and the school.
"It made me realize how amazing our faculty and students are because I got to interact with them in a different way," she says. "I'm hopeful my new role will offer me a similar opportunity to work with faculty and students across the school and learn more about the incredible things happening here."