Honoring the Legacies of Those She Loves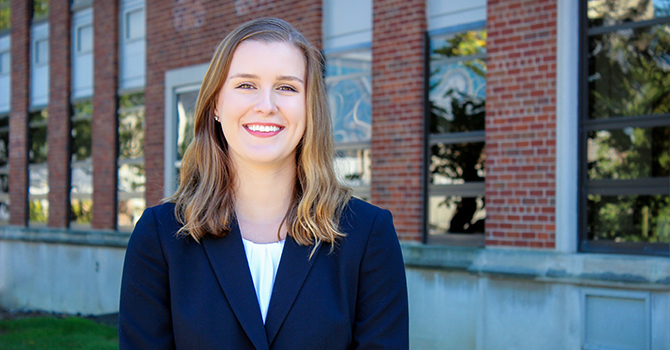 Carmelita Perrien Naccarato
Bachelor's Student in Public Health, John D. Evans Foundation Scholar
Since I was young, I've been surrounded by death. Right now, at age 20, I only have one grandparent left. I never met my great-grandparents or my maternal grandmother. Growing up I never really thought much of the reasons behind their premature passings. I just assumed, as kids do, that my family had bad genes and that other kids whose families still had so many elders in them were more lucky than we were. But looking back now I can see the social determinants of health and societal issues that led to untimely deaths in my family, and my family's stories have become one of the biggest driving forces behind my interest in public health. If I had to boil it down, I'd say that death got me interested in health, but it's life — and honoring the legacy of those I love — that inspires me to pursue public health.
My mother is a clinical psychologist, which means I have been around health since my childhood. She has worked with sex offenders, death row inmates, and the mentally ill at prisons in North Carolina, California, and Idaho (which meant we moved around a lot when I was growing up). I've heard about different psychological conditions and medications my whole life. I've also heard about the failings of the prison system, specifically prison healthcare. I've heard horrific stories about inmates being abused, neglected, and far worse. These injustices served as a backdrop to my upbringing and a source of motivation. It seems impossible that someone could grow up in that environment and not want to help people.
If I had to boil it down, I'd say that death got me interested in health, but it's life—and honoring the legacy of those I love—that inspires me to pursue public health.
When I came to Michigan, I knew I was pre-med and was originally planning to major in biology. As a member of the Health Sciences Scholars Program, I was immediately exposed to public health. My second day at Michigan I met someone who was in the very first cohort of the Michigan Public Health undergraduate program and was immediately convinced that public health was the major for me. My classes only cemented this plan. Adam Eickmeyer's courses in the School of Literature, Science, and the Arts, 'Perspectives on Health and Health Care,' shed light on all of the problems with health and the importance of the public health perspective. My hard science classes showed me that I didn't just want to treat an illness, I wanted to treat a person. I wanted to solve problems upstream more than I wanted to make money off a frequent flyer.
It was important to me to be involved in the LGBT+ community at Michigan, because I never felt like I could do that in other places I have lived. The University of Michigan Spectrum Center gave me the welcoming environment that I had been searching for for twenty years. When I interviewed and was offered a position, I finally felt like I had found people who accepted me no matter what, people that I didn't feel that I had to pretend for. I didn't have to have my act together, I didn't have to be perfectly anything—I could just be me. Being around the queer community at the University of Michigan has granted me the experience that I was desperately hoping for—it has allowed me to love and accept myself as I am.
I'm a student ambassador through the Undergraduate Admissions Office. I've done this for the past two years and have enjoyed it. It's rewarding being able to connect with high school seniors and show them what college and the University of Michigan specifically have to offer. Higher education has always been important to me, so doing what I can to share that with those younger than me is a meaningful activity. It's also always fun to meet future Wolverines and give them all the tips and tricks before they start classes here.
Being around the queer community at the University of Michigan has granted me the experience that I was desperately hoping for—it has allowed me to love and accept myself as I am.
One of my favorite extracurriculars outside of class is volunteering at Michigan Medicine. This past semester I volunteered in the Emergency Medicine Department every Thursday morning. Mostly I helped the family and friends of patients move around the ED. Most days I filled blanket warmers, escorted loved ones back to see patients, and chatted with the hosts and security personnel. Other days I helped older visitors carry their bags, talked to little kids about their stuffed animals, and gave a Hispanic man directions in his native language. I loved being able to see all walks of life and even if it didn't take much effort on my part to walk these people around the unit, I'm aware that sometimes small kindnesses can have the biggest impact during stressful times. On that note, being in the ED allowed me to witness the most sacred times of life and see how the different staff members work together to promote health and wellness. As someone whose dream is to be an emergency medicine physician, specifically at Harborview Medical Center in Seattle, having the opportunity to be in that environment was invaluable.
I've also worked in the Traynor Lab in the Pharmacology Department of Michigan Medicine for the last two years and hope to continue on until graduation. I primarily work on our fentanyl project, investigating altered versions of the drug that use a legal loophole to avoid regulation. Our research characterizes these 'fentalogs' in terms of binding affinity and stimulation at different opioid receptors. The ultimate goal is to not only understand how these drugs interact with the body, but also to create an opioid rescue drug that works better than Narcan. Since fentanyl is such a potent opioid, we believe that finding an opioid antagonist with similarly strong binding affinity could potentially be a strong rescue drug, reversing the effects of opioid overdose better than anything else on the market.
Postscript: Carmelita was honored with the John D. Evans Foundation Scholarship for the 2019–2020 academic year. The John D. Evans Foundation Scholarship provides need-based financial support to student leaders who leave a long-lasting positive impact of the LGBTQ community.