Supporting Education and Promoting Wellness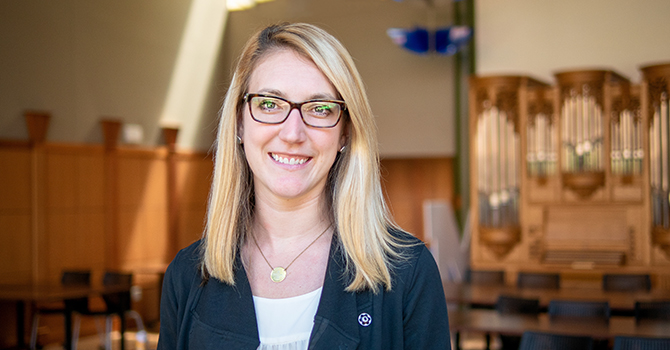 Kate Wilhelmi
Internship Coordinator, Department of Epidemiology
When Kate Wilhelmi first started working at the University of Michigan School of Public Health as a part-time internship coordinator for the Department of Epidemiology, she had no idea what public health was all about. A native of Illinois, she was in Ann Arbor for her Masters in Educational Leadership and Policy at the School of Education, and had plans to move to Chicago soon after graduation.
Something about public health really clicked for her, though. She was surprised to find how many intersections there were between public health and her passion for education, including the people- and community-first aspects of both disciplines, and their focus on equity.
"I was too stubborn to quit and knew that one day I'd look back at this experience and be very happy that I went through it."
A Crash Course in Teaching
Right after graduating with a dual degree in Psychology and Communications from Augustana College in Illinois, Kate joined Teach For America and was sent to rural Pine Bluff, Arkansas, to teach a class of 29 seventh-grade girls.
"That first year was the hardest experience of my life," says Kate. "And it fundamentally changed me as a person."
She jokes that she spent more time in the principal's office that first year than any of her students, often in tears, but credits that principal's tough love approach with helping her confront her own internal biases and cultural differences.
"I was too stubborn to quit and knew that one day I'd look back at this experience and be very happy that I went through it," says Kate.
Not only did she get through it, but she learned to love teaching in the process. During her second and third years Kate felt much more like a full member of the community and found it exhilarating to be in the classroom. She fell in love with the south and spent two more years as a trainer for Teach for America in Baton Rouge, Louisiana.
During this time, Kate became passionate about working alongside communities toward educational equity. This led her to the University of Michigan School of Education and eventually to her position here at the School of Public Health.
Helping Students Make the Most of their Internships
Kate loves working with students, both as the internship coordinator for Epidemiology, and as a co-teacher of the R603 Professional Development Seminar. Though many Masters students come to the school with years of work experience under their belts, for some their summer internship is their first professional experience.
"I try and help them with all aspects of the process, including how to think critically once they are actually at their internship site," says Kate. "My vantage point is interesting because I am a step removed, and can help students see the forest for the trees".
During the summer of 2019, her third coordinating internships, Kate required all of her Epidemiology interns to email her biweekly, even if just one sentence.
"It has been a really nice window into the experiences and lessons our students are learning out in the field. Some students come back from their internship thinking it was harder than they expected, culturally. Some come back with a clearer idea of what they want to do with their career, while some return with clearer ideas of what they don't want!"
"I try to keep my ear to the ground with students to understand their experience, both to translate it to others, and to allow it to shape my own work."
Her goal for all her students is that they graduate with a strong understanding of the multi-faceted field of Epidemiology, and an appreciation for how skills gained here are applicable in many future careers.
Kate's role also includes working on the department's Diversity, Equity and Inclusion (DEI) committee.
"I love being part of the push here to take DEI principles and make them part of our shared culture at the school. I try to keep my ear to the ground with students to understand their experience, both to translate it to others, and to allow it to shape my own work."
Poses in the Courtyard
"Another thing I love about working here is that I have been able to bring yoga to work, which is pretty awesome."
If you ever eat in the cafe on Friday afternoons, you may have noticed an intrepid group of yoga devotees doing their thing in the courtyard just outside. The one up front leading the group is Kate.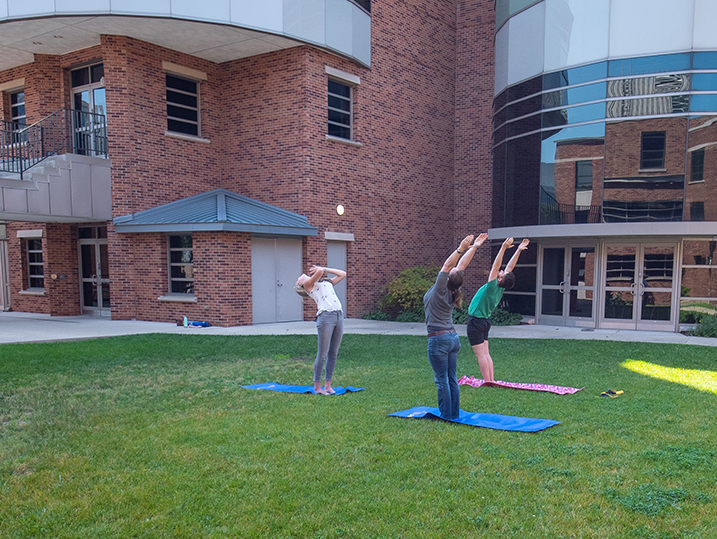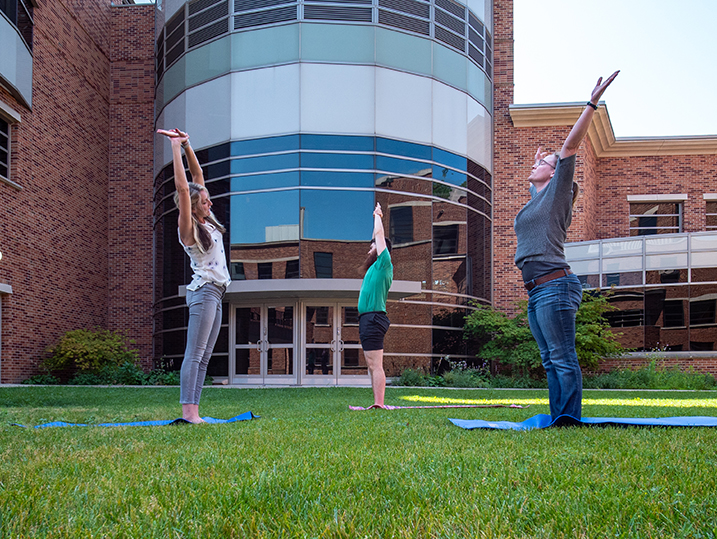 ×
Growing up, she was an avid dancer, and then got into running in her teens. It was during her time with Teach For America that Kate tried yoga for the first time, at a community center class. At first, she liked that it helped with her running and flexibility, but soon she was drawn to the deeper aspects of the practice.
"I see yoga as an extension of dance, as a way to connect with your body and breath, to quiet the mind."
Upon moving to Ann Arbor, she joined Red Yoga studio, and began practicing more seriously. When they offered a teacher training course, Kate had an aha moment and jumped at the chance. Now she teaches at Red Yoga, and also offers free weekly drop in classes at the School of Public Health
"I learned a lot about myself through the training. Now, it's a creative outlet for me."
It is not surprising that Kate has come full circle back to teaching, even if her initial goal of becoming a school principal has changed. Her passion for helping students, her commitment to health and educational equity, and her generous spirit make her a great asset to the school.