Chasing Outbreaks: Movie Screens, Meningitis Surveillance, and Meaningful Service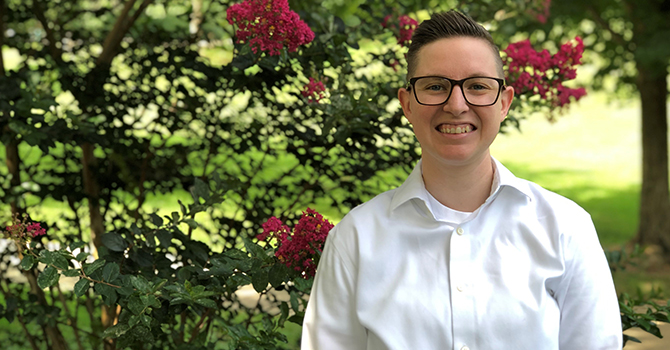 Olivia McGovern, MS '18
Epidemic Intelligence Service Officer, Centers for Disease Control and Prevention
Academy Award-winning actor Kate Winslet has undoubtedly inspired many people to pursue a career in acting. As for inspiring epidemiologists? There's at least one: Olivia McGovern, who gives some credit to the film Contagion and Winslet's starring role for piquing her interest in the field.
McGovern's path to public health was not straightforward. She was influenced by trusted confidantes and a touch of Hollywood inspiration.
She didn't become familiar with the field of public health until her wife, Maura, began a master's in public health program in 2011. Growing up in Bloomsburg, Pennsylvania, McGovern says, "I was good at science and math, and I really enjoyed those subjects. This led me to pursue a path towards a career in biomedical research," which she started at Indiana University of Pennsylvania by earning a Bachelor's of Science in biochemistry.
There are three crucial things that McGovern attributes to her shift in focus to public health; an interest in applying her skills to help others, mentors who provided excellent guidance, and Maura, who introduced her to the field and continues to support her. McGovern says "I can't thank Maura and my mentors enough. I wouldn't be where I am today without them."
And then there was Winslet and Contagion, the 2011 hit movie. That's what drew McGovern to epidemiology specifically. After seeing Winslet's character—Dr. Erin Mears— in the film, she says, "I really wanted her job." Erin Mears was an epidemiologist from the Epidemic Intelligence Service (EIS) and officer for the Centers for Disease Control and Prevention (CDC).
Around this time, Maura met an EIS officer during a summer internship and received some insight regarding McGovern's dream job and how to make it reality. With this blueprint and new contact, she was able to plan her path from biomedical research to becoming an EIS Officer, just like Erin Mears.
The plan succeeded as McGovern is currently an EIS Officer in the Respiratory Diseases Branch at the CDC. As an EIS Officer, she uses her skills as a scientist for civil service: "I perform epidemiological research and outbreak investigations to better understand, halt, and prevent disease caused by bacterial respiratory pathogens. Since starting the EIS program in July of 2018, I have been involved in a number of projects. After just one day in the office, I deployed with a team of epidemiologists to Rochester, NY where we interviewed clinicians/needle exchange staff and reviewed medical records to understand risk factors for invasive infections among people who inject drugs. I assisted with coordinating communications between state and federal partners in response to a multistate outbreak of psittacosis among workers in poultry slaughter plants. I also traveled to Mozambique with a team up of epidemiologists and microbiologists to help the Ministry of Health evaluate their National Meningitis Surveillance System."
"No matter what I do, I will continue to pursue a career of service."
Although the excitement of chasing outbreaks is what hooked her initially, the service aspect of public health is what keeps her coming back. McGovern discovered this passion during her time as a member of the Public Health Action Support Team (PHAST) here at Michigan Public Health. Specifically crediting volunteer work in response to the Flint water crisis, she says "I learned what living off of bottled water meant and about the difficulties that elderly and disabled residents had to overcome to get safe water. Compelled to do more, I initiated a partnership between Michigan Public Health and the Biomedical Sciences PhD program to collect diapers and baby wipes for the people of Flint. Making this tangible impact in Flint was really meaningful to me."
It was experiences like these ones that solidified McGovern's desire to make concrete impact on the well-being of populations full-time, not just as a volunteer activity. Of her current position, she says "being an EIS officer at the CDC allows me to do exactly that. I perform research and respond to public health emergencies to determine the cause of health threats, stop their spread, and intervene to prevent future outbreaks."
Upon reflection of the initial decision to pursue her Master's of Science (MS) degree at Michigan Public Health, McGovern says that her interest in pursuing public health and EIS was solidified as she was interviewing for graduate school in 2012. "Serendipitously, I had applied to two programs offering dual degrees with a PhD in Microbiology and a MS in Epidemiology. Of the four total programs that I was considering, I narrowed my list down to those two programs, one of which was at Michigan, because pursuing an MS in Epidemiology became a top priority for me. Ultimately, I chose Michigan because of the chemistry and support I felt from the faculty members I interacted with."
McGovern says that her decision has paid off well as her public health training has been very valuable to her current position with the CDC. "My experiences with PHAST in Flint and St. Croix prepared me to respond rapidly and effectively to address an emergent public health problem. Nearly a decade of biomedical research experience taught me how to think critically and how to conduct scientific studies from generating a hypothesis to designing experiments, analyzing data, and preparing manuscripts for publication. Although I am not at the bench or on the microscope anymore, I use these skills everyday as an epidemiologist. Having training in both epidemiology and microbiology is also useful for my work. For example, laboratory testing is a major component of bacterial meningitis surveillance. My experience with laboratory techniques such as bacterial culture and detection by polymerase chain reaction helped me recognize the challenges the lab faced during our evaluation."
Looking ahead, McGovern says she's not sure what the future holds after her time as an EIS Officer. But her supervisors are supportive in allowing space for her to try out as many aspects of public health as possible to find her place in the field. However, she says one thing is for sure: "no matter what I do, I will continue to pursue a career of service."