Best Investments, Best Returns: Improving Mental Health for College Students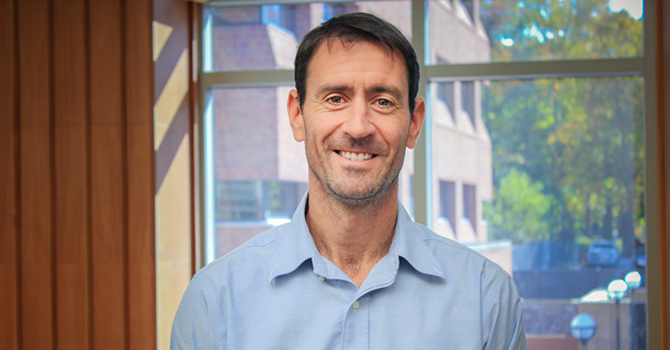 Daniel Eisenberg
S. J. Axelrod Collegiate Professor of Health Management and Policy
Questions about public policy and social justice have always been top of mind for Daniel Eisenberg, even as he completed his undergraduate work in economics. "I just needed a lens with which to address the questions I had about public policy and social policy. What should our society be investing in? Are we making good public policy decisions? Economics is one of the main languages to analyze those kinds of questions," he says.
Eisenberg stayed with economics for his doctoral work at Stanford University, but he continued looking for policy-related ways of applying that work. "I was always interested in health and psychology and was drawn to public health because it is so connected to real-world problems and also very holistic," Eisenberg says. "That resonated with my economics training and my passion for questions about human well-being."
Everything that matters for health matters for mental health.
Landing on mental health within the field of public health also has an economics flavor for Eisenberg, the S. J. Axelrod Collegiate Professor of Health Management and Policy and a Research Professor at the Population Studies Center at the University of Michigan. "Like so many others in public health, I want my research to help improve society on a broad scale. Mental health is a big-picture issue that affects everybody in a population, and mental health is tied into so many of our socioeconomic—and our biological—systems. Basically, everything that matters for health matters for mental health," he says.
Investing Well in Young People
As director of the Healthy Minds Network, Eisenberg has spent the last twelve years conducting and interpreting research on adolescent and young-adult mental health. Since 2005, the Network has collected and examined mental health, service utilization and related issues among undergraduate and graduate students at over 250 colleges and universities with over 300,000 survey respondents.
This incredible amount of data gives Eisenberg and his team a unique perspective on youth mental health and the policy decisions we make that affect it. "We probably aren't investing in all the right places," Eisenberg assesses. "We're probably not doing enough prevention of mental health. Early childhood and even infant programs with really good evidence of positive mental health impacts—first of all by improving parenting and reducing abuse and neglect—are a place to invest more. There are also important investments to make later in childhood, adolescence, and young adulthood. If we invest in people when they're young, decades later we will see the fruits of those interventions."
We clearly have more familiarity with and more openness to using mental health services, and a lot of young people are benefiting from that.
In response to the broad concern about rising youth mental health conditions, Eisenberg is cautiously optimistic. "The evidence is that they might be on the rise a bit. But it's much clearer from the data that use of mental health services has gone way up among young people. That's a good thing. People are getting more support. Ideally, we would be preventing rather than treating after problems emerge. But we clearly have more familiarity with and more openness to using mental health services, and a lot of young people are benefiting from that."
Common Struggles and Signs of Hope
Depression and anxiety are the most common types of mental health conditions among young people. While clinically diagnosable eating disorders are less prevalent, Eisenberg notes that concerns about eating and body image are common "If we refer broadly to disordered eating and body image concerns, they are highly prevalent, especially among girls but also among boys. We should keep in mind that severe psychological suffering or distress can be experienced even when a situation doesn't manifest itself in a full-blown disorder."
Extending awareness to all conditions that can affect mental is a foundation of Eisenberg's research. "Suicide, for example, is an important issue that does get a fair amount of attention. But as important as suicide is—as an outcome that we want to reduce—it's a small part of the overall picture of youth mental health. Ideally, we'd be investing in programs that prevent people from ever getting to the point of being at risk for suicide," he says.
Good Investing Is Proactive Investing
That overall picture of youth mental health that the Healthy Minds team has developed is why Eisenberg is so passionate about population-level approaches to managing mental health. "When you begin with regular, widespread screening to see where people are, check symptom and risk levels they might have, then you can really see prevention happening. But you have to be proactive—not wait for people to feel they might have an issue before deciding to get screened," he says.
For those whose screening results put them in middle ranges of mental health quality, a less-intensive intervention—perhaps something online—would be provided. "We have a growing set of online mental health resources and services," says Eisenberg. "And we have evidence that these can be helpful not only for people at clinical levels but also for those who are at subclinical mental health levels. In those cases, a less-intensive intervention can often prevent an issue from getting worse and can set people on a path to getting better."
Many campuses need to hire more mental health professionals, but they also need to go beyond that as the only strategy.
Proactive interventions and digital interventions appeal to college students. "As a population of young adults, they inherently understand the tech side of it and also understand the gravity of caring for their own mental health," Eisenberg says. "And increasing demand for mental health services across nearly every organization and group that provides such services is untenable. Many campuses need to hire more mental health professionals, but they also need to go beyond that as the only strategy. The key is to figure out how best to integrate technological approaches with in-person connections and support."
Eisenberg emphasizes that the proactive, population-wide, often-digital interventions he researches do not replace in-person, individual therapy, especially for those with clinical levels of a mental health. "But we do need to stem the tide," he says. "And we have tools to build complementary approaches that cost a lot less and help us keep up with the demands of individual therapy."
Eisenberg sees public health as a leader in improving mental health for entire populations: "This intersection of public health and mental health is so full of possibilities, and the data continues to back up our optimism. It's a privilege to be in an area that's so broadly relevant in populations and cross-cutting across perspectives and disciplines."