Keeping a Promise: Kalamazoo Native Inspired by Hometown Backing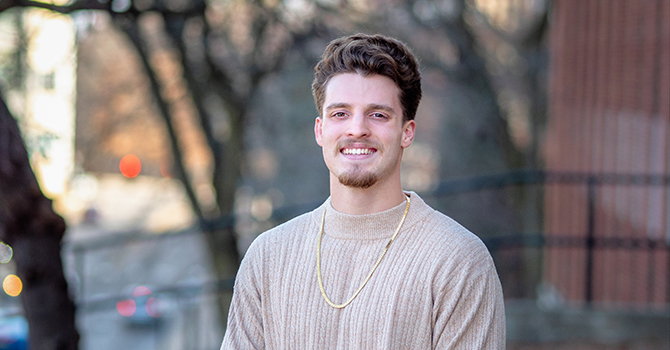 Lyric Kleber
Bachelor's Student in Public Health
My interest in public health comes from the environment in which I was born and raised. I'm from Kalamazoo, Michigan, which is racially diverse. Most people in Kalamazoo fall into the same social class, so moving to Ann Arbor and starting classes at the University of Michigan was a culture shock for me. Going from a racially diverse middle-class community to a predominately white institution with students and city residents who are wealthy opened my eyes to things I hadn't considered previously.
Here at Michigan, I began realizing the existence of significant disparities in health, wealth, and other areas that can exist between cities that are relatively close to one another geographically. These disparities drew my attention away from a pre-med track and to the field of public health. I had discovered a worthy cause that could tie together my interests in health and medicine: giving back to the community by working to eliminate those disparities. Public health is the field that allows me the opportunity to have the greatest impact on the largest amounts of people.
I'm thankful for the opportunity to help others, and Michigan has helped put me in these situations.
Part of that is nurturing my interest in having a positive impact on population health. My interests lie within programming, prevention, interventions, and public health research. I'm intrigued by the big picture stuff—how all the pieces fit together. The specialized areas I've settled on are behavioral and mental health factors.
In the summer of 2018, I spent six weeks in Madagascar, where I developed an independent research project on the feasibility of integrating traditional medicine with allopathic medicine. I spent my time there taking lectures and conducting interviews in the community with traditional healers and other health professionals. It was an incredible experience.
I got home in August and spent a week in Kalamazoo before I left for Guatemala City to do research with a nonprofit called Hope's In. Initially, this was strictly a "voluntourism" opportunity, but the organization received a grant for research. This generated a scholarship for research assistants, of which I was a recipient. Essentially, we conducted a KAB- (Knowledge, Attitudes, and Beliefs) and needs-assessment study to see how Hope's In could better collaborate with local entities and assist families with differently abled children. Our host community, Zone Three, is referred to as a "garbage dump" community, with the population living in and around Guatemala City's largest landfill. It's a pretty dire situation, but the research is ongoing and we're working on solutions now.
I'm thankful for the opportunity to help others, and Michigan has helped put me in these situations.
When considering my options for college, my biggest priority was staying in-state, but Michigan was always at the top of my list. If not for the Kalamazoo Promise program, my chances of enrolling at Michigan would have decreased drastically. The program covers up to one hundred percent of tuition for students who attend Kalamazoo public schools from kindergarten through high school graduation. The Promise program is funded by a group of anonymous local donors, and to this day I am trying to find a way to thank those individuals for this opportunity and for their generosity. I hope my public health path of pursuing positive impact on the lives of others is one way for me to pay forward what they've done for me.
As a player on the men's rugby team, an employee for Recreational Sports, and a public health student, I have interacted with a variety of people on a regular basis—and that is pretty rewarding in itself. I appreciate the opportunities the university and the school have afforded me, and I look forward to applying the skills I've learned to the world of public health.
Looking ahead to graduation in May, I am going to take a gap year from school to obtain professional experience. I then plan to continue my education and pursue a master's degree. Wherever my life, education, and career take me, I want to continue work that makes the world a better place. I want to ensure that I make a positive impact on the communities I work in and with.