Living on the Growth Edge: New Frontiers for an Experienced Leader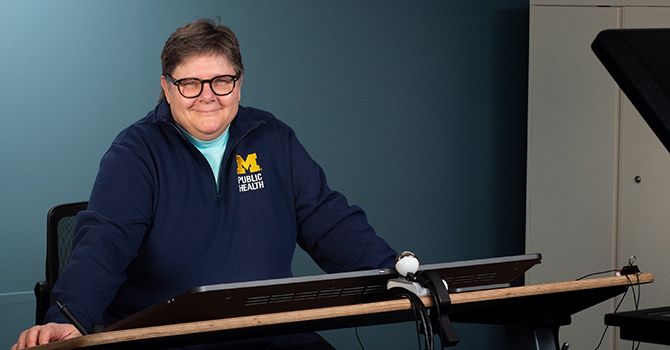 Sharon L. R. Kardia
Associate Dean for Education and Millicent W. Higgins Collegiate Professor of Epidemiology
Author Dorye Roettger is credited with coining the phrase "there are no problems, only opportunities to be creative." This phrase seems appropriate to describe Dr. Sharon Kardia's approach to her career. Now, she has a new opportunity to be creative as the University of Michigan School of Public Health's first Associate Dean for Education.
In her new role, Kardia, the Millicent W. Higgins Collegiate Professor of Epidemiology, will focus on all aspects of the educational experience—residential and fully online degrees, student and faculty experiences, curriculum and technology choices, and how to teach public outreach and engagement. "Staying true to that basic mission of improving the public's health will enable us to continue and expand upon our tradition of creating and sharing vital scientific knowledge and practice," Kardia says.
Breaking Down Barriers to Education
As faculty director of the school's new online Master of Public Health in Population and Health Sciences degree, Kardia has been at the forefront of getting Michigan Public Health into the digital space.
Her primary motivation for developing the online degree has always centered on social justice. "How do we ensure anyone who is qualified can pursue and be supported in completing a degree from Michigan?" she asks.
Her passion for access to education was coupled with her pragmatic approach to building the degree, starting with reorienting and retooling the school's world-class faculty. "I do my best to lower barriers for faculty so they can understand the technology, focus on the content, and continue to enjoy the teaching and research they're already doing," she says.
Kardia recognizes that first-time endeavors can be daunting, for example, lecturing on camera and recording an entire semester's worth of lectures in a few days. "It's a real struggle to hold an entire course in your head," she says. "But we all agreed, 'We will figure this out and we will create something new.' And the products have been really good."
Kardia leads by example, and she has already taught online and led massive open online courses (MOOCs) herself.
"The openness toward the online degree and the robust curriculum are a real testament to how creative and committed the faculty are. The online MPH program could have been 14 courses, but we're already building 50 courses. The faculty love being on the growth edge."
Playing to Our Strengths
The online MPH program welcomed its first cohort this fall. The buy-in and hard work from peers, Kardia remembers, was her fuel for getting through the heavy lifting of creating and launching a program from scratch. "I'm so thankful that faculty across the school—including those in leadership roles—stepped up to move us forward. Departmental chairs told me, 'I have to understand this new pedagogical experience fully if I'm going to ask my peers to be involved. So sign me up!'"
The online space in general, Kardia believes, will break down the barriers of anyone who teaches at a research institution. "Faculty research a lot and teach a lot. As we develop a larger library of online content, faculty can have more time and flexibility to be creative with the areas that excite them," Kardia says. "Many of our faculty love to teach, love the interaction with students. Online resources can help us bring out more creativity in teaching and celebrate ingenuity in that discipline."
This will benefit the student experience too. "Students, in turn, will get a more vibrant, inspiring, and practical educational experience since they'll spend more time at the critical nexus of research, teaching, practice," Kardia says.
New Technology for a Smaller World
As new technologies emerge, Kardia is excited by the prospect of using them to optimize student learning. Augmented reality, for example, can provide novel experiences here in the school. "It's important for an internship to take a student out of the classroom into the field. But we can also bring the field into the classroom so students can have more of those challenging, intercultural and cross-team experiences," Kardia says.
The dream here is for us to start to have a better, larger impact on public health in general.
Digital spaces can also deliver resources to larger audiences. Kardia would love to develop an online space dedicated to knowledge exchanges with a wide network of public health practitioners. Right now, a student might engage with a local health department and complete an applied practice project—which enriches those two individuals and their immediate communities. "But with a larger network, we could create resources for people across the country and the globe," Kardia says.
Kardia imagines a large database of resources broadly accessible to the practice community and updated in real time. "The dream here is for us to start to have a better, larger impact on public health in general," she says.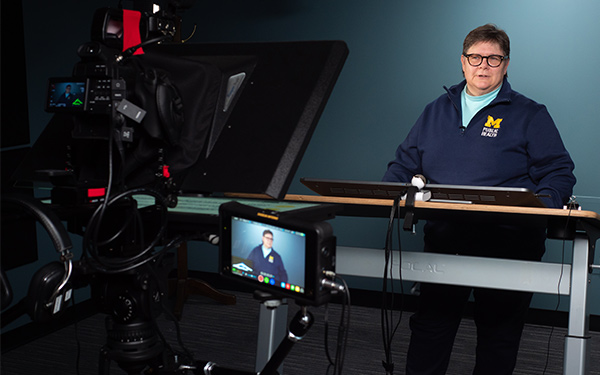 ---
Sharon in the studio recording online lecture videos.
---
Delighted by New Domains
Exploration was a large part of Kardia's childhood. "I grew up in a rural suburb of Baltimore, surrounded by nature and with access to the urban culture and museums and art of Baltimore and DC," Kardia notes.
She credits her mother with fostering an early interest in observing nature. "As an artist, her approach sometimes contrasted with my own mechanical way of thinking," she remembers. "My mother loved plants—our yard was always filled with flowers. She would be talking about their beauty and I'd be noting the physical similarities, listing which are annual or perennial, how they flower and bloom at different times. My mother helped expose me to the beauty of things, and from there I fell in love with studying the world that I'm living in."
Kardia has other mentors, most notably a drill sergeant of a calculus teacher who inspired her love of interdisciplinary sciences like public health. "She'd run us through drills at the board to keep us on our game. But then she would talk to us to make sure we understood how basic skills can open up the world around us," Kardia relates. "She explained that we need calculus to study things like protein folding or astronomy—and that those fields were interconnected. That cemented for me deep interest in and openness to all disciplines. I continue to be delighted by the new domains I encounter."
In so many ways our ability to succeed has to do with how much we trust our team members, trust the science we're doing, and trust the goals we've set out for ourselves.
Challenges and Forging Paths into Public Health
Kardia does not hesitate to admit that she's "definitely a boundary pusher by nature." But pushing forward comes with its challenges. Our natural aversion to change has been a consistent obstacle throughout Kardia's career. "Whether it's the resistance met when entering a male-dominated field or hesitating to initiate new programs or how to think about teaching, I think it all goes back to trust," Kardia says. "In so many ways our ability to succeed has to do with how much we trust our team members, trust the science we're doing, and trust the goals we've set out for ourselves."
Trusting ourselves is a big one, too. In times of change or uncertainty, Kardia sees how some people let fear guide their decisions. She works hard to embrace positive, creative perspectives that lift up and rely on the team. "If I could infuse one thing into the hearts and minds of faculty and students, it is that we have the power to create our reality. If we have concerns about succeeding, let's get together and make it better—let's make it the best. Let's trust that we have the abilities on our team to achieve it and let's move in that direction," she says.
Optimism doesn't always come easy. Kardia's daily routine includes setting herself up each and every day for positivity. "As I'm getting ready for my day, I go through the things I have to do that day that seem impossible—anything where I think, 'that's gonna be a hot mess.' I look at those things and think of ways I can be a positive, calming force for resolving and moving forward," she shares.
The challenges facing higher education today may or may not be a hot mess, depending on the day. Whatever those challenges are, they will be met by the school's new Associate Dean for Education and the creative collaborators around her.
---