Stretching His Border to Prevent Dementia: A Physician's Shift to Public Health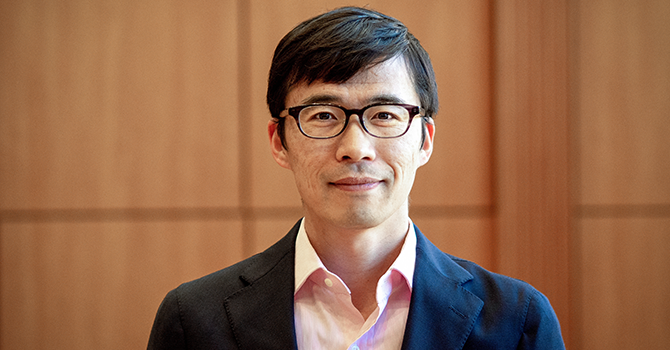 Shuji Tsuda
Master's Student in Health Behavior and Health Education, NSF International Global Scholar
What experiences led to your interest in public health?
When I was a high school student, my grandmother became sick and came to live at my house. She had dementia, and my mother stepped in to help as a caregiver. This was more than 20 years ago, so there were not many formal services to help dementia patients in society or in my community in Japan. My mother was very devoted to the caregiving, but as a high school student I had to study harder and harder all the time, which unfortunately meant that I couldn't really do much to help her or my grandmother.
One night, I took my grandmother for a walk, pushing her wheelchair through our neighborhood. I didn't have many shared experiences with her, and I didn't know how to talk to her. Though she had a good time with me, I didn't know whether what I was doing was good or bad, or if I could do more to help her and to communicate better with her. That experience is one of my starting points as a health professional, a moment I carry with me. I still sometimes think about my grandmother and how I could have done something more, and that is one of the reasons I went into the medical field and, eventually, public health. I wanted to find out more about dementia and what I could do to help those suffering from it.
The fundamental cause of these problems is dementia, which is an advancing disease—though I cannot stop that disease, I thought I could help stop the other related issues, and that's what led me to public health.
How did your experiences as a physician inform your choice to pursue public health?
I'm from Japan and I have been working as a family physician for 10 years. Because Japan is one of the fastest aging countries in the world, a lot of my patients were older adults. They have medical issues like hypertension but also more complicated issues like dementia, physical frailty, and social isolation. Dementia, in particular, is a disease that affects everything—their lives, their mental health, their families, and their social life, but I found that medicine doesn't have the methods to affect these kinds of issues. Medicine has medication and counseling, and though that can be helpful, it cannot address the breadth of issues a disease like Dementia presents.
For example, I had a patient with dementia and over the course of a few years watched as their illness progressed. During that time their social connections shrunk, their social participation lessened, and their mental health became worse and worse. I noticed that those areas, and really every aspect of their life, was so very connected and I wanted so badly to help, but I didn't have any means to stop their deterioration. That was the moment I knew I had to think differently to help them and other patients with dementia. The fundamental cause of these problems is dementia, which is an advancing disease—though I cannot stop that disease, I thought I could help stop the other related issues, and that's what led me to public health. That's why I'm stretching my border to a new field.
What parts of public health are the most interesting to you?
My focus is on dementia care, specifically the kinds of daycare and community services we can provide for those affected by the diseases and conditions that characterize it. A daycare system is critical social infrastructure, but some people have a negative image of those services, and the system reflects that view. People suffering from dementia need socialization and stimulation from outside the world, but daycare systems and programs aren't set up to encourage that. Instead, daycare can be isolating, often the only place patients go day-in and day-out. On top of that, most participants in daycare services are only moderate to severe dementia patients—patients that are less severe are kept separate from them, sent to peer support groups or things like that. That divide creates a boundary between peer support and daycare services, a separation that's not only a physical boundary but a psychological boundary in the minds of both caregivers and patients. Ultimately, it reinforces the negative stigma associated with daycare services and the kinds of patients who require them. Peer support and daycare services need to be more closely connected to each other so that service providers can help continuously, throughout the progression of the disease, and so participants with different issues can meet each other and help each other every step of the way. People with early dementia can learn from those with moderate and severe issues and vice versa. If people with dementia help other people, they can feel more self-efficacy and a sense of social participation. Those feelings can help them to feel better and to live better.
With early dementia, people lose their social connections because of their disabilities, I'd like to help them to stay connected to society. I'd like to develop a program to strengthen those connections.
Why did you choose to come to the University of Michigan?
I've been working in the health space for a long time, but I came to Michigan and the United States because I wanted to see things from a different perspective—not in the same country and system, but in a different one so that I could understand the differences in care, the difference in views, and the differences in approach. Seeing those differences helps us see what are the most fundamental things behind an issue. Had I had stayed to study public health in Japan, I don't believe I would have been able to see those differences, and find the fundamental, underlying issues underpinning them.
I like Ann Arbor and the Michigan campus very much. The other students are very diligent, and they have different views and different interests, but they are very honest about themselves in pursuit of their own goals. That gives me a lot of inspiration. I'm always impressed with how the faculty teach and help students, and how they work with people outside the school to make their research better, to make a big difference in the world, to ensure great research outcomes. Everyone is making an impact.
What kind of activities do you engage in outside of class?
This past year, I had an internship at Michigan Public Health with my advisor in the Health Behavior and Health Education department, Mary Janevic. She is collaborating with community health workers to help older, African-American adults in Detroit. She is truly building a bridge between our academic culture and their culture in the city. I think that kind of sensitivity toward cultures and cultural differences is very important, and it wasn't something I often saw in Japan, at least not when it came to research and medicine. The faculty at Michigan Public Health, instead, are very aware of the small differences between people, and how those small differences can mean a big difference when it comes to collaboration, care, public health work, and successful impact. During my internship, they really showed me how we can work together without hierarchies to understand cultural differences and partner effectively to truly address the issues facing other communities. That's public health and true CBPR—community-based participatory research. So far that is the most fascinating thing I've learned while I've been at Michigan, and it's informed a lot of my thinking about my future work with dementia patients. I think I have to know more about their own world, how they view and experience the world, and use that to create better programs that can help them.
More about Shuji
Shuji and his wife are both active students at Big Ten schools.
"I'm here with my wife, in Ann Arbor. She's a visiting scholar at Ohio State University—so we're rivals (laughs). She's studying special education for children."
What interests do you have outside of public health?
I run and swim on a daily basis here in Ann Arbor. It's so nice, especially running. I always feel the changing climate and the weather, and I can compare the difference between Japan and the US. It's kind of a big one! It's very humid in Japan, which makes it hard to run outside in the summer, but here you can. Japanese summer is cloudy and humid — the sunshine is better in the US!
What's next for you?
I want to use the skills and knowledge I've developed at Michigan in the very near future. After graduation, I think that I will go back to Japan and work in an academic or research field. And I'd like to develop a program, research or intervention program to help people with dementia in the community. One idea is through a daycare service. With early dementia, people lose their social connections because of their disabilities, I'd like to help them to stay connected to society. I'd like to develop a program to strengthen those connections. Maybe the program can offer some work in society. I want to make it so they can still contribute to society and be of service to others. I think that experience can really make them feel better and feel self-efficacy.