Safe and Hospitable: The Human Environments that Make the World a Better Place to Learn, Work, and Live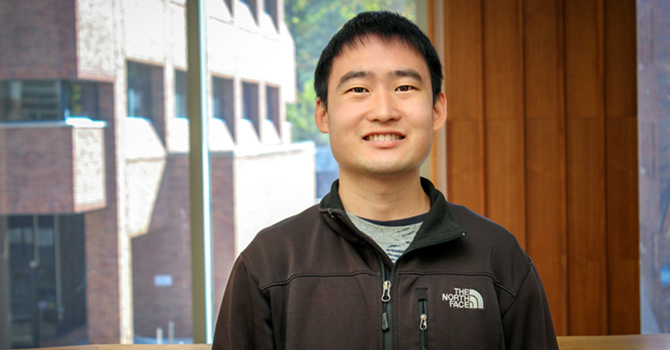 Anthony Su
PhD Student in Environmental Health Sciences
The defining feature that got me interested in public health was the level of impact we can have as scientists.
As an undergraduate chemical biology major at the University of California at Berkeley, I knew I wanted to have a career in biomedical sciences. The field of chemical biology benefits from broad scientific collaboration to arrive at discoveries of precise mechanisms—such as molecular signaling and electron-transfer—that shape how we think about health outcomes for large populations. The field of toxicology within public health benefits from understanding these same mechanisms to inform how toxicity can manifest from an exposure into a health outcome affecting millions of people. That public health seeks to prevent adverse outcomes for large populations contributes to my interest in the field.
At Michigan Public Health, I work in Dr. Rita Loch-Caruso's lab on toxic exposures during pregnancy, specifically exposure to trichloroethylene (TCE), a liquid we produce for commercial use that is a known human carcinogen. I am focusing on how the placenta and other organs during pregnancy metabolize this toxicant. The metabolism of any substance can lead to benefits or insults, and we know that modification of metabolism is a powerful way to modulate toxicity. Helping us better understand the interplay of toxicants and metabolism during pregnancy will help us keep mothers and babies healthier.
I serve on both the Environmental Health Sciences (EHS) departmental and school-wide Diversity, Equity, and Inclusion committees, and was recently honored with the 2020 Feingold Excellence in Diversity Award Recipient. It has been rewarding to serve on these committees because the culture in both the EHS department and the entire school embodies well the university's culture code, which promotes an environment of connection and understanding. Such a culture promotes productivity for all, and I am pleased to be part of supporting this culture here at the school.
Much of our upcoming DEI work in the department and at the school will address the upcoming election and the current coronavirus pandemic. We have a lot of work before us in both areas, but across the school we have dedicated teammates who are working to support everyone in our community. We all make sacrifices for one another—when you really care about what you do and are passionate, today's inconveniences will hopefully seem trivial when long-term goals are accomplished.
Conflict management is a piece of our DEI work that really fascinates me. It is neither easy nor pleasant to lead a discussion between two disagreeing parties, but finding those common goals—some kind of common ground around a mutual passion for public health—encourages us to talk about shared experiences rather than differences. When the dialogue shifts to differences, we have to work even harder to understand others. First, we can try to avoid making assumptions about others and try to be honest about whatever assumptions we have already made. We can show interest in the other person. We can be frank and show our own vulnerabilities. And in all of it, we can focus intensively on the quality of our verbal and written communications.
Communication and emotional intelligence are critical skills to hone as humans and as young public health professionals. I try to take any opportunity I can in everyday conversations to develop these skills, even outside of the professional arena. Within the professional arena, I take advantage of opportunities to communicate my research to a variety of audiences. I also try to surround myself with people who inspire me and learn their strategies for communication.
Ensuring a safe, hospitable atmosphere for us to learn and work is itself a defining feature of public health—for populations large and small.
---