Alum and Dietitian Team Aiding Wolverines While Separated from Athletic Teams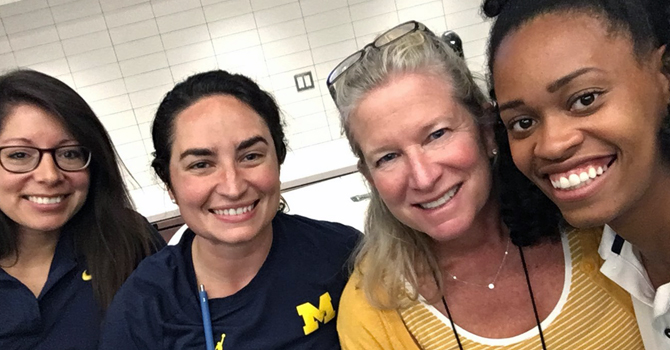 Caroline Mandel, MS '96
Director of Performance Nutrition, Michigan Athletics
---
Photo: (l-r) Tiffany Ilten, Abigail O'Connor, Caroline Mandel and Kayla Lawson
---
Significant emphasis is placed on the balanced nutrition and performance-based diets mapped out for the Wolverines in every sport.
Caroline Mandel, the University of Michigan athletic department's director of performance nutrition, is a registered dietitian who works with several teams and oversees a staff that includes dietitians Caroline Knight, Kayla Lawson, and Arthur Lay. The football team has its own dietitian, Abigail O'Connor.
They go to great lengths to assure every fuel advantage possible for student-athletes, even quite often traveling to competitions with teams. When there were no culinary options available at spring training for rowing in Caryville, Tennessee, Mandel, Knight, and performance dining executive chef Chris Carr transported two large propane grills and all the food necessary to prepare proper meals.
So, when all competition and practice ceased March 12 and the majority of athletic participants were encouraged to return home amid the COVID-19 pandemic, the Wolverine dietitians had a new challenge.
Right now it's about education and support and just being available to athletes wherever they are around the world.
"We're not able to open fueling stations or training tables right now," said Mandel, who recently completed her twentieth year in the athletic department, "and so right now it's about education and support and just being available to athletes wherever they are around the world."
She is now referring them to "Game Plan," a packet generally used to educate sophomores who have begun moving out of dormitories with cafeterias to off-campus housing and the responsibility for preparing their own meals. That features information on planning meals, food shopping, cooking balanced meals, and fueling with snacks such as whole grains and fruits.
Mandel also sent teams a list with six tips to follow:
No. 1, create a three-meal routine scheduled around online classes and workouts: "Athletes feel better when they're really consistent. Breakfast should be eaten within one hour of waking. Adults run out of fuel every three or four hours, and so timing their meals that way is important."
No. 2, focus on hydration: "They're used to carrying around a water bottle and so we have to re-create a hydration routine at home. In season, we might do hydration testing a couple times after practice. They actually act on the results of testing. So, I tongue-in-cheek mentioned that we'll be testing. We can't, obviously, do that. But they can monitor. When their urine is light in color like lemonade or lighter, that's when you know you're hydrated. They also can weigh themselves before and after workouts, and for every pound lost they must hydrate three cups of water."
No. 3, selecting fruits and vegetables to eat: "We recommend that you eat three different colors of produce every day. We always start with maize and blue—bananas and blueberries. It sounds silly, but they'll remember that and just have to add a third color. The significance of the color is that the nutrients are in a pigment, different colors provide different nutrients. We get involved in asking them what has the most potassium—an electrolyte lost in sweat—if they tend to get muscle cramps. The food with the most potassium is a baked potato. And while a large banana is equal calorically to two oranges, the two oranges have more potassium than one banana."
No. 4, proper sleep hygiene: "That hygiene is a consistency in habits, getting up and going to sleep at the same times daily. They're now binge-watching shows and staying up late, and it really messes up their routine. We're trying to get them to work on that so they bring good habits when they return to campus. Athletes don't get enough sleep, and while they are at home, we want them to practice getting eight hours of sleep (or seven to nine per night)."
No. 5, beware of fraudulent supplement ads: "Products are coming out claiming to prevent COVID-19. I've reviewed 10 or 12 in the last 24 hours. If there were a supplement that could prevent that, we would know about it. There are none that do that. They're also looking at performance-based supplements and having dietitians check them out because those supplements are under-regulated. Many products can be tainted with (NCAA and or Big Ten) banned substances that can hurt them as well as their eligibility. My staff and I are well-versed in the banned substance rules, and our policy is to provide education during physicals and reinforce that at meetings, while sending out messages on school breaks (to be aware)."
No. 6, learn how to cook your favorite meals: "We do a series of performance meals cooking classes with our chef, Chris Carr, in the summers that will come in handy now. We use charts to show how to put together balanced meals, and teaching them to cook once and eat six times by eating one meal, putting one in the fridge and freezing four. I've sent out emails with everything from PowerPoints to recipes to cooking class recipe packs. And we can go over things using Zoom and BlueJeans. But they really need to get in the kitchen whether or not they go home."
One women's student-athlete recreated the "good luck" meal her team had before the Big Ten Tournament. She was proud to have replicated the balanced meal dish of chicken parmesan, arugula with lemon vinaigrette, and bowtie pasta—and relayed a photo. Other student-athletes have recently sent Mandel photos of their breakfast burrito, fruit smoothie, and other creations.
Hillary Beall, the starting goalie for the Michigan women's soccer team from Laguna Beach, California, supplied her mother's banana bread recipe for teammates and others who bought too many bananas and wanted to put them to good use before becoming overripe. Mandel posted it on Instagram and others offered banana muffin recipes. "That almost made me cry," said Mandel. "It was sweet."
She said student-athletes locked into performance-based eating also have returned home to families not necessarily eating what they eat. Mandel and other dietitians help them navigate that challenge to maintain their positive changes.
"But one player who went home shared his fueling plan with his father," said Mandel, "and his father is now shopping and cooking with him to make sure his diet remains compatible." That father-son story "is kind of neat," she added.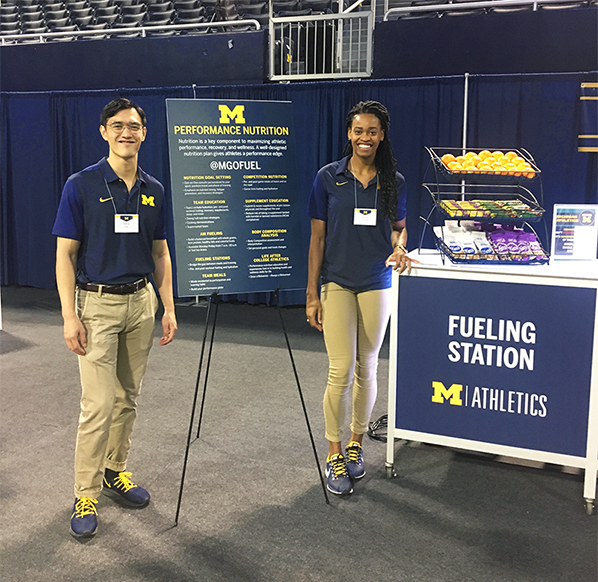 Mandel also is stressing healthy snacking now that the 18 student-athlete fueling stations on campus, generally located near weight rooms and training facilities, are closed. Fresh fruits and whole grains in items such as snack bars and oatmeal had been readily available to them.
Team dietitians also stay connected with student-athletes via @MGoFuel. Mandel said most have gone home, while several from other continents have been able to return home.
"They're asking me about being less active, burning fewer calories."
"They're asking me about being less active, burning fewer calories," said Mandel. "They say the teams are sending them workouts with body-weight exercises, grabbing food cans and filling milk jugs with water to create weights. The strength-and-conditioning coaches have been super creative in sending out workouts."
"But the student-athletes say, 'When I train with my team, I train really hard. When I do the workouts by myself, I don't necessarily work as hard.' So, they're less hungry, and I'm really addressing portions and choices. And we're emphasizing making snacks fruit- and vegetable-based with a protein. It might be an apple and a cheese stick or carrots and hummus."
Some athletes have sent her videos of their refrigerator contents for advice. Others have called directly from grocery stores when their planned meals go awry because various foods have run out.
The Wolverine dietitians also provided specific eating plans for student-athletes rehabilitating after injuries or those who have special dietary needs or eating disorders.
Mandel also offers this: "If people accept this reality, make plans and move forward, figure out how to take care of themselves under this new reality . . . Well, it made me think about the avocados I had that were too ripe. I put them in the fridge, and I made guacamole. So we put up a (recent) post that said, 'When life hands you lemons, make lemonade. When life hands you avocados, make guacamole.' We put that on there and it's a little levity during a crisis, using our social-media platform to stay connected with athletes while also sending out emails to teams and individuals.
March was going to be a month of emphasis for Mandel even before this crisis necessitated it. "It is national nutrition month, and we had a whole plan of events in the pipeline," said Mandel. "My staff has been awesome and quickly switched gears. We've created content on training table menus, eating disorder week, quite a bit of content. So, when they say, 'What's for dinner tonight, Caroline?' I can tell them, 'You've got this one!' We post the menus every week on our Instagram."
MGoFuel Movie Madness Bracket
And the dietitian team is following through with "Movie Madness" voting for the top sports movies. Voting is ongoing at the @MGoFuel Instagram account, and the No. 1 seeds headed into the Sweet 16 are Remember the Titans, Rocky, Talladega Nights: The Ballad of Ricky Bobby, and The Sandlot.
"We're trying to put out some interesting content as well," said Mandel, crediting her staff members for posting that social media project and others. "My husband and I started brainstorming our favorite sports movies, and there were over 100. That gave me the idea to do this. Anyone who follows us on Instagram can vote. We've got a few hundred people weighing in on this. My No. 1 movie, which I can watch 10 times a day, is Miracle (about the 1980 US men's ice hockey team's win over the Soviet Union in the Olympics). I can quote it with hockey players."
It's all part of remaining in touch while also relaying messages and important dietary information. "We're trying to find ways to surround people with the Michigan family no matter where they are," said Mandel. "Staying connected is important. There are holes in our lives, too, now that they're gone. It's good to keep everyone connected so we're ready when they come back."
—Steve Kornacki
---