Tobacco Control: A Success Story with a Side Story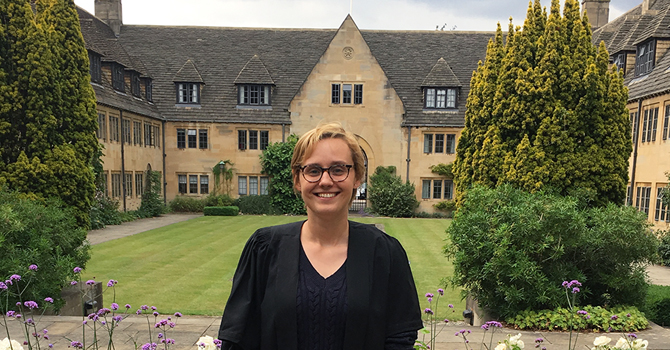 Lucie Kalousova, PhD '17
Assistant Professor of Sociology, University of California, Riverside
My dissertation looked at a single health behavior disparity responsible for a large share of the life expectancy disparity in the United States: cigarette smoking.
Like many graduate students, I struggled with what topic to study for my dissertation. My academic interests lie squarely between public health and the social sciences, so I was looking for an area of research that would be both intellectually challenging and would make a meaningful contribution to improving population health and closing health disparities.
The tobacco research community at Michigan Public Health is robust, and it helped me see a research path that was both professionally and personally meaningful. I first became interested in tobacco research when I took a class with Cliff Douglas, who has unparalleled expertise in tobacco control and is currently leading the tobacco control efforts of the American Cancer Society.
Michigan prepared me well for an academic career through rigorous classes and an incredible spirit of collaboration between faculty and students.
In general, Michigan prepared me well for an academic career through rigorous classes and an incredible spirit of collaboration between faculty and students. I was involved in multiple research projects as a student, some of which are still ongoing. And I observed faculty regularly sharing resources and helping build up each other's work, which taught me to value the strong community bonds that exist among public health scholars.
For a budding social scientist, Michigan also offers incredible opportunities for quantitative methods training. The Health Management and Policy department puts a strong emphasis on a grounding in the social sciences. I took advantage of many opportunities to train in empirical analyses, including the summer program of the Inter-university Consortium for Political and Social Research (ICPSR), an international consortium of more than 750 academic institutions and research organizations housed at Michigan.
More about Lucie
In addition to her joint PhD in Health Services Organization and Policy and Sociology, Kalousova also earned an MA in Sociology from the University of Michigan
As a student at Michigan, Kalousova was involved with many published research projects and articles in the media, including the National Poverty Center and Business Insider.
Kalousova was a visiting researcher in the department of Social and Political Science at the European University Institute in Florence, Italy.
Completing a PhD jointly in public health and sociology enabled me to carve out my current interdisciplinary path. Sociology motivates me to advance our understanding of the links between the distribution of socioeconomic resources and health of populations. Public health motivates me to investigate the origins and persistence of population health disparities in middle- to high-income countries.
My current research continues work I began for my dissertation. I am looking at tobacco and tobacco control and how we can not only lower smoking rates but do so in the most equitable manner. In the US, tobacco control is a major public health success story. Over the second half of the twentieth century, we were able to massively lower smoking prevalence. The incredible feat was accomplished through a combination of educational campaigns, taxes, advertising restrictions, and a myriad of laws.
Members of minority groups and people who live in low-socioeconomic areas continue to smoke at high rates.
Unfortunately, smoking did not decrease as rapidly among all groups of Americans. Members of minority groups and people who live in low-socioeconomic areas continue to smoke at high rates. My focus now is to help figure out how we can design policies that most effectively promote health among the populations that have been left behind in our progress toward promoting tobacco cessation and discouraging young people from initiation.
After I completed my PhD, I was a postdoctoral fellow in sociology at Nuffield College, University of Oxford. Last summer, I became an assistant professor of sociology at University of California, Riverside, where I teach classes on social inequality, social determinants of health, and statistical analysis. And just recently, I was honored with a Neuron Prize, an award presented annually to six promising Czech scientists to boost the visibility of Czech science and reward early career success.
Being selected as a Neuron recipient was a great honor to me. The Czech scientific community is paying attention to the work of Czech scientists in and outside the country, and the community clearly values the type of interdisciplinary, applied scientific work I am pursuing.
In the Czech Republic and here in the US, I hope to continue becoming more actively involved in local tobacco control initiatives, especially among vulnerable populations. We know material hardship mediates the path between economic cycles and individual health. We know resource inequality can translate to health disparities. Though I have a sociology appointment here in California, I am also sharing my public health training and insights with students. I am confident that—from cigarette smoking to infectious disease control—interdisciplinary scientific rigor can help create social and political inertia to ensure all people have the best possible chance to live long and healthy lives and receive adequate health care when needed.
---