Choose to Act: How to Build An International NGO While Graduating from School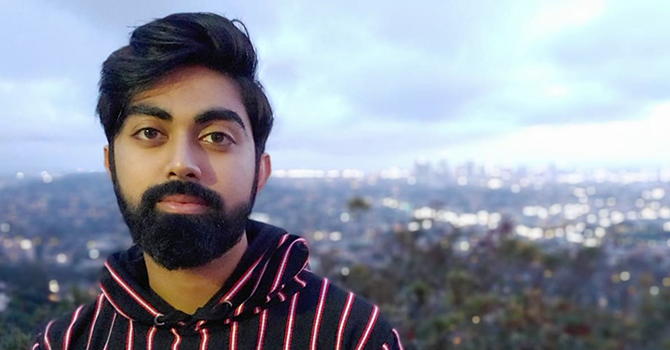 Omar Ilyas, BS '19
Cofounder of Paani
Omar Ilyas grew up in Rochester Hills, Michigan, about an hour's drive from Ann Arbor where he recently earned his bachelor's degree in public health at the University of Michigan. Through the connections he made at Michigan—and equipped with his public health training—he helped launch the nonprofit Paani along with partners Sonny Khan, Nauman Khan, Arhum Arshad, and Faraz Longi. The organization funds and builds water wells in rural Pakistan.
Where did the idea for Paani come from, and how did you take it from a spark of inspiration to an impactful organization in a short amount of time?
We started very inconspicuously. Back in 2018, I was talking with a few of my friends about the state of affairs in Pakistan, particularly the inauguration speech of the new Prime Minister, Imran Khan. Our conversation veered when we noticed multiple news articles that highlighted a devastating water crisis in Pakistan. Some quick research showed multiple international NGOs confirming that the country was going to cross the threshold for absolute water scarcity, as designated by the United Nations, by 2025.
As a child, I spent summers in Pakistan visiting cousins and enjoying the lifestyle and culture there. But as instability around Karachi grew, our visits there ended and my connection started to fade. When I became aware of the water crisis, I saw an opportunity to do something.
In fact, we all wanted to do something about it. Perhaps obviously, the challenge my cofounders and I faced was, what can we do here in Ann Arbor with Pakistan so far away?
We pictured ourselves years later having not done anything. We knew the regret would be overwhelming.
Despite the complexity of the issue, we felt this conviction that we couldn't wait around. We pictured ourselves years later having not done anything. We knew the regret would be overwhelming. This motivated us to act. I think a lot of people want to create positive change, but too many people get caught in the logistics, then hope that maybe someone else can do the work. We decided that sitting around paralyzed wouldn't do any good for anyone. If we wanted to start helping, we just had to start.
We were constantly worried that we would fail. But seeing pictures of the well in use reaffirmed that our time and energy could make a difference.
Given our resources as University of Michigan students, we thought we could help bridge existing gaps in water delivery. A key part of our strategy included working with those affected by the water crisis. We reached out to grassroots organizations in Pakistan and discovered a desperate need for access to water in rural areas.
We needed money, so we started with "baby steps." We sold donuts. We would sell donuts on campus a few times per week—after three months, we had enough money (more than $600) to build our first well, which is in the Sindh Province. All of the money we raised went to support construction costs, and we couldn't have done it without our partners in Pakistan. We were constantly worried that we would fail. But seeing pictures of the well in use reaffirmed that our time and energy could make a difference.
We've now built more than 750 wells across rural areas of Pakistan in the past two years, wells that provide access to water for tens of thousands of people.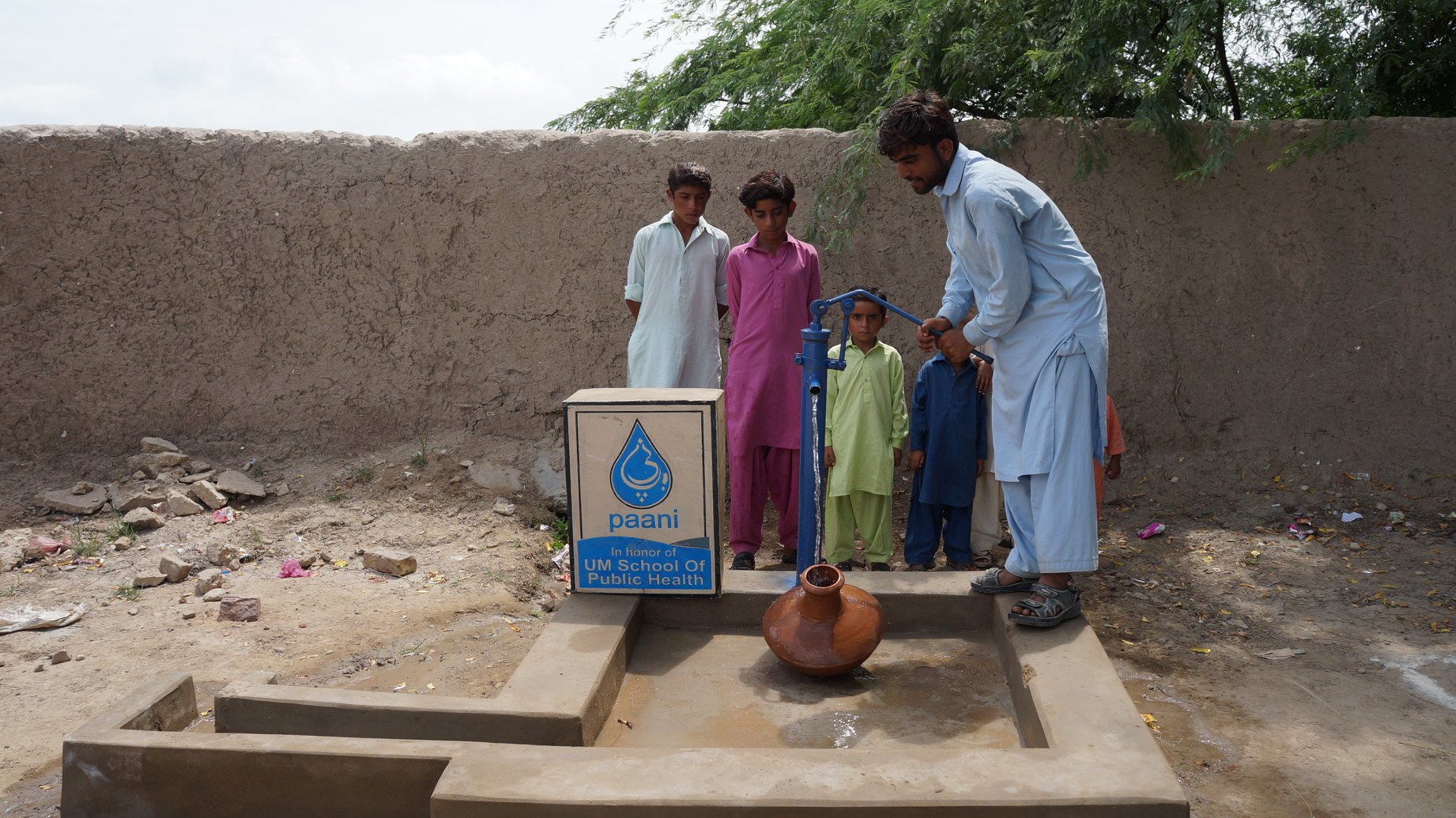 ---
One of the wells built by Paani in rural Pakistan bears the name of the University of Michigan School of Public, part of Omar Ilyas honoring his education from his alma mater.
---
Our fundamental goal has always been to help, but we don't want our judgement to be clouded by a savior complex or implement solutions without the advice of those most affected by the crisis. Many of our initiatives are based on that philosophy that no one understands the small intricacies inherent to a problem than those most affected by the problem.
You're now actively working on health at a population level. What got you interested in this field?
Public health seemed to be the career that would allow me to focus on working with the most disenfranchised communities within health care. I realize now that I witnessed health care disparities before I knew what that phrase meant. In high school, I started actively volunteering at a free health clinic in Detroit to take vitals for patients. I would see different patients stuck in the same ruthless cycle of high blood pressure and blood sugar leading to uncontrolled diabetes.
I was stunned to see a mother with two young daughters have to be convinced that her life was more important than her financial situation. She came into the clinic in critical condition, so we needed to take her to hospital via ambulance. The whole ordeal would cost her about $800. That was the first time I saw someone put a price tag on their life. She sat and debated with us on why she should just go home and sleep it off, because she refused to add debt to her family. I realized that her socioeconomic status was essentially a death sentence.
I came to the University of Michigan because of the strength of the faculty and the incredible resources available for students. I decided to major in public health because the program was a great match for me. I knew I could gain the knowledge that would help me work on eliminating health disparities. The professors here have dedicated their lives to improving the conditions of low- and middle-income people around the world. Researchers like Vic Strecher, Gary Harper, Riana Andersion, and Casey Thacker were catalysts for where Paani is right now.
What parts of public health interested you the most during your time as a student?
I really value public health's focus on improving the health of an entire population. I plan to attend medical school and become a physician, and I appreciate medicine's individual approach to health. But the fundamental goal of public health working upstream to search for factors that cause illness is fascinating. In my work with disenfranchised communities, I've discovered the powerful impact of educational campaigns, research initiatives, policy change, and community action. Those are powerful tools to affect change for many.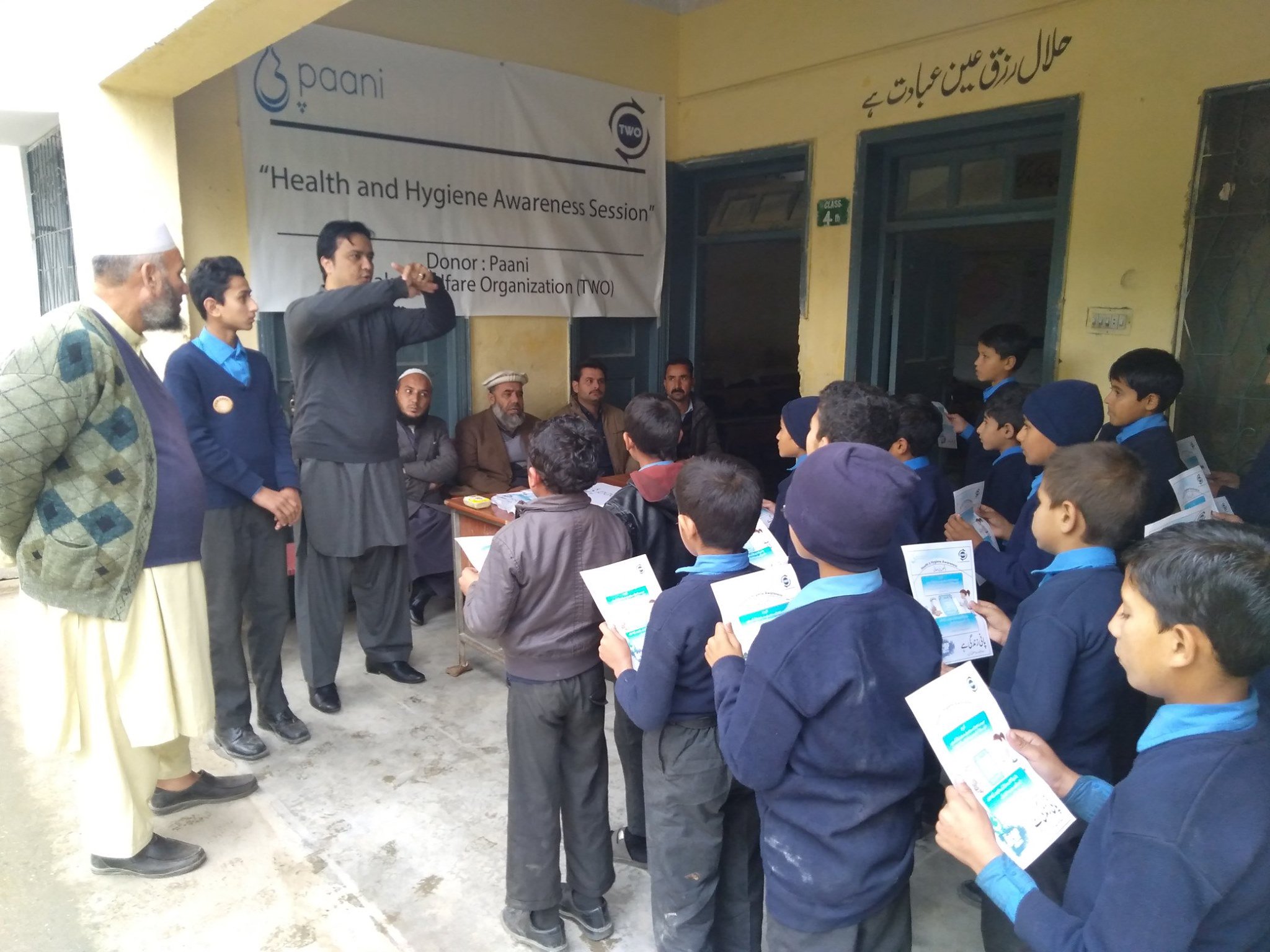 ---
Part of Paani's evolving scope of work includes developing educational programs, like this session held in Pakistan.
---
How did your education and experiences at the School of Public Health prepare you for life after graduation?
After graduation, I was accepted into a funded research fellowship under the American Pakistan Foundation (APF). I worked as a research analyst for the National Rural Support Programme in Pakistan. In this role, I traveled to villages across Pakistan to analyze correlations between water contamination, climate change, and health outcomes. I would present my findings to Pakistani policymakers and develop manuscripts for publication.
All the skills I sharpened at Michigan Public Health are being put to use now: designing a study, data collection, presenting and communicating—as well as time management.
The statistic might read 53,000 children under the age of 5 died of diarrheal-related illnesses. Now I know some of the names, faces, and stories attached to those numbers.
What I've gained since graduation is profound. In class, we analyzed and studied statistics. Now that I'm in the field speaking with village leaders, children, and many others, those statistics become the faces of the communities I work with. The statistic might read 53,000 children under the age of 5 died of diarrheal-related illnesses. Now I know some of the names, faces, and stories attached to those numbers.
How has your work with Paani continued since leaving campus?
Our organization has been blessed with a constant influx of professionals willing to help. We started with six individuals, including myself. Now we have hundreds of volunteers across the globe. These amazing people allow us to continue to push the limits of what we can accomplish. In our first year we were awarded grants from Optimize, Google, and Microsoft; raised more than $100,000; built over 300 wells; created partnerships throughout Pakistan; and worked on topics from telemedicine to well development to education. It's been a whirlwind, but it has been so meaningful.
Personally, I had to learn I can't do everything. I am passionate about working with refugees and also formerly incarcerated people. But I've had to make hard choices to pass certain projects on to other capable people. Public health takes all of us, and I'm grateful to be in this community. I'm also grateful that I can invest fully in Paani.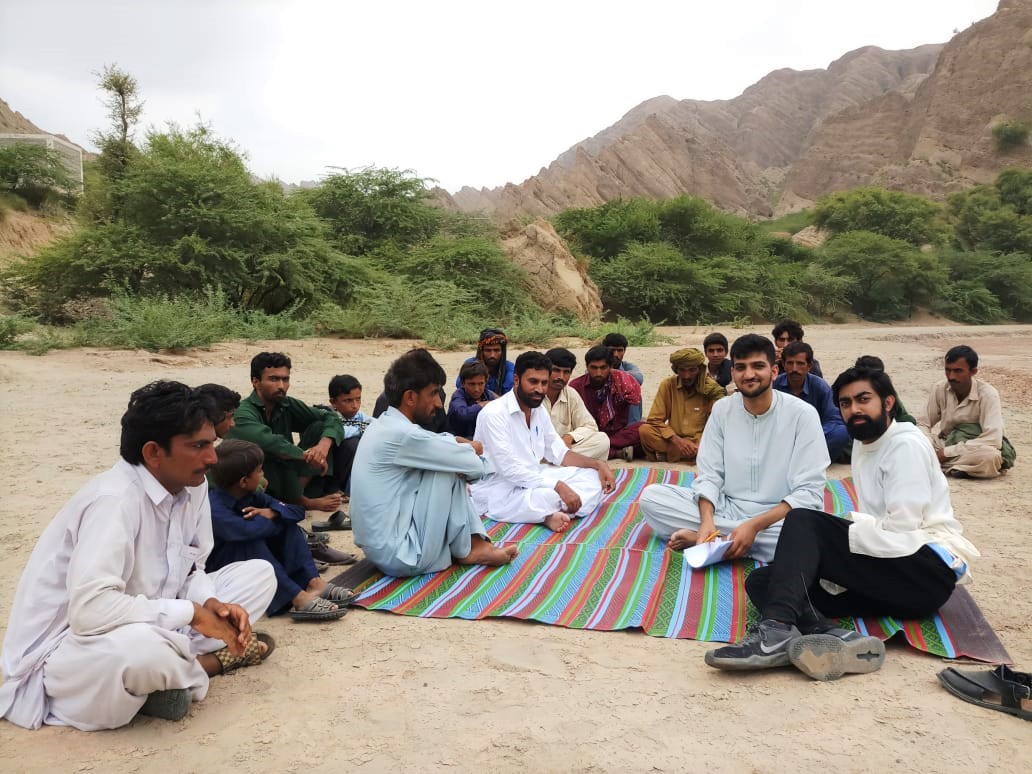 ---
Following graduation, Omar Ilyas (foreground on the right) worked for the American Pakistan Foundation as a research analyst and traveled throughout Pakistan to meet with residents to discuss water contamination and health.
---
What does the future hold for Paani?
At our core, we are still working to construct wells in areas with no accessible water. Since getting started in 2018, however, our scope has expanded. We have seen devastating health outcomes of water contamination, and we want to ensure people have access to quality health care and clean water.
To ensure people are properly educated on the dangers of using contaminated water, we launched and disseminated a public health education curriculum highlighting the importance of proper hygiene. We partnered with grassroots organizations in Pakistan to provide basic education to child labourers, hoping to disrupt generational poverty within the poorest families. We are currently working with a group of engineers on telemedicine and the digitization of health records. Our goal started with ensuring that people have access to clean water—but we aspire to do so much more.
How has the coronavirus pandemic altered your work?
Our focus has always been providing clean water and increasing access to health care and education. But when our fundamental human challenges shift, it is important for us to shift and adapt to circumstances. In response to the pandemic, we have supplied more than one million meals to low-income individuals in rural Pakistan and have provided clothes and personal items to more than 100 orphans and widows. We have worked to secure over $500,000 in medical supplies to be delivered to a hospital at the epicenter of the coronavirus pandemic. At our core, we are a humanitarian organization that strives to provide the most relevant initiatives for vulnerable communities' most pressing needs. Hopefully we are able to continue doing that.
---