Forward Thinking: An Extraordinary Teacher Taps into Student Passion as She Helps Prepare Them for Careers in Public Health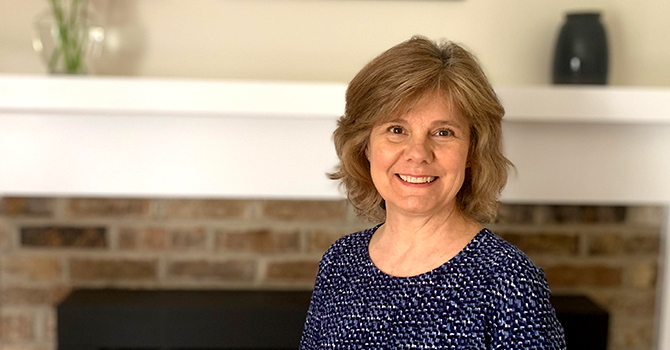 Suzanne Cole
Lecturer in Nutritional Sciences
What first got you interested in public health and specifically nutritional sciences?
I grew up in Maine in a small town outside of Portland. My desire to pursue nutritional sciences developed fully in adulthood, though in hindsight my interest in the field began in childhood.
My parents were avid gardeners, so meals at home were based on the seasonal vegetables from our garden as well as locally grown fruit and vegetables. I learned early on that fresh fruit and vegetables were an important part of a healthy diet.
My interest in public health developed during my graduate work at the University of Arizona working on dietary and physical activity strategies to reduce diabetes risk in communities.
What brought you to Michigan?
I moved to Michigan for a post-doctoral fellowship in human genetics at the University of Michigan. After the fellowship, I accepted a teaching position in the Environmental Health Sciences (EHS) department at the School of Public Health to teach four core nutrition courses. Nutritional Sciences became a separate department in 2015, but it used to be part of the EHS department.
You received the Excellence in Teach award this year from the Michigan Public Health community, and your nomination form was an extensive description from a variety of our students of your commitment to teaching. What is it about your teaching that resonates with students?
I try to create an environment and a certain kind of positive energy in the classroom that inspires intellectual curiosity and student passion for course topics. I also encourage students to consider the relevance of the course material to the context of their career goals. The Master of Public Health is a practice-oriented degree, and many of our students also complete the requirements for the Registered Dietitian (RD) concentration while they are here. Keeping professional goals in mind can help sharpen our approach to coursework in very fruitful ways.
The energy, optimism, and forward-thinking of our graduates makes me very hopeful.
What do you enjoy most about teaching?
I love learning about student interests and supporting their ability to further their passion in a public health and nutrition context.
What was it like developing your lectures into an online format in just a few days as the coronavirus pandemic hit Michigan?
Transitioning my lectures to a virtual format was not too difficult thanks in large part to the instructional support we received from staff at the school. I found it somewhat challenging at first to reestablish a feeling of connectedness with the students in this new mode. But with some adjustments, the students and I transitioned fairly seamlessly together to the virtual format. This fall, I will be teaching an online maternal and child nutrition course. I enjoy interacting with students so much and am looking forward to teaching again in just a few months in whatever formats and modes we are in at the time.
What makes you most hopeful these days?
The energy, optimism, and forward-thinking of our graduates as they address health and nutrition concerns in communities across the state of Michigan and beyond makes me very hopeful.
---