Confronting COVID-19 Vaccine Hesitancy with Public Health History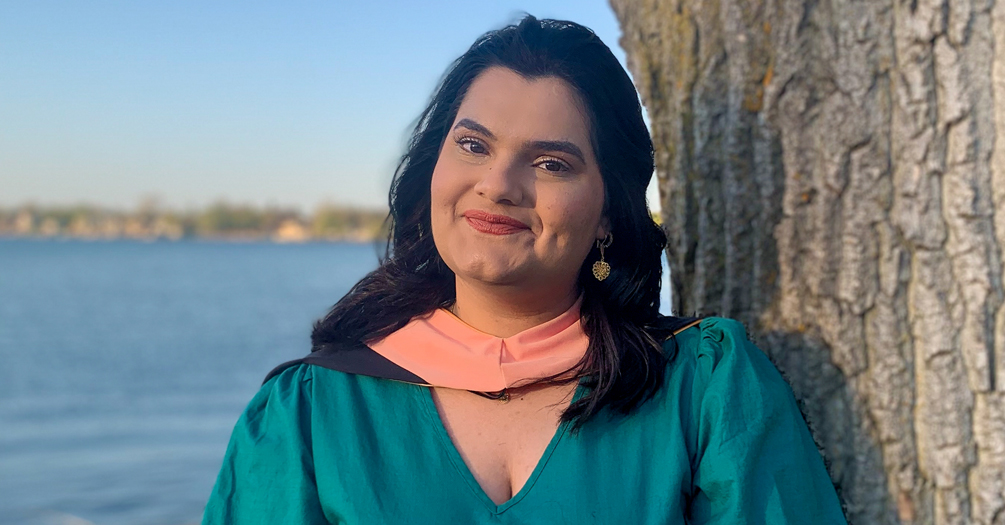 Kaitlyn Akel
Master's Student in Epidemiology, Gelman Global Scholar
Many of our students do not start out planning careers in public health.
Kaitlyn Akel grew up in Little Rock, Arkansas, and at the University of Arkansas majored in biology and was a pre-med student. But an abiding interest in the humanities led her to add a history major. "Biology studies systems," she says, "but not epidemiological determinants and global processes. History taught me those. I wondered how to combine history and biology, and I began to look at public health."
I wondered how to combine history and biology, and I began to look at public health.
A class on the history of the Latin American city tied it all together for Akel. "We studied the impact of the built environment, including a city's layout, on personal and public health," she remembers. "For example, Mexico City is built in a lake basin, so flooding—and all that comes with it—is an issue."
Akel saw another intersection of history and public health working at a community center serving migrants from the Marshall Islands.
In the 1950s, the US conducted nuclear tests on the Marshalls, located halfway between Papua New Guinea and Hawai'i. Marshallese now have high cancer rates. Per a UN-brokered agreement, they may live and work in the US—many have settled in Arkansas—in exchange for the US building military bases in their homeland. Only recently, though, has this population been granted health care in the US.
As Akel learned about more such intersections of biology, history, and public policy, one of her mentors encouraged her interest in the public health field. She found that Michigan's School of Public Health had a strong global health program. She applied and was admitted.
In public health, I use my history degree more than my biology degree.
Akel remained interested in cities but subsequently—advised by Abram Wagner, research assistant professor of Epidemiology, and with support from a Gelman Global Scholarship—studied COVID-19 vaccination hesitancy in six countries: the US, China, Taiwan, India, Indonesia, and Malaysia. "The Gelman Scholarship has been a wonderful opportunity and I am very grateful," Akel says. "These scholarships make a huge difference for many of us. Financial security has been especially important the past year and a half."
In their six-country study, Akel and her team sought to determine if participants were vaccine acceptors or vaccine hesitant. They asked, "Is someone you know infected?" "Have you seen infected individuals in the media?" "Do you wear a mask?" and so on. Data from Indonesia turned out to be especially interesting, as media portrayals of COVID infection have played a stronger than usual role in vaccination acceptance there.
Akel has now graduated and started as a research specialist with the Center for Arab Narratives, a new addition to the Arab American National Museum at the Arab Community Center for Economic and Social Services (ACCESS) in Dearborn. She gathers data on historical and cultural accounts of the local Arab American experience, as they intersect with public health. "In public health, I use my history degree more than my biology degree," Akel observes. "Now I have found this intersection of community health and research into local history and culture."
"As a Palestinian American, I find this work crucial and timely," Akel says. "It is about bridging the gap between academics who use the Center and the community. It is about documenting and preserving the memory and stories of my community. I feel empowered to be part of this grand plan that so elevates us."
---