Alumnae Leaving Their Mark at Michigan Medicine's Adolescent Health Initiative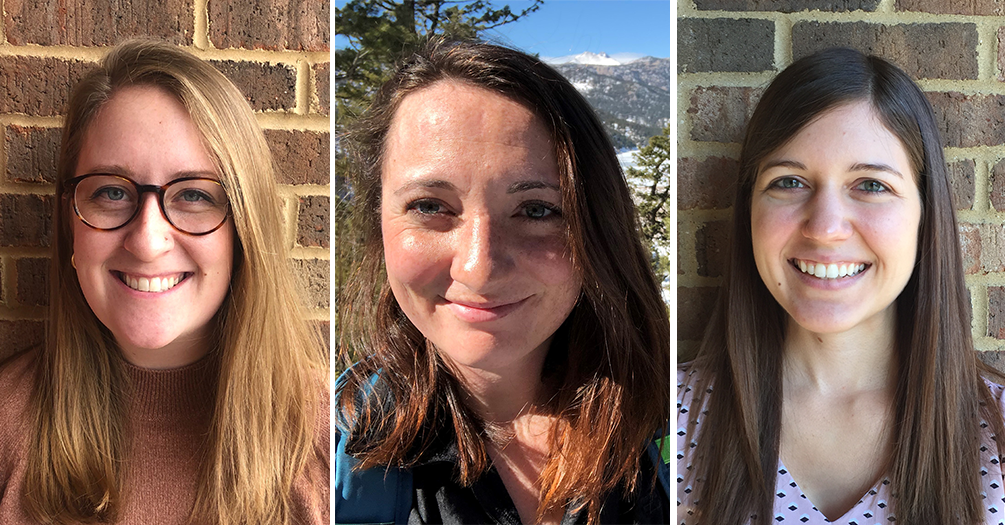 Lauren Leslie, Valerie Gavrila, and MavaMarie Cooper
Graduates of the Health Behavior and Health Education Master of Public Health (MPH) program at the University of Michigan School of Public Health are employed all over the world. In fact, our alumni currently work in 43 states!
About 30% of graduates stay in Michigan. Three alumnae from the program work for the Adolescent Health Initiative (AHI) at Michigan Medicine. Lauren Leslie, MPH '19, Valerie Gavrila, MPH '17, and MavaMarie (Mava) Cooper, MPH '16 work for AHI as program coordinators or specialists. Gravila and Cooper also received their bachelor's degrees from the University of Michigan.
The mission of AHI is to advance innovative adolescent-centered health care through practice improvement, education, research, and youth and community engagement.
We recently chatted with the alumnae about their work at AHI and working as a team of HBHE graduates. Here is what they had to share:
How and when did you end up at AHI?
Cooper said that "AHI is one of the few places I've worked that truly embodies the mission and values they've adopted, including a commitment to youth engagement." Leslie highlighted that AHI is a "mission-driven organization working to address inequities in health and health care," and Gavrila noted that AHI's "quality improvement activities focus on adolescent health as opposed to research-focused work." While all three of them are relatively new to AHI, all starting between October 2019 and March 2021, it is clear that they have fully immersed themselves in the work and mission of AHI.
How much do you all work together regularly?
AHI is a relatively small organization that leads to a decent amount of overlap and never a shortage of collaboration. Gavrila said her first project with Leslie "was during our first month of working at AHI, and we are still collaborating on it! We took a health care improvement intervention designed for primary care centers and adapted the intervention and supportive resources to fit behavioral health centers. Lauren has a great eye for evaluation efforts, so her insight and collaborative approach were invaluable. All three of us also work as coaches to health centers for our adolescent-centered environment assessment process, so we regularly problem-solve and continuously improve the intervention through our weekly work group meetings and biannual retreats."
How do you see your Health Behavior and Health Education education and training show up in your work with AHI? What skills or concepts do you regularly rely on?
The Health Behavior and Health Education master's program is a unique public health degree because of its heavy focus on health behavior over the life course, health equity, and health communication — key attributes that highlight the human nature of public health. Leslie explained that AHI has a heavy focus on "ethical and equitable youth and community engagement" through a community-based participatory research lens. Grant writing is a key part of Gavrila's role with AHI as she draws on her knowledge of health behavior frameworks such as the socioecological model when writing proposals. Cooper said the importance of her communications training from the Department of Health Behavior and Health Education, specifically in risk communication and "sticky communication," while also stressing the importance of the interdisciplinary aspects of the MPH degree, which requires foundational classes in biostatistics and epidemiology.
Together, Leslie, Gavrila, and Cooper showcase the dynamic and collaborative nature of health behavior-related work. Each of them highlighted different aspects of their degree that they rely on each day in their work, emphasizing the collaborative nature of public health work and the Health Behavior and Health Education MPH degree.
---